Centro Vital hotel in Berlin – Review
---
My husband and I got to come and test this hotel for a free three-night stay as Testers for SpaDreams.
We were very nicely greeted on arrival. After we got checked-in, we could go straight to our junior suite. This is a good size with a huge bath. We had a beautiful view onto the Havel, sunrise inclusive.
The spa-area is very nice and is a good size. You get the choice between a classical massage or Ayurveda treatment. Both with great selection and friendly staff. We tried out both and were very pleased.The pool was very large for a hotel and especially relaxing in the evening. The sauna area is comparably not so large, but you get plenty of choice. The sauna in the roof-area is especially nice. After that you can rest in the pool-bar by the chimney.  And if you want, you can punish yourself in the enormous sport area.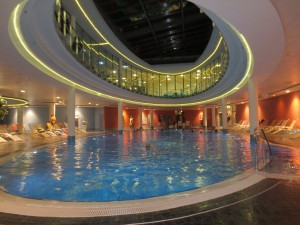 We had breakfast and dinner. Both were a buffet and were really class.There was a nice selection and the quality was really quite nice. The staff were very friendly and helpful.
The hotel lies in the centre of Spandau and you are only a 10 minute walk from the old-town. Connections to the city-centre of Berlin are very quickly accessible.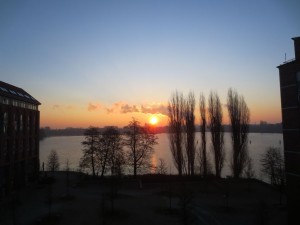 Conclusion
It was all round a relaxing and lovely short-break and would definitely recommend. Once again a big thank you.
We would like to thank Sabine H. for her review and the many great pictures!
Tags: ayurveda in europe, Centro Vital