Holi – India's Festival of Colours
---

𝓗𝓸𝓵𝓲 2018 – 𝓔𝔁𝓹𝓮𝓻𝓲𝓮𝓷𝓬𝓮 𝓽𝓱𝓮 𝓲𝓷𝓽𝓸𝔁𝓲𝓬𝓪𝓽𝓲𝓷𝓰 𝓬𝓸𝓵𝓸𝓾𝓻 𝓻𝓾𝓼𝓱 𝓸𝓯 𝓘𝓷𝓭𝓲𝓪'𝓼 𝓶𝓸𝓼𝓽 𝓫𝓮𝓵𝓸𝓿𝓮𝓭 𝓯𝓮𝓼𝓽𝓲𝓿𝓪𝓵
As the birthplace of yoga and Ayurvedic medicine, India is one of our favourite and most popular travel destinations. You might already know the famous Holi festival from the colour-splashing events in your home town, usually hosted by university students raising money for charity. Over the past years its popularity has grown worldwide. But what about the authentic Holi festival as celebrated in its country of origin, India – how much do we know about that? Since it takes place in just a couple of days we're taking the opportunity to learn a bit more about what gives rise to this beautiful, centuries-old tradition and where you can find Holi festivals in India.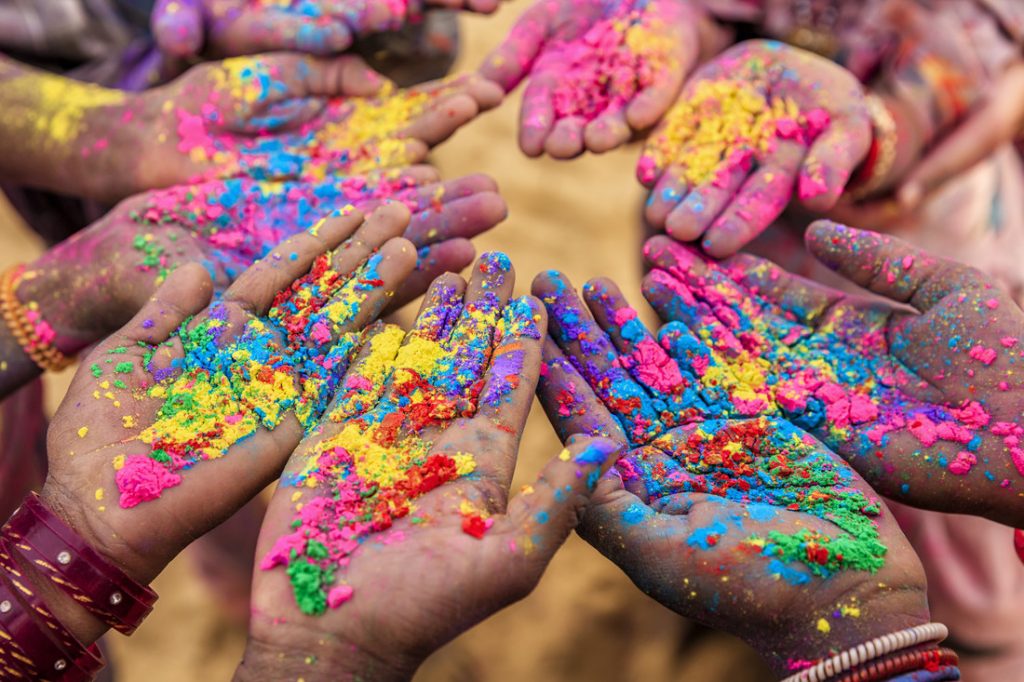 𝓘𝓷𝓭𝓲𝓪 – 𝓽𝓱𝓮 𝓛𝓪𝓷𝓭 𝓸𝓯 𝓕𝓮𝓼𝓽𝓲𝓿𝓪𝓵𝓼
As one of the largest countries in the world, India is home to a great many religions and cultures. This means festivals from many different heritages are celebrated all year round by a people accustomed to sharing and tolerating each other's differences. From Diwali to Chhat, and even Christmas, India's cultural events are diverse and draw on a rich mythological and religious heritage.
In northern India and Nepal, Holi is one of Hinduism's key festivals and is found elsewhere under names such as Shimga or Phaga. It follows the lunar Hindu calendar, and begins every year on the full moon day of the 12th month, Phalguna. This generally falls between February and March and in 2018 the celebrations will begin on the 1st of March. Depending on the region, people tend to celebrate Holi for between 2 and 10 days.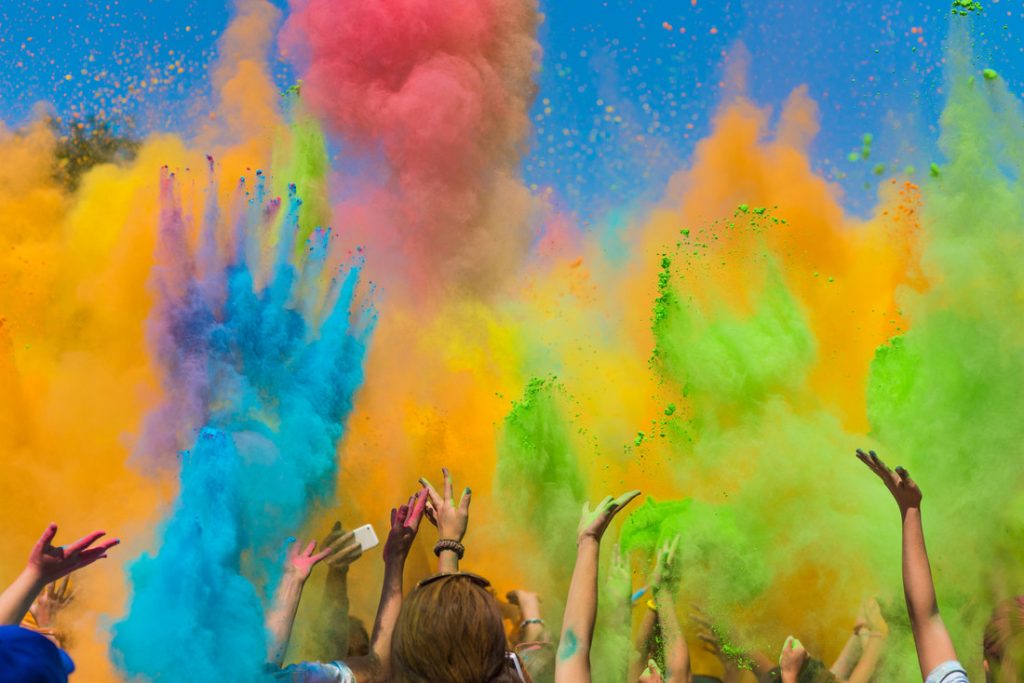 𝓗𝓸𝓵𝓲 𝓫𝔂 𝓻𝓮𝓰𝓲𝓸𝓷 – 𝔀𝓱𝓮𝓻𝓮 𝓽𝓸 𝓰𝓸 𝓯𝓸𝓻 𝓗𝓸𝓵𝓲
As the festival can be quite overwhelming and full of thousands of people, it's always best to go in a group of people you know. Private clubs and Ashrams are the safest bet for foreigners, and you can find these in towns such as: Dehli, Rishikesh, Mathura, Vrindavan, Udaipur, Jaipur, Rajasthan. The festival is most enthusiastically celebrated in the north, and as such our north Indian destinations include Golden Triangle India Round Trip, Ananda in the Himalayas, and Yoga Tour North India. If you want to learn more, see our page dedicated to providing you with the best destinations for holidays in India.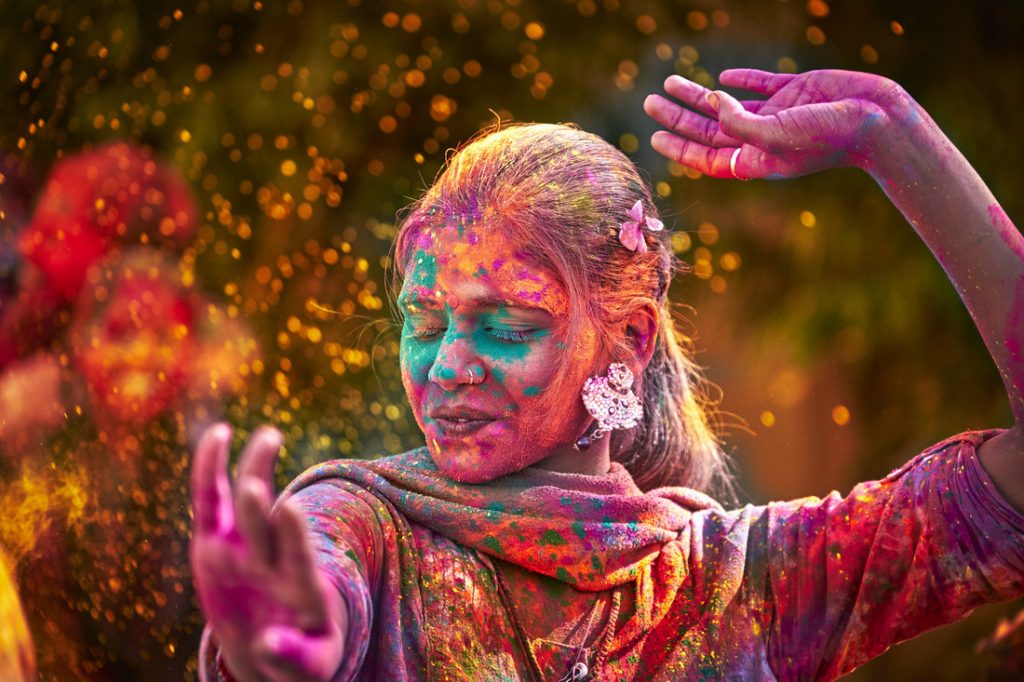 𝓘𝓷𝓭𝓲𝓪𝓷 𝓜𝔂𝓽𝓱𝓸𝓵𝓸𝓰𝔂 – 𝓪𝓷𝓭 𝔀𝓱𝔂 𝓹𝓮𝓸𝓹𝓵𝓮 𝓬𝓮𝓵𝓮𝓫𝓻𝓪𝓽𝓮 𝓲𝓽
Holi is known nowadays as a celebration of spring, the end of winter and a day to be open and friendly to one's neighbour. However, according to Indian legends and lore Holi is a time to remember how the evil demon Holika, the sister of the demon king Hiranyakashipu, was destroyed in a fire. On the first day of the festival a great fire is lit to represent this, and people pray that their own internal demons will similarly be destroyed and are reminded that Good will triumph over Evil.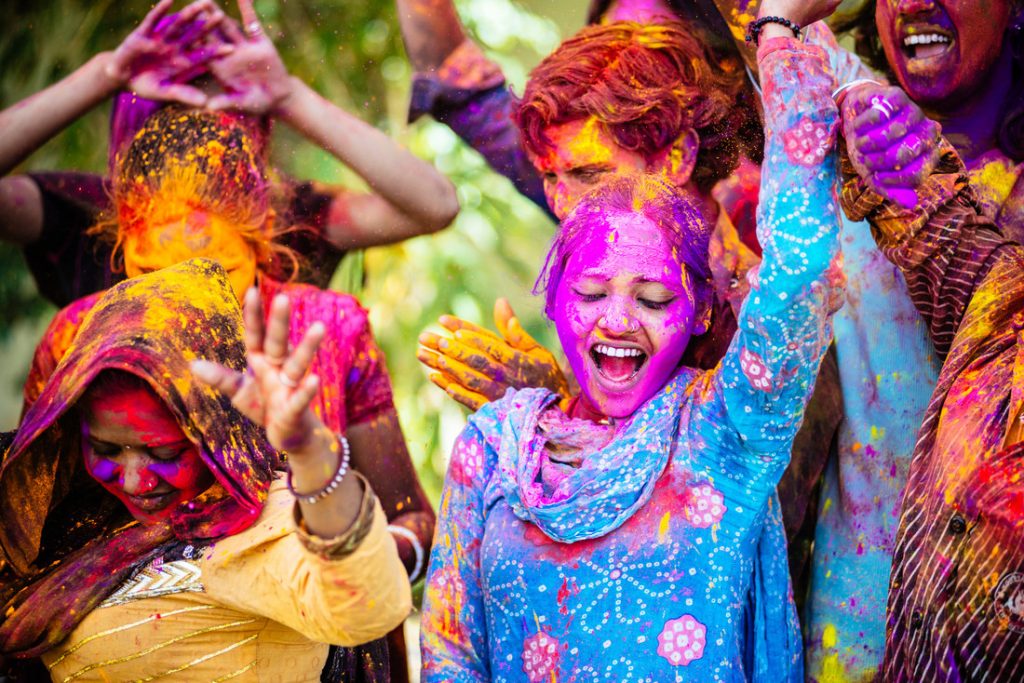 𝓐 𝓒𝓸𝓵𝓸𝓾𝓻𝓯𝓾𝓵 𝓣𝓻𝓪𝓭𝓲𝓽𝓲𝓸𝓷
On the second day of the festival, a free-for-all colour fight begins, using colour-filled water guns and balloons. The colours are so intense that people make sure to cover themselves in oil or moisturizer so that the colours don't permanently stain the skin! The bright powder is called "Gulal" and the words "Holi Hai" (meaning "today is Holi!") can be heard from the crowd as coloured water is sprayed everywhere. The coloured powders are traditionally made out of flower petals, herbs and roots 🌸🌸🌸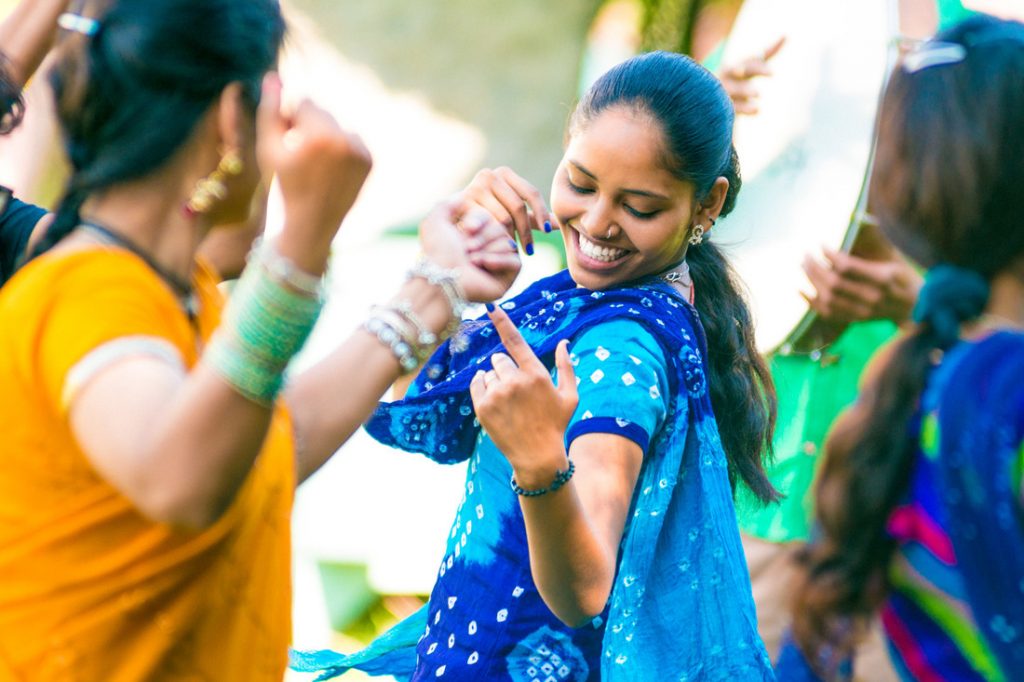 𝓣𝓸𝓵𝓮𝓻𝓪𝓷𝓬𝓮 𝓪𝓷𝓭 𝓝𝓮𝓲𝓰𝓱𝓫𝓸𝓾𝓻𝓵𝔂 𝓵𝓸𝓿𝓮
The celebration of colours reflects an atmosphere of openness and neighbourly love spread throughout India, a society that is often otherwise known for its traditional hierarchical casts. During the festival, hierarchies are demolished. Tolerance and joy abounds, and everyone celebrates carefree and with neighbourly love for each other. Family, friend or foe, everyone is fair game in this joyous explosion of colours 😉
Tip: Go easy on the traditional Holi drink, Bhang lassi, before you know what it's made from – it may seem like an innocent sweet drink but it's a powerful intoxicant for the uninitiated!
A trip to India at this time of the year will leave you infected by the happiness and warmth of its people and will reveal to you one of the most beautiful events of Indian tradition, Holi. Alongside its yoga and Ayurveda, India welcomes its visitors with a warmth that is second to none. Let yourself be enchanted by this diverse and mystical country…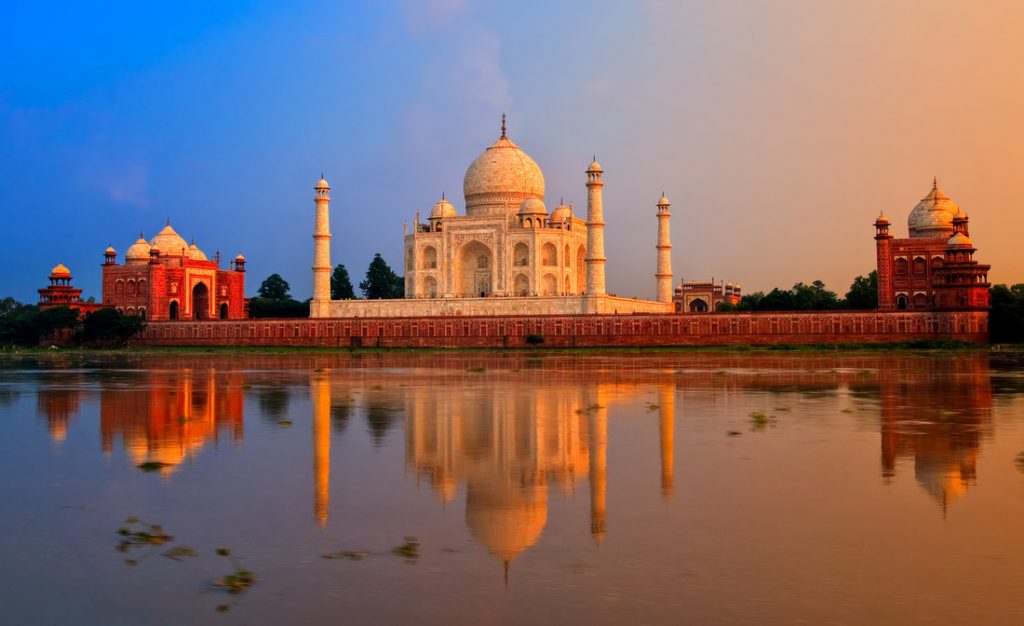 Tags: Ayurveda, destinations, holi, holi india, India, india holidays, luxury holidays, luxury holidays india, Yoga