Relax at Lindner Parkhotel & Spa
Posted on October 19, 2015
---
The warmth of the sun on your skin, peaceful birdsong, and now and again a gentle gust of wind which blows away the scents of the meadow – experience the deep quiet which makes meditation so uplifting. Nowhere is meditation as intense as in open nature. This is especially true in the mountains, which were considered the seats of the Gods.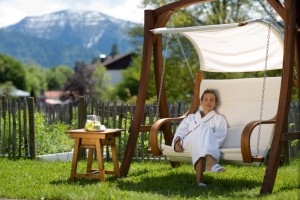 No wonder that according to Feng Shui, the power of life which flowed in from the cosmos streams over the backs of the mountains.
In the Linder Parkhotel & Spa in Oberstaufen there is an Allgäuer generation team (mother & daughter) for a completely special nature experience. Ilse Schubert and her daughter Heike Kirschnek are responsible for the health of Lindner Parkhotel & Spa. Besides the daily hikes through the Allgäuer countryside, they are both responsible for the daily fitness, relaxation, and meditation offers.
Whenever the temperature allows, Heike and Ilse take their meditation outside into the countryside surrounding the beautiful spa resort with a view of the Nagelfluhkette (a range of mountains) or the house's own herb garden, as nature gives relaxation that little bit extra when they are both combined.
The daily offers of hikes through the Allgäuer countryside as well as the fitness-, sport-, and relaxation programme with the team are included in the price of an overnight stay at Lindner Parkhotel & Spa in Oberstaufen. Experience relaxation and a pure feeling of joy where Allgäu is at its stillest.
Lindner Park Hotel & Spa in Oberstaufen (Germany) on our website:
Germany · Alpine foothills · Oberstaufen