Thermal baths in Hungary – for health-conscious vacationers
Posted on May 14, 2014
by admin
---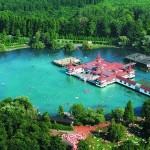 The more than 1,300 thermal springs that exist in Hungary have been used for over 2000 years and more than 300 by people for treating their health problems. Even the ancient Romans knew the healing power of thermal springs and used and set up thermal baths according to their capabilities.
Anyone who has ever sat in a warm and bubbly water to loosen tense muscles and to treat the joints with heat knows the benefits pretty well. In the capital Budapest as well as in many other places and regions, thermal spas have been established. Hungary is not just known for the springs but also for the certainty that the offers always have a good quality.
Thermal baths and its high-quality offers
Thermal water is actually just water that may carry this label without having a special composition. Only the temperature has to be be 30° and more, otherwise the water cannot be called thermal water. Thermal water may nevertheless exert a positive effect on the body because of the warmth and weightlessness of the water are quite positive.
For muscle tension and pain in the limbs, for physical fatigue and general poor health, a stay in a thermal spring can work wonders. The thermal baths in Hungary also offer a large selection of wellness treatments and in combination with a family vacation, everyone can take advantage of the wonderful arrangements.
A very good example is the thermal lake of Héviz which is an important part of tourism in Hungary and is considered the largest thermal lake of the world thanks to its size of almost 5 hectares. It has warm water and only originates from a single source. More than 70 million litres of this water are rinsed daily in the lake and ensures that people from all over the world come here to take advantage of its effective thermal water. The lotus flowers that grow in the lake and decorate the surface with their plate-sized leaves makes the lake a true tourist magnet . Its season extends throughout the year because the 30° warm water temperature can provide its healing effect even in cool weather.
Hotels in the region of Bad Hévíz
Around the lake of Hévíz and in the region, of course, are many beautiful and high-quality hotels offering holidaymakers and spa guests every conceivable comfort. Generally, wellness in Hungary is becoming more and more important. Visitors of this country will enjoy extending offers regarding modernized facilities and above all a great effectiveness. The attentive service is another feature of Hungary, each of the hotels ensures that the guests feel very comfortable and secure during their stay because only then you can recover well.
Explore more SpaDreams Hotels in Hungary under Health and Wellness in Hungary!
Tags: Health, Hungary, Thermal, Thermal Bath, Thermal Lake, Vacation, Wellness