Dreamlike landscapes by the river Mur in Slovenia
---
The dreamlike countryside on the Mur in Eastern Slovenia: the country of broad fields and soft hills, of storks, the klopotec and watermills, of healing water and energy points, of picturesque vineyards, unique traditions and dialects, but above all the country of the incredibly hospitable people who live in the most rural region of Slovenia.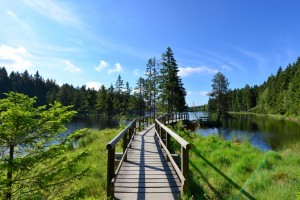 The villages along the Mur and its tributaries are connected by well-maintained bike, hiking and walking trails, as well as wine routes. Visitor and tourist farms as well as numerous ethnographic events mean you can experience the unique customs of north eastern Slovenia. Here you can try the characteristic culinary specialities and outstanding wines of the region in comfortable taverns.
North eastern Slovenia is rich in uniquely healing white and black thermal water. The "black thermal water" of Movavske Toplice comes from the depths of the Pannonian sea. This hot hydro-carbonic water is unique, as it emerges from the source at 72°C, unlike the usual water of this type which generally emerges cold from the ground. Simply using these thermal springs daily is a highly effective therapy treatment.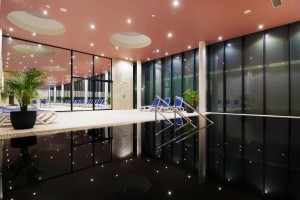 Terme Vivat offers tourist services in sectors including thermal and spa treatments, medicinal treatments, business and sport. The spa is located in the north-eastern region of Slovenia, in Moravske Toplice. At Terme Vivat your accommodation will be in the Hotel Vivat*** Superior. This hotel is directly connected to the thermal springs, where you will find 2000m² of open and covered water, an inside and outside sauna complex, wellness and spa centre, Thai massage salon, hair salon and cosmetics salon.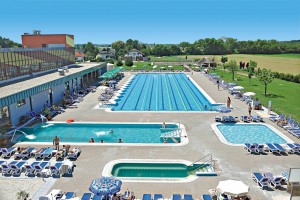 The separate covered bathing complex with white and black thermal water and innumerable water massages and resting places is reserved exclusively for adults, providing complete relaxation in breath-taking surroundings. The sauna complex features outdoor and indoor saunas, Finnish saunas, steam bath, infra-red, herbal sauna and tylarium steam sauna, an outdoor pool for "Kneipp therapy" as well as superb quality resting spots where you can experience the sauna culture of relaxing the mind, body and spirit.
When visitors come for the first time to the Pomurje reason for its soothing water treatments, they discover countless other reasons to come back again.