Maradiva Villas Resort & Spa – a luxury retreat for spa lovers
Posted on October 5, 2015
---
In the heart of Maradiva Villas Resort & Spa is an oasis of peace and tranquility. The award-winning holistic Maradiva Spa, inspired by the rich wellness heritage of India is the ideal place to harmonise the body and soul.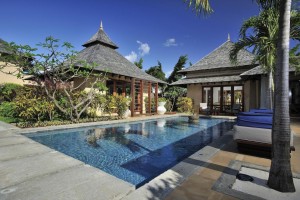 The Maradiva Spa (1250m²) allows its guests to unwind and rejuvenate by experiencing the multifaceted cultures that have influenced and made Mauritius so unique over centuries. Guests will feel the western and eastern signature Indian treatments with the ancient healing wisdom of Ayurveda, blissful customized body & face treatments that range from deep muscular massages to relaxation aromatherapy. The design of Maradiva Spa is strongly based on Indian philosophy and provides an idyllic refuge to relax and let go.
The Philosophy of Maradiva Spa is intrinsically rooted in Indian and Asian ancient approach to wellness. Inspired by traditional Indian and Asian healing, the spa treatments enhance a positive flow of energy by treating mind and body naturally and holistically.
The Maradiva Spa offers a range of conventional treatments and therapies including a full menu of body and face treatments, heat and water facilities which consist of Steam, Sauna, Laconium, Chill pool, Outdoor Shower and a relaxation pool with Jacuzzi. For a total escapade, a personal master is at guests' disposal within the Yoga and Meditation studio.
Royal traditions of wellness, holistic treatments involving body therapies, reviving and meaningful rituals and ceremonies, and unique natural products blended by hand come together to offer a truly calming experience within this haven of peace.
About Maradiva Villas Resort & Spa
Situated on the west coast of Mauritius, overlooking the peaceful, turquoise lagoon and white sands of Tamarin Bay, Maradiva Villas Resort & Spa is home to 65 discreetly opulent pool villas, stretching across 27 lush acres. Inspired by its Indian heritage, the Maradiva experience includes an award winning Holistic spa, nestled in several acres of gardens with private pools and a meditation room.