Romantic weekend in spa
Posted on February 2, 2015
---
Valentine's Day is coming and what's more, this year the 14th of February is on Saturday, which means that you can really think of a romantic weekend for two. February may not be the greatest time for outdoor activities (unless you plan a weekend trip in the Maldives!) so it's important to choose a hotel with good so called "wet weather facilities". The best "wet weather facility" we can imagine is of course a spa. Good spa doesn't have to mean an expensive one, however if you think of booking your stay now, you can expect that the prices for the Valentine's weekend will be higher than for any ordinary day. Nevertheless Valentine's Day is just once in a year and we're sure your second half is worth a surprise romantic holiday.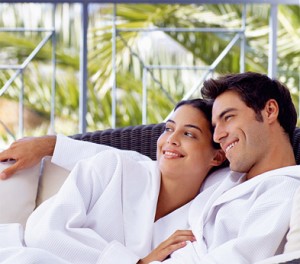 Do something special on Valentine's Day holiday:
– Instead of a regular massage, think of something special like distress or aroma massage.
– A candlelit dinner is always a good idea but on Valentine's Day the restaurant may be crowded in the evening. An afternoon tea is a lovely alternative.
– Nearly everybody loves champagne and strawberries. Our tip to upgrade champagne-strawberry experience is to take a fondue mug with you and dip strawberries in chocolate.
– Candles and rose petals do the trick when you want to melt somebody's heart, but what appeals even more are personalised decorations and items – favourite flowers or chocolates with your initials.
– Active leisure? This is not really what everybody goes for on Valentine's Day, but a there are activities, which really bond people. Dancing on the beach can be romantic even if you're both wearing winter jackets.
If you want to book a weekend break for two, don't look further and check out the best SpaDreams offers. 
Our favourite hotels for weekend breaks for two:
Portugal
Tags: holiday for a couple, romantic weekend, spa weekend break, Valentine's Day, Valentine's Day ideas, weekend break for two