The best time to travel to Morocco
---
There's no one best time to travel to Morocco, because the country is divided into three different climate zones. While the central and the southeast regions have a desert climate, the climate of the coastal regions and the northwest of the country are deemed Mediterranean. In the Atlas Mountains, which form a climate border running through Morocco, a harsh mountain climate prevails. And just as the climates of the country are greatly varied, the optimal travelling times also differ for the different regions.
The best time to visit the coastal regions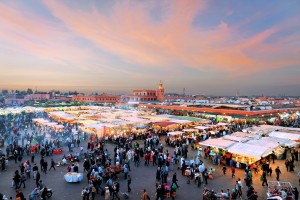 Dry and hot summers with average temperatures of 24 – 26 °C characterize the months of March to November in the northwest region and on the coast. Temperatures can fall to 10 C during Spring and Autumn, and usually reach up to 17 °C in summer. Rainfall is scarce in summer. For Europeans, March to November is the best time of year to travel to the region. The Atlantic breeze along the coast has a pleasantly cooling effect. During the winter months from November to March temperatures are around 16 °C with heavy rain.
Inland desert regions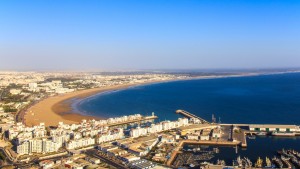 The best times to travel to inland Morocco are between March and May and between October and November. During these months the region is somewhat cooler and the heat more bearable. In summer temperatures regularly reach up to 45 °C, and the Sirocco, a hot desert storm from the Sahara, brings in dust. The temperatures around the inland Atlas mountain region are very different as they are determined mainly by altitude.  Depending on their height, some mountain peaks remain snow covered even in summer. At medium altitudes the climate is mild, very healthy, and perfect for wellness and health holidays. The summer months are hot but very pleasant due to the dry air.
Which time of year is best for a trip around Morocco?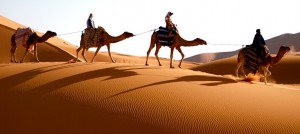 Climatic conditions in the individual regions are very extreme outside of the optimal windows for travel. For a tour around Morocco, it's best to choose the transitional times in April/May or in October/November, in order to avoid the extreme heat and the rainy and cold times.
Interested in a holiday to Morocco?
Tags: moroco, spa holiday in morocco, travel information morocco