Detox Smoothie: Fresh Dream with Melon and Ginger
Posted on June 2, 2014
by admin
---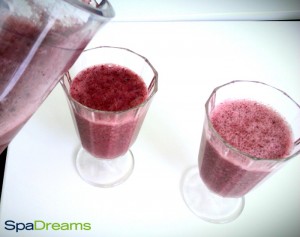 Refreshing and healthy, that's the Fresh Dream our Detox Week winner Smoothie. Try the cooling taste of watermelon mixed with spicy ginger. The watermelon helps the body to flush out toxins. And the ginger reduces inflammation, soothes pain and helps regulate blood sugar. And we all know that lemons are full of vitamin C.
Ingredients:
2 cups watermelon
1 thumb-sized piece ginger, grated
juice from 1/2 a lemon
1/2 cup frozen blueberries
1/2 cup frozen raspberries
a dash sea salt
almond milk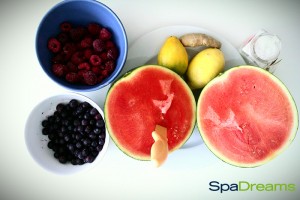 Put all together into the blender and mix it until it's smooth. Fill up with almond milk till it has the right consistency.
You can use fresh blueberries and raspberries, too. If you use frozen ones, let them thaw a litte bit, so you don't get in trouble with your blender – like us.
And now enjoy the fresh taste of the FreshDream!
It's a really delicious taste, refreshing and pretty interesting with the spicy ginger touch.
Book your Detox Holidays with SpaDreams >>
Tags: detox, Detox Smoothie, Detoxification, Ginger, Recipe, Smoothie, Watermelon