Detox time!
Posted on January 12, 2015
---
A few words about detox
January is the time when some of us regret the Christmas indulgence, which may result in fat gain as well as general lack of fitness and poor well-being. Detox is a great way to start the new year and prepare your body for the spring/summer season, when you will need more energy and vitality.
How to detoxify your body? Gradually cut on all the food and beverages, which contaminate your body, go for light and fresh foods and flush them with plenty of water.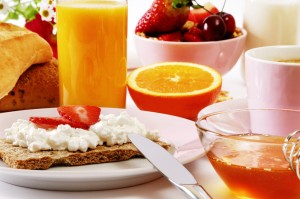 Beverages to avoid:
– Caffeinated drinks – coffee, very strong tea, coke, energy drinks
– Alcohol
– Fizzy and sugary drinks including fruit nectar
Beverages good for you:
– Pure, mineral water (1.5 to 3 liters a day!)
– Green tea
– Fruit and herbal infusions
– Fruit and vegetable juices
Food to avoid/reduce:
– Deep-fried food e.g. chips and doughnuts
– Fat meat and full-fat diary products
– Salty and sugary food
– Food rich in trans fat and animal fat
Food good for you:
– All fruits and vegetables – raw or steam cooked
– Lean meat, fish, cottage cheese and natural yogurt
– Food rich in essential fatty acids – nuts & seeds, cold-pressed oils, avocado
– "Superfoods" – nutritious and rich in vitamis & minerals – quality honey, amaranth, quinoa, acai berries,chia seeds, spirulina, maca…
Tips:
– Think organic, fresh and green!
Eating organic products contributes to your good condition in the long-term and makes you feel good about your food choices. This feeling that you do something positive for your body and care about healthy habits has a strong positive psychological effect alongside physical impact on your digestive system. Have you ever felt guilty after eating a whole box of chocolates or some other unhealthy food? Turn guilt into pride from your healthy choices.
– Move your body!
Change your daily habits and cycle and walk whenever possible – a brisk walk before work will awake you and make you ready to face the day. You don't have to spend hours in the gym if your lifestyle doesn't allow it, but think how to add some physical activities, which would be pleasant to you. Don't focus on weight loss but rather on overall fitness. Don't torture yourself with the gym if you don't like it. Do something that would be pleasant and rewarding rather than just exhausting, otherwise you'll give up soon. Even if you haven't too much time, think of something that could be your new hobby – swimming, tai-chi, dancing, cycling, running, yoga, martial arts – the possibilities are endless.
– Be patient and positive 🙂
Focus on long-term results rather than on quick rewards. Treat detox as the first step to your new way of living. And don't feel too guilty if you fail at times. Everybody has bad and good days. What counts is your overall transformation!
– Think of detox holidays with SpaDreams
Detox on holiday is a moving and delightful experience as you can combine your new diet with spa treatments, distress and relax. Check out our detox holiday range!
Tags: body purification, cleansing, detox, fitness, healthy habits, healthy lifestyle, superfoods, weight loss