Thermal hotels with overnight stay
---
Definition: What is a thermal bath?
The term thermal bath originally refers to a pool filled with thermal water in which one could bathe. Even the Romans recognised the benefits of thermal water for body and soul. Over time, people tried to make access to thermal water easier and bathing in it more comfortable. Today, the term thermal bath therefore often no longer refers to the bath itself, but to the entire complex including the sauna landscape etc. These so-called bathing establishments are true wellness temples and sometimes very large areas with healing clinics, spa hotels and the associated infrastructure (saunas, steam baths, indoor and outdoor pools, adventure pools, etc.).
A thermal bath nowadays means a public bathing establishment with various pools, which with their warm and mineral-rich water serve not only for relaxation but also for health promotion. The water used, should have a natural water temperature of at least 20°C from a thermal spring in the region. Only bathing facilities that use groundwater with at least this outlet temperature are officially allowed to call themselves "Therme" according to the German Spa Association.
---
Where can I find the best thermal spas?
Italy in particular is known for its traditional thermal baths and is therefore particularly suitable for your upcoming relaxing holiday. How about a spa hotel in fairytale Tuscany, for example? But not only in the warm south, but also in the east of Germany you can enjoy excellent thermal holidays. Other popular thermal spa destinations are the Czech Republic, where the popular Bohemian spa triangle awaits you, or Hungary, where you can combine your wellness break with a city trip to the enchanted Budapest.
But also in Germany you will find many wellness temples, which will spoil you by all means. Whether in one of the many thermal spas in Bavaria, in Baden-Württemberg or in Rheinland-Pfalz - we will find a thermal spa hotel for you that is perfectly tailored to your needs.
Whichever country you choose, one thing is for sure, our hotels will make your long-awaited thermal wellness holiday a reality. No matter whether it is a thermal weekend or a longer thermal therapy, your feel-good spa is already waiting for your visit!
The best thermal baths in Europe
| | | | | | |
| --- | --- | --- | --- | --- | --- |
| Thermal hotel | Location | Review | Highlight | Price per day | |
| Cascate del Mulino | Saturnia, Italy | 4,6/5 | Waterfalls, hot springs | for free | |
| Therme Olimia | Podcetrtek, Slowenia | 4,6/5 | Slightly radioactive thermal water | €32,50 | |
| Therme Erding | Erding, Germany | 4,5/5 | The sauna landscape | €35 | |
| Aquaria Thermal Spa | Sirmione, Italy | 4,5/5 | Beautiful medieval place | €79 | |
| St. Martins Therme & Lodge | Frauenkirchen, Austria | 4,5/5 | Situated on an idyllic lake | €28 | |
| Therme Meran | Südtirol, Italy | 4,4/5 | Modern and artistically designed | €25 | |
| Tauern Spa | Kaprun, Austria | 4,4/5 | 20.000 m² bathing area | €32 | |
| Europa Therme | Bad Füssing, Germany | 4,4/5 | The Aerosalzum | €17,50 | |
| Leukerbadtherme | Leukerbad, Switzerland | 4,4/5 | Extra child-friendly | 30 CHF (€27,80) | |
| Gellert Bad | Budapest, Hungary | 4,2/5 | Historical Art Deco ambience | 5900 HUF (€17) | |
| | | | | | |
Discover our most popular mineral baths worldwide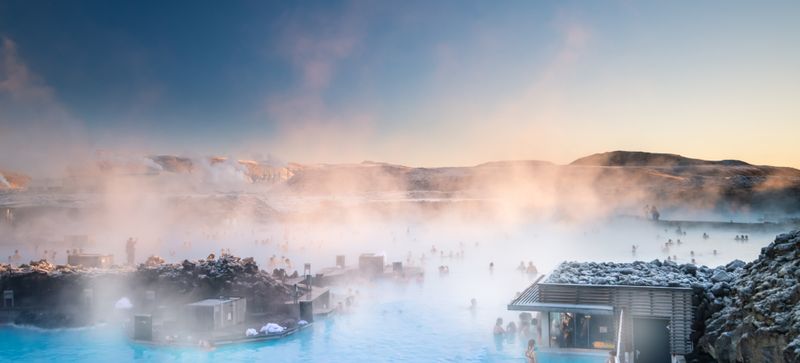 FAQ - Everything about thermal holidays and spas
When is the best season to visit a mineral bath?
A short holiday at the thermal bath is a blessing for body and soul all year round. But in the somewhat colder months, such wellness breaks is even more enjoyable. Imagine yourself sitting in the warm thermal pool while it is stormy and snowing outside. At this time of the year, a stay at the thermal baths can also be ideally combined with a city trip. If, on the other hand, you are travelling in summer, a thermal spa in the middle of nature is the perfect place to go for great hiking and cycling tours.
How long should a holiday at the thermal bath be?
If you just want to forget about everyday life, a short break at the thermal hotel is already worth it. Enjoy the relaxing treatments in the wellness area and recharge your batteries. However, if you want to effectively treat a specific health problem, for example with a drinking therapy or regular baths in mineral-rich thermal water, you should stay for at least a week.
What does a stay in a thermal hotel involve?
First of all, the stay includes a rich breakfast in your hotel to start your day. The use of the wellness and spa area of your hotel is of course also included in the booking. If your wellness hotel does not have its own thermal spa with sauna etc., most arrangements include the entrance to the adjacent thermal spa and bathing world. Often, the dinner is also included, but always inform yourself about this before booking to avoid misunderstandings.
What should I definitely pack for my thermal holiday?
We highly recommend bringing comfortable swimwear, sports equipment, and possibly hiking boots, if necessary.
Is there a minimum age to visit mineral baths?
Most spas specify a minimum age of 16 years for the sauna area. However, this only applies to the use of the sauna and not the other pools and treatments.
Can I take my children with me on my thermal holiday?
That is no problem. Just find out in advance which of our hotels with thermal baths are particularly family or child-friendly. Often there is a professional child care service in the hotel so that you can spend relaxing hours in the thermal baths and don't have to worry about anything.
Are thermal baths handicapped accessible?
Some thermal baths are handicapped accessible, which means that they can also be used by wheelchair users, for example. Please inform yourself in advance to find the best possible offer for your individual needs.
How much does one night at thermal hotel cost?
A night in a double room with breakfast and admission to the thermal area starts at around € 100.
How do I save money on my thermal holidays with SpaDreams?
If you have chosen a certain destination, you should book as early as possible so that you don't miss the early bird discount, in the best case 3-4 months in advance. But if you don't have a specific destination in mind, you can also browse through our last-minute offers and book one or the other deal spontaneously!
You might also be interested in these travel topics: