Portugal's capital is more than a modern hub for international tourists: closely connected to its eventful past, Lisbon is a city full of contrasts and surprises. Its narrow, steep streets let you feel the unique flair of the city, starting with the charm of old cable cars, wine cellars and the vast nature reserve Tagus Estuary Natural Reserve. Our 5-star hotels warmly welcome you with relaxing wellness treatments, detox days and exclusive locations. Ready for your Lisbon city break?
SpaDreams offers for your city break to Lisbon
Imagine yourself relaxing with massages, sliding into the warm Jacuzzi or participating in yoga, Pilates or stretching sessions after exploring the bustling city of Lisbon and its treasures in every corner.
Our hotels provide you with first-class service, exclusive full-board meals and time to unwind with your family or during your romantic weekend in Lisbon. Located in idyllic surroundings, your short break to Lisbon will be rewarded with breath-taking views over the Sintra Mountains, over the ocean or the skyline of Lisbon.
A city break to Lisbon wouldn't be the same without indulging in the traditional Portuguese cuisine. In Lisbon you will experience a magical combination of flavours, smells, and the famous Port wine. Portuguese food is not only meditarranean cuisine, but a mix of different cuisines including african, asian, Brazilian, and atlantic.
Enjoy the famous trio bread, wine, and olive oil in of the lively bars in Lisbon and learn more about the great variety of the Portuguese cuisine.
Explore Lisbon's surroundings and enjoy a stay in one of our beautiful spa hotels in Sintra. Sintra is a charming Portuguese town close to Lisbon and in the midst of the hills of Serra de Sintra. Within the pine-covered hills lies a variety of magical, historic buildings such as one of Europe's finest palace, the Palácio Nacional da Pena, villas and the ruins of a Moors castle.
Captivating views and nature will surely make your stay unforgettable.
Do you already know which programme or hotel you want to book for your getaway in Lisbon? Use the search tool, filter them to your personal preferences and find your perfect hotel in Lisbon.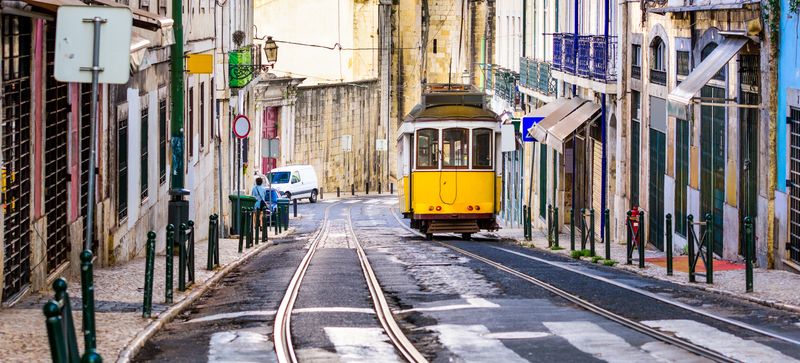 FAQ Lisbon - Travel and saving tips
How do I reach my hotel in Lisbon?
Most of our hotels in Lisbon and Sintra offer transfer services from/to the airport. As you can reach everything on foot or using the tram and metro transportation services during your city break in Lisbon, we recommend to make use of a rental car only if your hotel doesn't offer transfer or if you're planning a day trip to Sintra/Lisbon or other little towns.
What is the best time of the year to visit Lisbon?
Regardless of visiting Lisbon for a winter city break or summer city break, we guarantee you will spend a glorious time with pleasant climate all year round. During the winter months (November – end of February), we recommend bringing warmer clothes. Even though temperatures during your city break to Lisbon will still be pleasant, it can get a little bit chillier and windier with an average temperature of 15°C during the day and 4-7°C during the nights.
Spring and autumn are the perfect time for your weekend city break to Lisbon. It is mostly quieter in regards to tourists but temperatures during April and the end of October can rise up to pleasant 20-27°C. Though, be prepared as it can get wet during these months. Enjoy the lively and enjoyable atmosphere within districts of Baixa or Alfama.
If you're planning to combine your time exploring the city and neighbourhoods with beach time and swimming in the ocean, we recommend booking your short break to Lisbon during the summer months (June-August, up to 30°C). You will experience the charm of the neighbourhood streets and feel the warm evening breeze while winding down in vibrant bars or your hotel pool. Be aware, the prices of accommodation, flights and treatments are increasing. Our tip: book well in advance to avoid unnecessary costs.
How do I get around in Lisbon?
Once in Lisbon, you can easily visit the city by foot. This gives you the opportunity to discover romantic alleys and take your time exploring the historic places during your city break in Lisbon. Tired feet can take advantage of the convenient public transport system including trams, buses and metros. They bring you to all tourist attractions. To give your getaway to Lisbon extra special, hop on one of the trams or funicular and explore the city from a different perspective.
What should I pack for my getaway to Lisbon?
Your packing list depends on the season you plan your city break to Lisbon: As temperatures are pleasant all year round, we only recommend bringing warmer clothes for chilly evenings and nights during the winter months (November – end of February) and a rain jacket during spring as it can get wet. As our hotels provide outdoor pools, you should definitely a swimsuit to enjoy the stunning views over the Sintra mountains or Lisbon's skyline.
Keeping in mind the hilly streets of Lisbon and your tired feet while exploring the city and its neighbourhoods, we recommend bringing comfortable shoes.
How can I can save money on my Lisbon city break?
Are you looking for a unique experience during your short or long weekend trip to Lisbon? Are you travelling on a budget? Contact our experts, they are happy to plan your exclusive budget city break to Lisbon together with you.
Book the spa package option if you want to enjoy multiple treatments in one of our hotels. Why? This is the most cost-effective option for you and your budget.
Another valuable tip is booking well ahead of your getaway to Lisbon. This way, you will benefit from our "Early Bird Specials". To fully unwind and enjoy Lisbon's surroundings, escape the tourist streams and plan your city break to Lisbon during the off-peak season (roughly between November-March). Another benefit when travelling during the off-peak season: You can save money on your dream hotel and treatments as hotels lower prices during these times.
View all hotels in Portugal