Discover our best thermal spa hotels in Hungary
What makes thermal holidays in Hungary special?
If there is one thing Hungary is famous for, it's the country's luxurious thermal baths. The healing properties of these thermal springs were discovered in ancient Roman times and have been used for therapy, disease prevention, and aftercare following injuries or serious illnesses ever since. Although there are many other thermal spas around the rest of Europe, Hungary has been blessed with thousands of them: 1200 thermal springs are spread all over the Hungarian territory. 350 of these are hot springs, which are officially recognised as medicinal waters, providing visitors with health, well-being, and relaxation. The thousand-year-old history of the country is also closely interwoven with the medicinal springs.
Amongst turquoise lakes, open meadows and blue mountains, visitors are blessed with healing thermal waters which prove an effective medical treatment for a variety of health issues.
The architecture of some of the palatial baths in Budapest is already impressive on its own. The capital has also been able to preserve the unique bathing culture established by the Turks. No less spectacular is the Hevíz thermal lake, in whose warm water even the Romans loved to bathe.
The thermal water in Hungary's spas
The thermal waters in Hungary each contain different levels of valuable minerals and as such each thermal spa resort in Hungary offers unique treatments. A thermal therapy in Hungary therefore not only brings relaxation, but also has a pain-relieving and healing effect.
Thermal water in Hungary is natural, mineralised ground water with a temperature of 30 degrees Celsius or more, whereas the minimum temperature in other European countries is only 20 degrees Celsius. Only water whose curative effect has been medically proven may bear the name of thermal water.
What does Hungary's thermal water help with?
Hungarian spring water regenerates, stimulates, and activates the whole body. At the same time, a bath in the thermal springs relaxes the muscles and has a deeply relaxing effect. Depending on the water and the region, the proportion of natural minerals and ingredients varies. Due to their high mineral content, the water and peat mud from the thermal lake in Bad Heviz are ideal for treating rheumatism, osteoporosis, or a sick spine, for example. Other spas are also used for treating inflammation or skin problems.
A thermal therapy is particularly recommended if you encounter high levels of stress in your everyday life and simply want to switch off again. A bath in the bubbling healing water can even help to prevent burnout. Your immune system and blood circulation will also benefit from your thermal spa holiday in Hungary!
Excellent thermal spa hotels
All places in Hungary with medicinal and thermal springs offer hotels with high quality equipment, which provide relaxation and well-being for their guests. Discover the most beautiful thermal hotels in Hungary with SpaDreams, which offer excellent service and often even have their own access to the spa department or the nearest thermal spa. Optionally, you can also purchase entry tickets for nearby thermal baths in Hungary at your hotel reception.
You will experience relaxing nights in the stylish rooms of your hotel, which are equipped with all kinds of amenities. In the spa and wellness areas, which are as varied as the thermal spa hotels themselves, attractive sauna landscapes, thermal baths, bubbling whirlpools, and a wide range of massages and relaxation offers are awaiting you. You can round off your wellness day with a delicious dinner in the high-quality restaurant of your thermal hotel.
Our top thermal hotels in Hungary at a glance
Széchenyi Spa
In the centre of the capital city of Budapest lies one of the largest and most beautiful thermal baths in Europe: the Széchenyi Spa. A total of 18 swimming pools are located on the extensive grounds, as well as saunas, steam baths, and beneficial wellness and beauty treatments. From the open-air pool you have a sublime view of the neo-baroque palace that makes the Széchenyi Bath so unique. The Hungarian thermal spa, which incidentally offers barrier-free access to its pools, has the hottest springs in Budapest at 75 degrees Celsius.

Thermal lake of Hevíz
The largest natural thermal lake worldwide is located in the western part of the country. The warm springs of the thermal lake come from the volcanoes located in the north-western shore of Lake Balaton. Nobody here has to be afraid of an eruption, but the volcanoes have a positive influence on the environment. Even in winter the water temperature is between 23 and 25 degrees Celsius. Thanks to the Mediterranean climate and the pleasantly warm, mineral-rich water, guests can enjoy the springs all year round. The peat mud of the lake is also known for its healing properties.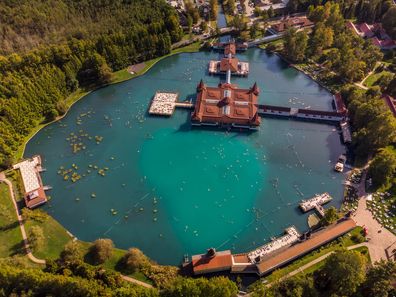 Anna Thermal Baths
One of the most beautiful thermal baths in Hungary is the Anna Thermal Baths in the city of Szeged. Built in 1896 and completely modernised in 2004, the Hungarian thermal bath with its domed roofs and richly decorated wall façade is beautiful both inside and out. Several spas, adventure pools, children's pools and a wellness area await the guests. The secret of the popular spa lies in its particularly mineral-rich water from the Anna Fountain, which bubbles to the surface at its own temperature of 49°C.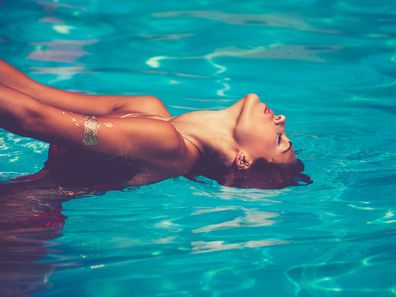 The 6 most beautiful places for your thermal holiday in Hungary
Bad Hévíz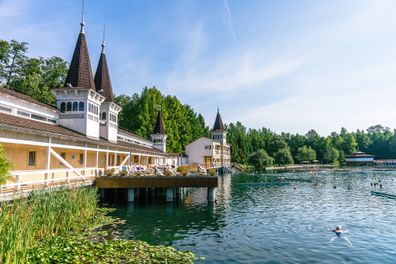 One of the most unique thermal spa resorts in Hungary is Hévíz, home to the largest thermal lake in Europe formed over 22 thousand years ago. Red waterlilies border the steaming turquoise waters which have been attracting guests for centuries, no matter the weather or season. The hot springs that feed into Lake Hévíz are rich in radon and sulphur, and can help with mobility disorders or rehabilitation programmes.
Bad Bük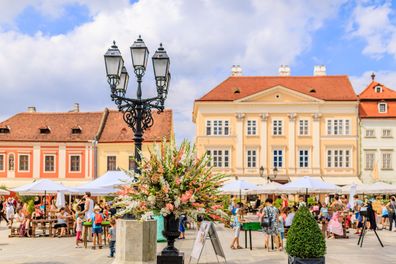 If you like mountainous landscapes, Bük is the spa town for you, situated in the meadows of the Alpine foothills. Unlike other spa resorts in Hungary, Bük was not discovered as a spa destination by the Romans, but instead relatively recently, by workers looking for oil in the 1950s. The waters have a high concentration of alkali hydrogen, potassium and calcium and have been shown to improve a variety of illnesses.
Bad Zalakaros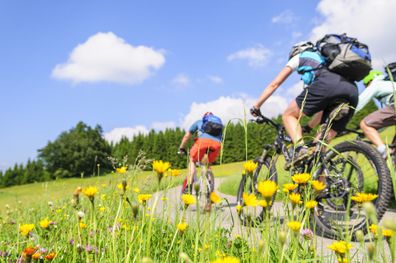 When drilling for oil in Zalakaros in 1967, instead of the black gold, a volcanic spring with thermal water at 95°C was found. It's safe to say that Zalakaros owes its fame as a health resort to a coincidence. Explore the forests, lakes and vineyards in the area on a bike or hiking tour!



Bad Hajdúszoboszló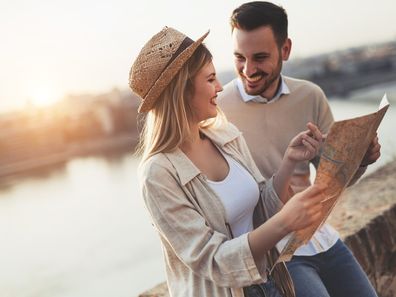 Hajdúszoboszló, the Hungarian city of miracle springs, is also considered the Mecca for rheumatism patients. In addition, the health resort with its gigantic bathing complex of the same name offers numerous opportunities for recreation. Especially in summer, the various sports pools, beach baths and adventure pools attract many guests.



Bad Sárvár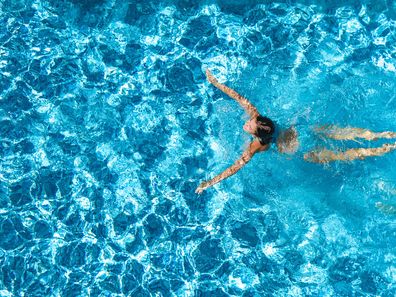 Close to the Austrian border lies another well-known thermal spa destination in Hungary – the town of Sárvár – a name meaning "mud" (Sár) and '"castle" (vár) in Hungarian. It is a small yet charming spa town with a number of cultural and outdoor activities, from ancient churches to forest walks. Containing a high concentration of hydrogen carbonate, the healing thermal waters visibly smooth the skin and improve health, so you'll be bursting with energy both during and after your holiday here.
Budapest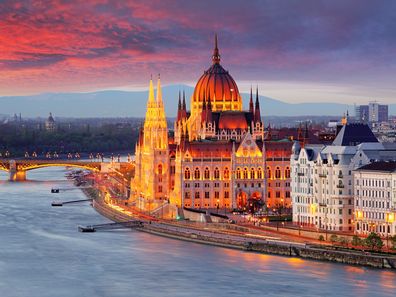 Budapest - the capital of the land of thermal springs, iconic spas such as the art deco Spa Gellert captivate its visitors with an array of cultural attractions, architectural wonders, and unique landscapes. But the Hungarian capital is also the perfect destination for a thermal wellness holiday: Budapest alone has more than 100 hot springs.




---
3 reasons for a thermal holiday to Hungary
Hungary is a paradise for wellness tourists. This is not least due to the more than 1,500 hot springs that gush out of the earth in many places. The country also stands out for its hospitality and is an attractive destination for families with children. Read 3 good reasons why you should choose Hungary as your thermal holiday destination!
The Hungarian cuisine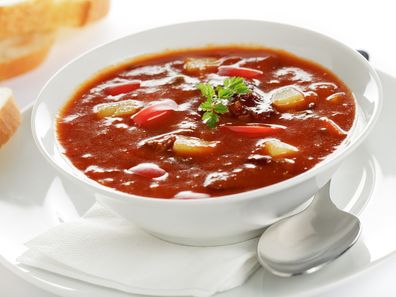 You certainly know some classics from the Hungarian cuisine: the traditional goulash, the spicy fish soups and the popular Hungarian salami. Besides meat, people like to cook with vegetables, especially paprika is omnipresent. But what many don't know: Hungary has excellent wines too.
The landscape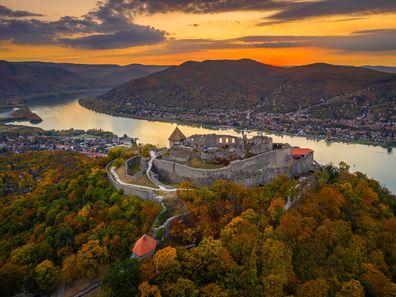 The beautiful country on the Danube is characterised by a diverse nature. Along the river, densely wooded hills and mountains line idyllic villages and imposing castles and palaces. Probably the most famous holiday area in Hungary is Lake Balaton or Balaton, which attracts visitors with its bathing possibilities, boat trips, and fantastic cycle routes.
The culture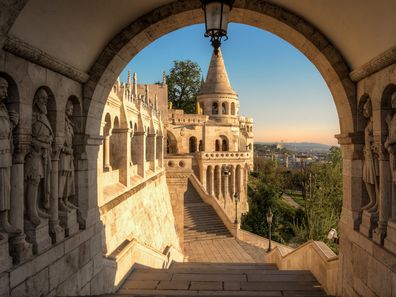 Hungary's culture is extremely diverse: traces from the Roman Empire can be found as well as monuments from the Turkish rule and relics from the Middle Ages. UNESCO has now added 10 highlights to its World Heritage List, including the Budapest bank of the Danube, the Aggtelek Caves and the burial chambers in Pécs.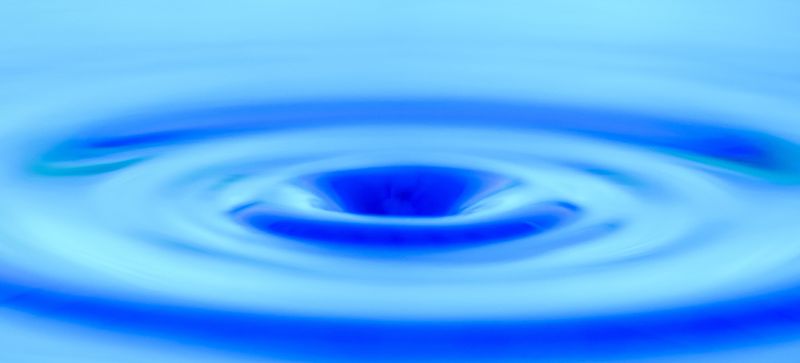 FAQ - All about thermal baths and thermal holidays in Hungary
When is the best time to travel for my thermal spa holiday in Hungary?
A holiday in Hungary has its charm both in summer and in winter. While the weather from April to September invites you to go on excursions into nature, you can experience particularly cosy moments with your loved ones during a visit to a thermal spa in winter. You will particularly appreciate the soothing warmth of the thermal pools.
How long should the stay in a thermal hotel in Hungary be?
Depending on where you live, we recommend at least one week, preferably two weeks. This will give you enough time to recharge your batteries and return to your everyday life feeling refreshed.
What should I take with me on my trip to Hungary?
To make sure you can take advantage of all the wellness offers during your thermal spa holiday, you should pack bath towels as well as swimwear as you can't lend them in every hotel. Slippers can also be useful on the slippery floors of the baths. As bathing caps is compulsory in many swimming pools in Hungary, it is best to bring your own.
Can I take my children with me on my wellness holiday to Hungary?
Yes, although there are age restrictions for certain treatments and wellness areas, many thermal spas offer children a variety of pools and play areas where they can romp around in a relaxed atmosphere. Please inform yourself about a possible minimum age before you visit a thermal spa.
Which are the top thermal baths in Hungary?
The most popular thermal baths in Hungary are:
Széchenyi Thermal Bath in Budapest
Anna Thermal Baths in Szeged
Thermal Lake in Hévíz
Bük Thermal Spa
St. Gotthard Therme
Europa Therme in Bad Füssing
Therme Bad Sárvár
Zalakaros Thermal Spa
Lenti Thermal Spa
Is it possible to travel barrier-free in Hungary?
Yes, at SpaDreams you will find a wide range of barrier-free hotels, also for a spa and wellness holiday. In Hungary, these include the Calendula Ayurvedic and Medical Hotel in Siófok, the Európa fit Hévíz Hotel, the Danubius Hotel in Bük and many more.
Find your perfect hotel with thermal spa in Hungary
You might also like these destinations & travel themes: