Travel to the Dead Sea: Discover
With our Dead Sea travel guide you will learn the key info on when & where to go, and how this place can improve your health. The Dead Sea, so called due to its salty waters making it hostile to fish and plants, is a hypersaline lake approximately 420 meters below sea level, the lowest point on the planet. The climate of the Dead Sea is unique and has a therapeutic effect known around the world.
What Are Dead Sea Minerals?
The desert air is extremely dry, virtually pollution-free and mineral-rich. Minerals that the Dead Sea is abnormally high in include:
Sodium ~ helps to remove skin scales and soften the skin
Magnesium ~ promotes cell metabolism (and thus prevents psoriasis)
Potassium ~ helps to regulate/lower blood pressure
The high salt content in the Dead Sea's waters gives you a delightful feeling of weightlessness, taking the pressure off the joints and promoting exercise for those who otherwise find it very difficult. This intriguing effect helps with rehabilitation of joints and muscles as it seems that the body is ten times lighter and all movements are easier.
Dead Sea Climate Therapy
Maximum humidity is 35%, and less than 50 ml rainfall per year. Due to the relatively high content of oxygen in the air, the high concentration of minerals in the sea and the nourishing black mud, the Dead Sea is one of the best possible destinations for climate therapy.
If this weren't already good enough, the reduced ultraviolet radiation allows for healthier tanning and relaxing 330 days a year. The climate of the Dead Sea is pleasantly warm and sunny, even during the winter. A stay by the Dead Sea is ideal for rheumatic diseases and joint problems, as well as skin diseases such as eczema and psoriasis. Indeed, the Dead Sea is world renowned for its miracle Psoriasis Treatments.
The Dead Sea is dying – this is something those of you interested in climate change might have heard. But don't worry, even though the water level is receding at an alarming rate, at some point due to the minerals in the water, the rate of evaporation will stabilise along with the water levels.
Dead Sea Treatments - Best Times
The best times for treating particular health conditions:
Psoriasis and psoriatic arthritis (late March to early June / September to November)
Atopic dermatitis (March to May / September-November)
Vitiligo (April to October)
Ichthyosis and acne (vulgaris, conglobata, indurated among others, from February to May), scleroderma in the initial stage (April to June / September and October)
Parapsoriasis diseases, e.g. lichen planus (January to June / September to November)
Prurigo nodularis, mycosis fungoides st. I - II, alopecia areata, papular urticaria, uveitis (May-June / September and October)
Cystic fibrosis (November to March)
Respiratory diseases (October to March)
Rheumatic and orthopedic diseases (February to early June / September to December) such as rheumatoid arthritis, gouty arthritis, osteoarthritis, soft tissue rheumatism, osteoarthritis. Cervical vertebrae, sciatica, shoulder pain, myalgia, neuralgia, fibromyalgia.
Dead Sea Medical Centres
Israel
If you are staying in a Dead Sea hotel in Israel and would like medical or health therapy, you will be sent to the DMZ medical centre which welcomes guests from all the hotels in the area.
The DMZ (Deutsches Medizinisches Zentrum) is a German-owned facility specialised in advanced treatment of skin diseases, respiratory diseases and rheumatism. With natural therapies using the resources of the region (sea water, salt, mud and air) and specialists in dermatology, rheumatology and respiratory medicine, the DMZ contributes to a sustainable healing process. The emergency medical service is on call 24 hours a day
You can book a stay in any of our SpaDreams Dead Sea hotels in Ein Bokek and go to the medical centre for examination and treatments (the picture at the top of the page shows you the location of hotels). When you request a quote please indicate that you want a specific treatment (see table below) to be added to your quote. You can also book return airport transfer.
View our page Dead Sea in Israel for more information on the specific treatments available at the DMZ.
Jordan
SpaDreams recommends a stay in either our 4 star partner hotel Dead Sea Spa Hotel with Medical Centre, with expert dermatologists, or 5 star Hotel Mövenpick, with luxury spa and wellness centre.
Support During Dead Sea Treatments
Medical history analysis and medical examination
Development of an individual treatment programme with recommended sun bathing time, depending on the season, skin type and disease
All necessary creams, oils and medicines
Final medical examination, medical care and medical report
For psoriasis, vitiligo, atopic dermatitis and acne:
Prescribed scalp treatments in DMZ for scalp psoriasis
For rheumatism, scleroderma, and uveitis:
All treatments prescribed by the doctor (around 3 per week), such as sulphur baths, baths in the Dead Sea, sunbathing, black mud wraps (hot and cold), cryotherapy, medical massage
In the cases of uveitis: ophthalmological examination
For psoriatic arthritis:
Combination of the treatments mentioned above
The Natural Solarium in Ein Bokek
The natural solarium is located on the beach of Ein Bokek, which offers privacy for those interested solely in sunbathing for medical purposes. Sunbathing is available on prescription at the time slots prescribed by the doctor. The natural solarium is available for use by guests of the neighbouring Dead Sea hotels specialised in health vacations.
Here you'll find newspapers, sun beds, showers and toilets. Proper attire is required for both swimming and bathing and the areas for men and women are separated.
Temperatures
Dead Sea Climate. 21°C is the room temperature (70°F).

| | | | | |
| --- | --- | --- | --- | --- |
| (°C) | Jan | Feb | Mar | Apr |
| Max. | 20 | 22 | 25 | 29 |
| Min. | 11 | 13 | 16 | 20 |
| | May | Jun | Jul | Aug |
| Max. | 34 | 37 | 39 | 38 |
| Min. | 24 | 27 | 28 | 29 |
| | Sep | Oct | Nov | Dec |
| Max. | 36 | 32 | 27 | 22 |
| Min. | 27 | 24 | 18 | 13 |
How to Book & Things to Note
The months of June, July and August are very hot and not ideal for most climatic cures as the temperature often exceeds 40 ° C.
The DMZ Medical Centre is closed during Jewish holidays.
Treatments are also suitable for children and babies (except for a small number of treatments).
In order to book, decide whether you'd prefer Israel or Jordan, or decide based on the particular ailment you'd like to help heal. You can do this by selecting different options from the drop down search bar that you can find at the top of the page, or simply by calling/emailing us on 020 3608 7377 /info@spadreams.com. We're always happy to hear from you and help you with our expert travel knowledge!
Alternatives to the Dead Sea – Effective Therapy Elsewhere
Are you looking for an effective treatment for psoriasis, eczema or asthma but you'd rather not travel to Israel or Jordan? SpaDreams can offer you alternatives in Europe and beyond. Our wide range of health and wellness holidays offers a combination of relaxing spa stays, health treatments and exciting possibilities to discover new destinations around the world.
Check out our medical wellness offers or search for holiday offers aimed at specific medical conditions. Or read more about Jordan & The Dead Sea here.
Dead Sea Hotels in Israel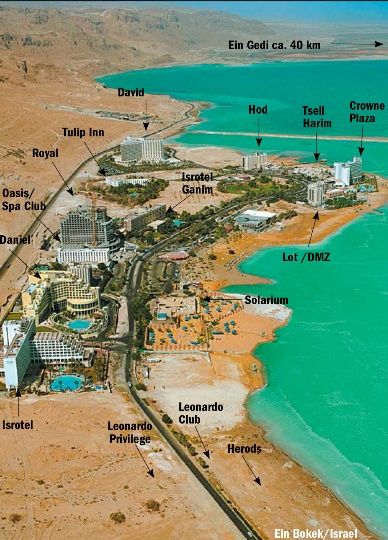 Proven Results of Dead Sea Treatments
Maximum effectiveness
No side effects during treatment or afterwards
Improves even severe cases
Treatments also suitable for children (except for a very small number of conditions)
Complete healing of skin lesions in most cases
Long-lasting effects
Dead Sea Hotels Offer Treatment For:
Psoriasis (incl. scalp psoriasis)
Neurodermatitis
Vitiligo
Acne
Asthma
Uveitis
Scleroderma
Rheumatism
Psoriatic arthritis
Not Always Suitable For
Those with heart, circulatory and kidney diseases and acute infectous diseases.
We strongly recommend a medical consultation with your doctor before you consider any treatments at the Dead Sea.
Recommendations
A doctor consultation is recommended in order to check which medicines can be taken in conjunction with Dead Sea Spa medical treatment. Most doctors at the Dead Sea will recommended you to limit the medicines you take to the most essential ones. For example, corticosteroid creams should be avoided and put away at least four weeks before the treatment as there can be reactions with the saline water. Cortisone tablets may be taken throughout the treatment in consultation with your doctor and the specialists in DMZ.
Please make sure that you bring a detailed health check report and a list of all your medication to your Dead Sea medical programme.
Duration of the Treatments at Dead Sea Hotels
Israel:
In all the dead sea hotels offering treatments in DMZ Medical Centre, you must stay for a minimum. of two weeks (14 nights). Special prices are offered for treatments lasting five-weeks or more.
Jordan:
Dead Sea Spa - min. 1 week (7 nights) - special price from 21 nights.
Mövenpick - min. 2 weeks (14 nights), up to 3 weeks. Longer treatments available on request.
For the best results, we recommend at least 2-3 week treatments during the following times.
- End of March until mid June
- September - October
From mid June until the end of August the temperatures are usually too high to enjoy the healing properties of the Dead Sea, and from late October until mid March it may be too cold for healing sunbathing and bathing in the sea.
Related Topics
Medical Conditions List
Medical Wellness
Cures for psoriasis
Dead Sea treatments in Jordan
Our Highest Rated Dead Sea Spa Hotels
Search All Dead Sea Offers