Our best Ayurveda resorts in Mallorca
Pick from a variety of all-inclusive Ayurveda packages
According to your life circumstances or health condition, there are different Ayurveda packages that you can book at your Ayurveda hotel. To give your body, mind and soul a healing cleanse, you can book a traditional Panchakarma retreats for detoxification. In your quest for youthful looks and a radiant glow, a Rasayana retreat can help you. For pure relaxation and rejuvenation, book a wellness Ayurveda retreat.
Adjust the duration of your Ayurveda retreats in Mallorca to your available time. For a short Ayurveda vacation, a stay of three nights is already worthwhile. Of course, you will achieve a greater relaxation and healing effect with a longer your stay, with best results starting at seven nights or more.
Before starting your Ayurveda program, you can take the opportunity to have your Dosha constitution type determined by Ayurveda specialists. In an initial consultation, a treatment plan will also be determined for you, which will tailor all further treatments to you. Soothing head, face and full body massages will give you relaxation, while steam baths and inhalations will strengthen your immune system. During a detailed final consultation, your Ayurvedic therapists will go over your health progress with you and provide you with helpful tips on how to maintain the relaxation and health you have achieved in everyday life. Yoga, meditation and breathing techniques will quiet your mind and break thought cycles.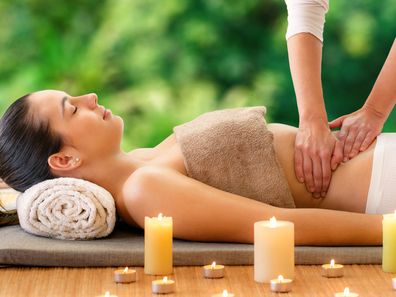 Panchakarma
A Panchakarma retreats in Mallorca cleanses your body holistically on a physical as well as on a mental and spiritual level. In the preparatory phase of the three-phase cleansing therapy, your Ayurvedic therapist will dissolve your body's metabolic waste products. With soothing massages, the Ayurvedic specialists loosen your tissues so that in the cleansing phase all dissolved toxins can be directed out of your body through Ayurvedic elimination procedures. The restorative phase concludes the Panchakarma retreats and supports your body in its revitalization by taking Ayurvedic herbal preparations.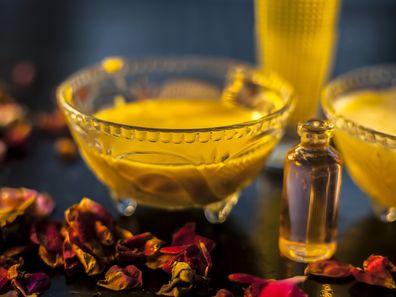 Rasayana
Give yourself youthful looks and a fresh glow with a Rasayana retreats in Mallorca. Ayurvedic treatments pamper your skin and significantly rejuvenate your appearance. Individually tailored nutrition and gentle skin and body treatments combined with rejuvenating herbs give you a blossoming radiance. Breathing techniques provide your body with sufficient oxygen, which further enhances the effect of the anti-aging retreats. Meditate to achieve deep balance and get your blocked life energy flowing again.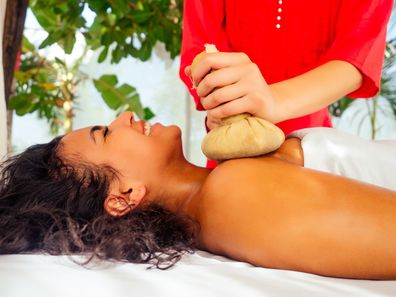 Wellness Ayurveda
Ayurveda doesn't have to be a medical retreat, but can also simply focus on holistic relaxation of your body, mind and soul with an Ayurveda wellness retreat. Enjoy warming oil massages and tingling forehead oil pours to find blissful comfort. Relaxing full-body massages release all muscle tension from your body so you feel light as a feather and experience a whole new lease on life. Relaxation techniques such as meditation, yoga and breathing exercises can further enhance the restorative relaxation effect. Switch off and enjoy the moment!
Ayurveda resorts in Mallorca
The most relaxing destinations for your Ayurveda retreat in Mallorca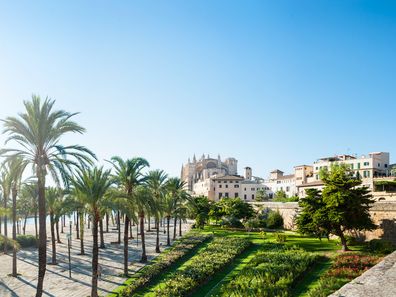 Palma de Mallorca
In Palma de Mallorca, the colorful capital of the Mediterranean island, you can complement your Ayurveda vacation with numerous cultural and entertainment offerings. Visit the historic cathedral church "La Seu" from the 13th century, which is considered Palma's landmark. You will have a beautiful view of the whole city from the Castell de Bellver castle. At the city's own beach, Playa C'an Pere Antoni, you can soak up the sun and take a break in a maritime setting. The Paseo Marítimo invites you as the port of Palma to stroll and admire the numerous boats.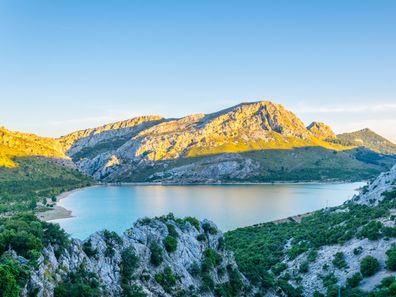 Camp de Mar
At the dream beach in Camp de Mar all beach fans get what their heart desires. Swim in the turquoise water or relax in the fine, white sand - the beach of Camp de Mar is the perfect place to relax and unwind. A small island lies directly in the bay and can be reached by swimming or via a jetty. But activities away from the sea are also possible. Explore the Serra de Tramuntana mountain range while hiking or biking. From Sant Elm, you can experience a boat trip to the Dragonera Island Nature Reserve. Golfers will get their money's worth at the nearby Golf de Andratx course.
Sa Ràpita
On the south coast of the island, you have the opportunity to explore the unspoiled natural beach Es Trenc, which enchants its visitors with almost Caribbean flair, during your Ayurveda vacation in Mallorca in Sa Ràpita. On guided day tours, you can visit the marine reserve around the archipelago of Cabrera in the immediate vicinity. Water sports fans can go kayaking, snorkeling, windsurfing, sailing or diving, while hikers or cyclists have the chance to discover Mallorca's second largest wine-growing area in the vicinity of the town of Felanitx.
Our most popular Ayurveda hotels in Mallorca
FAQ - Ayurveda in Mallorca
How do I find the right Ayurveda resort for me in Mallorca?
At SpaDreams you can compare different Ayurveda accommodations on Mallorca to find the perfect offer for you. Since each Ayurveda hotel offers different Ayurveda packages, such as Ayurveda health retreats, wellness Ayurveda retreats or traditional Panchakarma retreats, you should definitely check in advance which offer best suits your health needs.
What is the best time to travel to Mallorca for an Ayurvedic retreat?
In order to catch the best travel time for an Ayurveda vacation on Mallorca, you should definitely fly to Mallorca in the months of April to September, the warmest time. But also in spring an Ayurveda stay on the Mediterranean island can be very appealing. Mild temperatures as well as empty beaches can be a good reason for an Ayurveda trip in the off-season.
What is a certified Ayurveda retreat in Mallorca?
With an Ayurveda retreat in Mallorca you can combine Asian healing art with Mallorcan-Mediterranean flair. As a spa guest you will stay in the best Ayurveda hotels on the island, where you will be looked after by authentically trained Ayurveda staff and equally qualified yoga teachers, so that you can fully benefit from your Ayurveda trip.
What is a suitable duration for an Ayurvedic vacation in Mallorca?
For optimal results you should plan at least 6 nights or 7 days for your Ayurveda program. For classic Panchakarma retreats, stays of 2 weeks or more, preferably 3 weeks, are recommended.
All Ayurveda offers in Mallorca