Our best Ayurveda hotels in Tenerife
Find the right Ayurveda package on Tenerife
We offer different packages for your authentic Ayurveda retreat in Tenerife depending on your individual needs. Most accommodations welcome you to retreats from a duration of seven nights. But no matter if you are looking for an Ayurveda weekend or want to book a three-week package tour with us, there is a perfect Ayurveda package for everyone.
Lose weight in a healthy and gentle way during an Ayurveda retreat. Experience deep relaxation during an Ayurveda wellness holiday or purify your body during a Panchakarma retreat, which is like a new start for body and mind. Since the accommodations on Tenerife offer a wide variety of Ayurveda arrangements, you can choose according to your personal needs. Whether a yoga hotel with Ayurveda, a wellness hotel in dreamlike surroundings or a luxury hotel - you are spoiled for choice. On the basis of an initial discussion at the hotel, the Ayurveda specialists in charge will tailor all of your treatments and your Ayurvedic diet specifically to you. Likewise, at the beginning of your Ayurveda therapy, your dosha constitution type is determined and a treatment plan is developed by the Ayurveda doctor. The Ayurvedic treatments, such as head, face or full body Ayurvedic massages, as well as herbal baths, steam baths or inhalations, serve to restore the inner balance of your body and provide you with profound relaxation.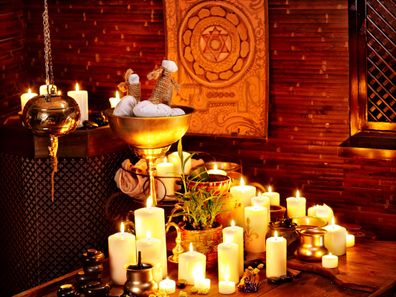 Panchakarma therapy
Ayurvedic body detox program
Purify your body during a Panchakarma retreat in Tenerife and experience the healing power of ancient Indian Ayurveda wisdom first hand. Accumulated toxins are gently drained from your body through the Ayurvedic treatments. Thereby your body experiences an intensive cleansing. With the help of massages, the toxins are first loosened from the tissues. The subsequent phase of elimination aims to expel the loosened metabolic waste products from your body. Ayurvedic preparations and herbs support you during the regeneration phase of the Panchakarma retreat. A "mental purification" is also part of this Ayurvedic detoxification therapy, which has already helped many guests to a new outlook on life.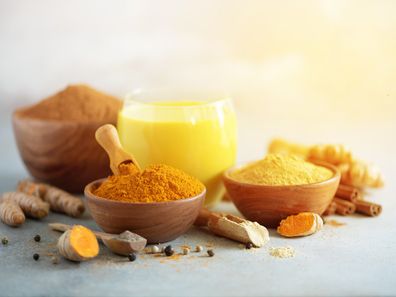 Ayurveda weight loss
Reach your dream weight
You can also lose weight without a strict or crazy diets. Lose weight gently and through healthy nutrition during an Ayurveda weight loss retreat. Give yourself a whole new feeling of lightness and learn to love your body again. Thanks to the Ayurvedic treatments, an elimination of the accumulated waste products of your body takes place. During this detox retreat, your weight will also be gradually reduced. Delicious sattvic food, made from natural and untreated food, provides you with all the important minerals and nutrients during your Ayurveda weight loss retreat, so that your body is well taken care of while losing weight.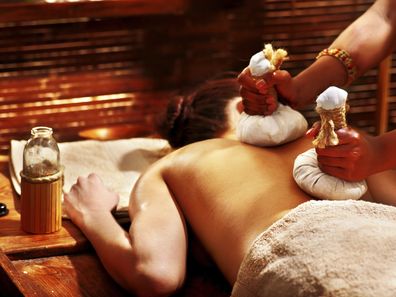 Wellness Ayurveda
Deep relaxation in Tenerife
Turn off your cell phone and forget about time during a wellness Ayurveda retreat. Isn't it a wonderful feeling when the tension of everyday life falls away and you can finally be yourself in blissful relaxation, without deadline pressure and obligations?
The soothing oil massages during the Ayurveda wellness vacation in Tenerife wrap your body in warming comfort and well-being. Discover the beauty of life with completely fresh eyes through the deep relaxation you experience at the spa. Breathing exercises, yoga and meditation can further enhance the relaxation effect in a positive way, which is why wellness lovers also like to book an Ayurveda yoga retreat on the islands.
Ayurveda accommodations on Tenerife: The most beautiful resorts and hotels
The top destinations for your Ayurveda retreat in Tenerife
Puerto de la Cruz
Between white beaches & cerulean sea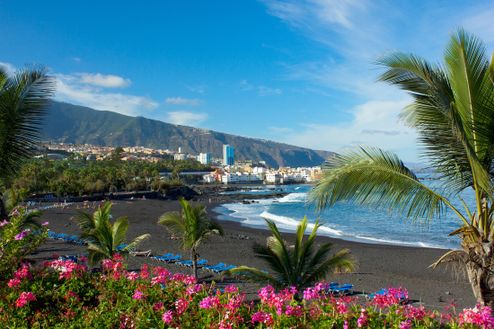 In the resort of Puerto de la Cruz on the north coast of Tenerife, time stands still. While soaking up the sun, swimming, snorkeling, diving or playing beach volleyball, you'll really get into your Ayurveda timeout. In the nearby National Park del Teide you will discover a unique crater landscape, volcanoes and petrified lava rivers on hikes. Also the historic old town of Puerto de La Cruz, invites you to an extensive walk, on which you can marvel at old monuments. You have a breathtaking view of the city and the sea behind it from the "Parque Taoro".
Punta del Hidalgo
Natural sea pools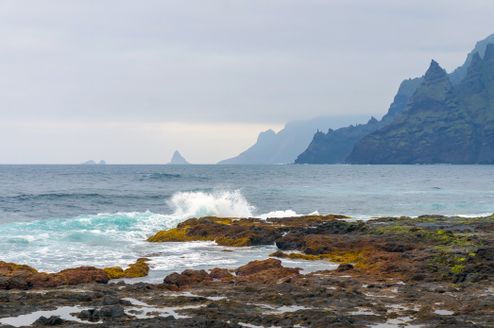 Experience healing seawater therapies at the Thalasso Therapy Center in Punta del Hidalgo. In the natural sea pools, you can cool off in the middle of town in a natural pool full of seawater. This charming fishing town enchants its visitors with a rugged and wild charm due to the most biodiverse coastline in Tenerife and is home to the warm, outgoing and communicative Tinerfeños, as the island's inhabitants call themselves. During your Ayurveda retreat in Tenerife, enjoy the breathtaking view of the Anaga Mountains, which dive into the Atlantic Ocean in the immediate vicinity.
Our best Ayurveda resorts in Tenerife
FAQ - Ayurveda retreats in Tenerife
How much is a week at the Ayurveda Resort in Tenerife with SpaDreams?
A stay of 7 days in the Ayurveda Resort, including breakfast and daily Ayurvedic treatments, you can book already from about 1.400€ per person (in double room).
What is the best time to travel to Tenerife for an Ayurvedic retreat?
The best time to travel to Tenerife for an Ayurvedic vacation is between May and mid-October. Thanks to the subtropical climate on the Canary Islands, even in the winter months the temperatures usually do not fall below 15 °C. However, visitors should be prepared for increased rainfall in winter.
How do I find the right Ayurveda resort in Tenerife?
Depending on your own needs and requirements for an Ayurveda retreat in Tenerife, you can compare the offered Ayurveda packages when choosing the appropriate Ayurveda resort. While you might want to really relax during an Ayurveda wellness vacation, other vacationers will enjoy a Panchakarma retreat and the purification of your body. At SpaDreams.com you can compare all offers directly with each other and find the perfect choice for you.
Can I combine an Ayurveda retreat in Tenerife with a round trip?
You can combine your Ayurveda retreat in Tenerife with a round trip. Book your Ayurveda accommodation already from four nights and spend a short Ayurveda vacation on Tenerife before you leave for further destinations of your round trip. You will already feel the relaxation in your body after a short Ayurveda trip. For profound changes and a healing effect of Ayurveda, a longer Ayurveda retreat with a focus on relaxation and cleansing without a round trip is of course an option.
What are the best Ayurveda hotels in Tenerife?
The best Ayurveda hotels in Tenerife are the 5-star Hotel Botánico & The Oriental Spa Garden, the 4-star Oceano Health Spa Hotel and the 4-star TRH Taoro Garden. Here, certified Ayurveda retreats await, among the best Ayurveda retreats in Spain.
How can I save when booking my Ayurveda retreat in Tenerife?
You can always find good bargains with our last minute offers or early bird discounts. Even simply booking a package tour with SpaDreams you can save you money, because on site you have virtually no more expenses, but benefit from a lot of inclusive services. You can also save if you choose a travel time that is not in the high season.
Can I give an Ayurveda retreat in Tenerife as a gift?
You can also give away unforgettable moments. For example, with one of our wellness vouchers. How about a voucher for your mother, daughter or best friend?
Alle Ayurveda offers in Tenerife