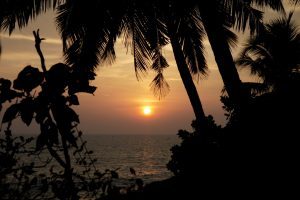 One of our colleagues has recently been to Nikkis Nest in Kerala, India. It was not only her first Ayurveda treatment, but also her very first trip to India. But see for yourself how she fared:
A two week Ayurveda stay at Nikki's Nest in Kerala should not only give me a relaxed and healthy start to the new year, but it is also my very first trip to India.
Kerala has been recommended to me time and time again by more experienced friends and colleagues as an "Intro to India trip". Slightly quieter, more developed – a bit closer to our western world, unlike the rest of India. Anyway, I was still very excited and was looking forward to this new experience.
The night flight with Etihad was extremely pleasant. Well, as pleasant as a 12-hour flight can be.
After having exchanged some money at the airport and bought a SIM card for India, I traveled a little bit around Kerala and wanted to be flexible. I was picked up by a hotel resort driver, to the retreat (30 mins away). The welcome was really friendly, despite being early hours of the morning – around 6 am! I had enough time to lie down for a few hours and then to have some breakfast. I had my first consultation with the Ayurveda doctor at around midday.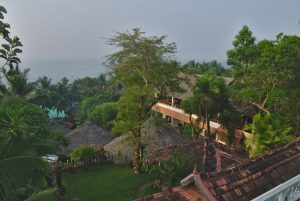 I had, of course, researched Ayurveda quite a lot beforehand, and so my expectations were quite high. I had read time and time again about the extraordinary effectiveness of Ayurveda on the so-called "diseases of civilisation". What I really wanted, was to get rid of pesky allergies as well as to minimise my discomforts. Before I was asked to describe my complaints, Dr Praveen took the time to explain the principles of Ayurveda. He then asked me what my goals were for the Ayurveda treatments, as well as which complaints I wanted dealt with. I also had to answer a range of other questions on my lifestyle, habits and character traits. Based on my answers, Dr Praveen then described my Dosha, and what this meant for my way of life.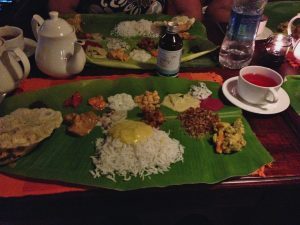 With my head filled with all this new information, I was looking forward to the coming days. I thought about how my body would react and how my mind would get used to the new environment, I was about to begin my first treatment.
My therapist picked me up from the doctor's room and took me to the treatment room. These rooms are all in a row with views of the palm trees and the rocks on the beach below. The rooms were light but also intimate enough to feel at home in. Her empathy made me feel really well cared for and instantly so at home.
And now for the treatments! OK, maybe this sounds like a good film recommendation – so I'll just say that you need to see this for yourselves!
Over the next few days I organised my new daily routine like this:
Wake up early
Yoga
Breakfast
Relax/read
Treatments
Lunch
Relax/read
A short trip to the beach/Kovalam/backwaters
Evening meal
Go to bed early
Something that really impressed me was the food. I was slightly sceptical before arriving, as I've never really been a massive fan of Indian food. But I shouldn't have even given it a thought. Raj, our chef, tried so hard every day to provide variety for the long-staying guests, and the dishes he makes are so tasty, that he would even bring out his very own cookbook for questions about recipes.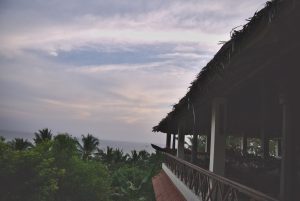 Next up is the lovely company during meals. As tables are not set up for single rooms, but rather for 4 – 6 people, you can meet other guests very quickly. You tend to exchange stories about previous Ayurveda experiences or even plan excursions together. Ayurveda stays are planned for next year sometimes! I even have a few contacts that I've taken back with me, and I miss my 'Ayurveda ladies' and our conversations!
But Ayurveda is not only a wellness relaxation holiday. The intensive detoxification affects the body and mind, and therefore I would be hiding something if I didn't speak about the downs too. It's a little bit different for every guest, which I learned during my discussions with the others. But mood swings and physical exhaustion can also be a part of the process.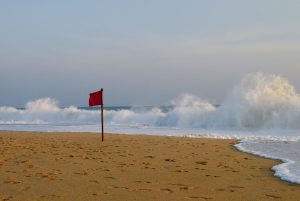 I chose this course of treatment because of my skin allergies, which meant that I would be able to notice any big changes. After around 5 days, I suddenly broke out in the worst rash I'd had since being a young child. But I was already used to these aggravations at the beginning of therapy from having homeopathy, and therefore I waited them out patiently. With the use of special ointments, oils and herbal waters, the Ayurveda doctor managed to relieve me of pain and after another 5 days my skin just kept improving.
I've been back home for two months now and after this treatment I'm virtually complaint free. The doctor gave me lots of tips and tricks along the way on how to integrate Ayurveda and my Dosha requirements at home in my daily life. Even though I haven't completely changed my lifestyle, I have still been able to implement many of the tips and I do notice how good they are. Warm water in the mornings, no cold raw foods, regular yoga, Pranayama and going to bed early – implementing these will keep me as fit and healthy as possible…until my next Ayurveda course!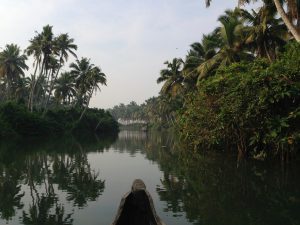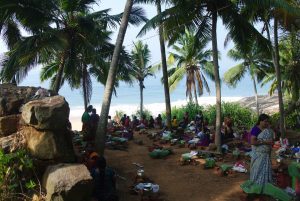 Go to Nikki's Nest in Kerala >>