Our best authentic Ayurveda retreats on Madeira
Holistic Ayurveda spa packages
The Ayurveda hotels on Madeira offer a variety of Ayurveda packages from which you can choose, all tailored to your personal needs. Whether you want to achieve your dream weight, are looking to improve your health, or simply need some me-time with deep relaxation, each Ayurveda package will be personalized to your goals and body type. Our Ayurveda hotels offer everything from Ayurveda wellness to deep-cleansing Panchakarma detox programs.
The most effective Ayurveda retreats start at 7 nights. To ensure that all Ayurveda treatments are optimally tailored to you and your body as well as appropriate nutritional recommendations can be made, your Ayurveda therapists will conduct an initial consultation with you. The Ayurveda specialist will determine your dosha type and create an individual therapy plan for you, taking into consideration any health issues as well as your personal needs. Your Ayurveda program encompasses gentle Ayurvedic treatments and is enriched with breathing exercises, yoga or meditation, as you learn to live in the moment again and appreciate the small moments in life.
Last but not least, enjoy delicious Ayurvedic food which is catered to help you maintain the balance of your dosha type. Vegan as well as lactose and gluten free meals are available in most accommodations.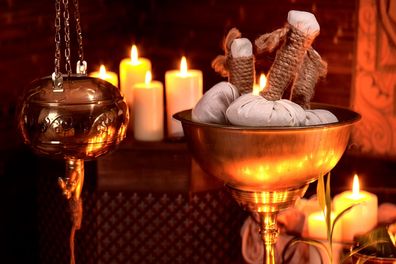 Panchakarma
Go on a journey back in time to ancient India and experience authentic Ayurveda and all its ancient wisdom during a Panchakarma treatment on Madeira. The holistic cleansing of your body is in the foreground. Accumulated waste products are gently removed from your body through the Ayurvedic treatments and your body is deeply cleansed. At the beginning, the Ayurvedic therapists loosen all toxins through massages, in order to help expel all metabolic byproducts from your body in the subsequent elimination phase. In order to support your body in its revitalization, you might receive Ayurvedic preparations during the build-up phase or your therapy.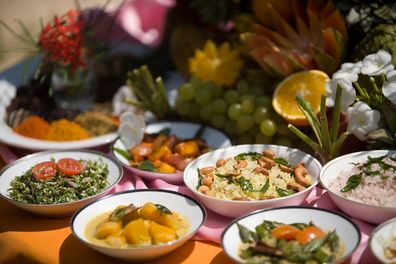 Ayurveda weight loss
You can finally reach your dream weight without fad diets, but rather in a healthy and natural way with Ayurveda on Madeira. An Ayurveda weight loss retreat not only leaves you feeling a little lighter, but also gives you a whole new outlook on life. All Ayurvedic treatments and methods of weight loss program aim to help you detox and lose weight gradually. Sattvic food, which consists of natural and unprocessed ingredients, provides you with all the important nutrients your body needs during your Ayurvedic weight loss program according to your individual dosha type. Yoga stretching exercises and breathing meditations gently support you in your weight loss process, helping set you on a path for long-term weight loss to keep off those pesky pounds.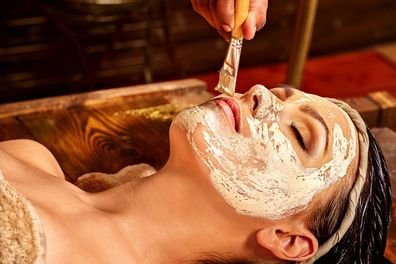 Ayurveda wellness retreat
You can finally come to rest on your Ayurveda vacation on Madeira. Feel how the tension of your stressful everyday life falls off your shoulders and you dive into deep relaxation, which is the focus of your wellness Ayurveda program.
During soothing oil massages, your body completely submits and sinks into pure well-being. Learn to look at your existence with completely new eyes and discover the true beauty of life through Madeira's breathtaking nature. Your wellness Ayurveda program can be optimally complemented by gentle relaxation techniques such as mediation, yoga and breathing exercises.
The Ayurveda resorts
Must-see locations on Madeira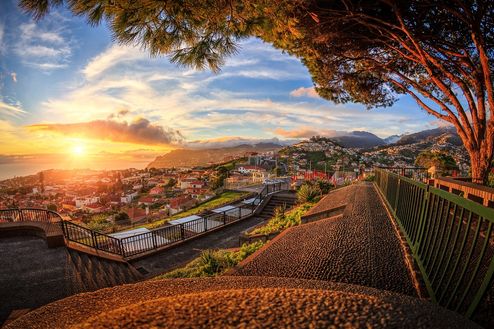 Funchal
With spring-like temperatures throughout the year, you can recharge your batteries in the green oasis in the middle of the Atlantic Ocean while enjoying your Ayurveda in Madeira retreat. Be enchanted by the beauty of the imposing mountain peaks, tropical forests and rugged coastal landscape. Madeira's capital Funchal will lure you with its incomparable natural beauty. Spend a day by the sea with numerous activities, such as diving, swimming or surfing in the crystal clear waters. Day trips along the coast or through the eucalyptus-scented forests in the mountains will bring you back to the present, so you can enjoy the beauty of the moment. In Funchal's tropical garden, you'll have a breathtaking view of the capital's old town and the sea beyond the horizon.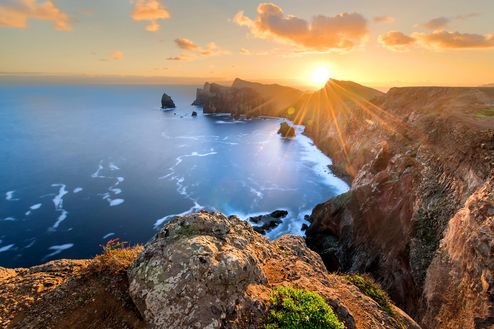 Caniço de Baixo
Visit the picturesque coastal town of Caniço de Baixo on the southeast coast during your Madeira Ayurveda retreat. During a beach day at Reis Magos Beach, a popular pebble beach, you'll have the opportunity to swim in crystal blue waters. Many German and Austrian immigrants run some of hotels and restaurants there. During a diving excursion in Caniço de Baixo you can experience the underwater nature reserve Garajau up close. You can also discover the surroundings and idyllic nature on guided hikes around the coastal town.
Our best Ayurveda resorts on Madeira
FAQ - Ayurveda on Madeira
What is the best time to travel to Madeira for an Ayurveda vacation?
For an Ayurveda trip in Madeira, the months of June to October are most booked. Overall, the climate in Madeira is very mild throughout the year. Even in the winter months, temperatures rarely drop below 10 degrees, although it may rain more often. Madeira is great to visit at any time of the year!
Which languages are spoken on Madeira?
The official language on Madeira is Portuguese. However, many locals speak English and many foreigners have migrated to Madeira, meaning you're likely to hear somebody speak your language while you're there!
All Ayurveda Offers on Madeira