---
Hydrotherapy Offers in Excellent Spa Hotels
There is a large and varied selection of treatments as part of hydrotherapy. To help you choose, we recommend you to have a read through our next two sections: what can I expect and where to go: best Hydrotherapy in Europe. As soon as you know what you would like to book, you can use the search bar below to find a suitable package.
---
Mineral Water Drinking Therapy
Where to Get Hydrotherapy
The Best in Europe
Many spa towns and health spa hotels in Europe are specialised in water therapy. However, these programmes usually have different names, depending on the region and the specific treatments to that region. In Italy you will find that it is called Fango therapy, which basically means a combination of thermal water treatments and thermal mud treatments. In Hungary and the Czech Republic hydrotherapy is often referred to as thermotherapy instead, as they combine treatments using hot spring water with hot massages and other heat treatments. The spa package name Complex Healing is also common in these countries and it means a health spa programme with water therapy treatments in combination with other healing spa therapies as recommended by the spa doctor. In all coastal regions, hydrotherapy is referred to as thalassotherapy, as the water used in treatments is seawater. There is also the large category of Kneipp therapy, which today perhaps use the most water applications overall, including many hot-and-cold alternating water jets.
As you can see, when it comes to choosing your water therapy package, it all depends on you and what treatments or water type you would like. On the individual pages of the spa therapy programmes you can learn more and pick out your favourite hydrotherapy spa package. And if you can't decide, don't worry – try the different treatments out one by one: they are all good for you, improve your health and are a great deal of fun.
Popular Hydrotherapy Subcategories
---
Therapy Trinity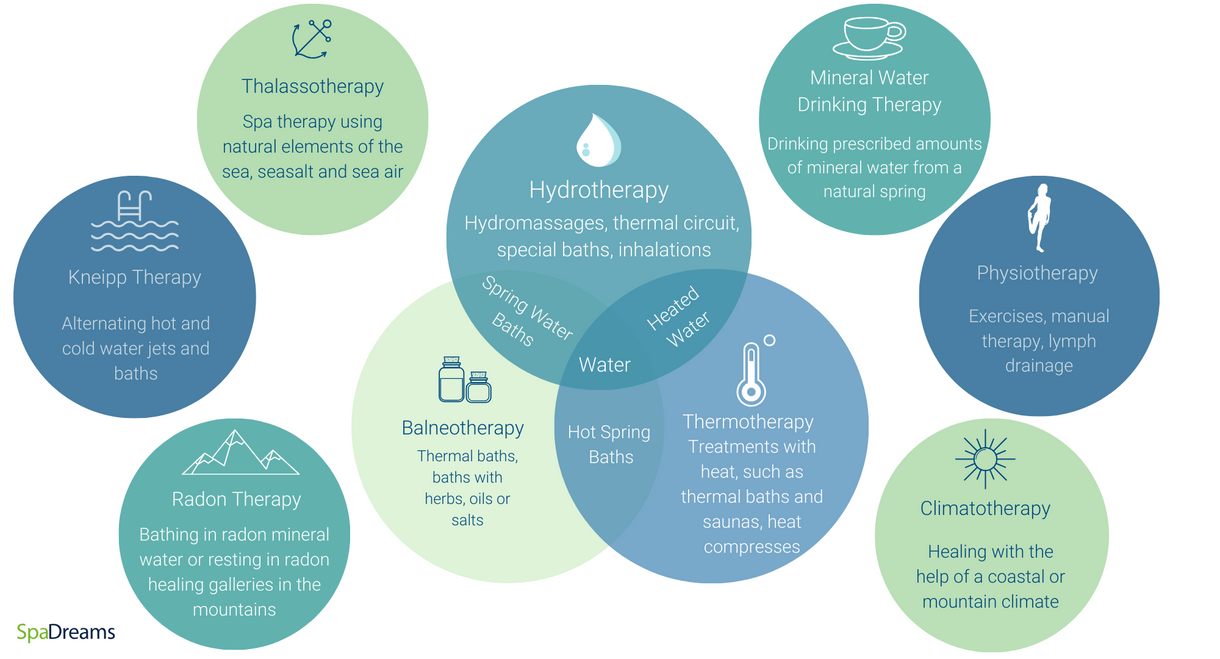 ---
Hydrotherapy Offers