Arrival
During your SpaDreams holiday, your time is your own. We believe that your dream holiday should begin exactly as you have planned it, so we leave it up to you to decide how you would like to travel to your holiday destination.
The Quickest Way: by plane
The quickest and most comfortable way to travel to your destination is usually by plane. We are happy to advise you on how to find the most convenient and cheapest flight.
If your journey involves a long haul flight (e.g. to Asia or the Caribbean) and your flight will arrive or depart early in the morning or late at night, we recommend that you book an additional night either side of your stay, so that you can be sure your room will be ready for you on arrival and until departure.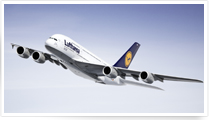 Airport Transfers
We cooperate with trusted transfer companies to offer our customers convenient, comfortable transfers to and from the airport to the hotel door. Please let us know if you require a transfer – we are happy to arrange everything for you! If you book a transfer with SpaDreams, we will forward your transfer information to the hotel and your transfer representative will meet you at the airport or train station. They will be holding a sign with the hotel logo, or the logo of our parent company "Fit Reisen", which you will find on your accommodation voucher. If your transfer has been organised by a transfer company we will send you the contact details.
Important - in the case of a change / delay: If changes or delays occur 24 hours before departure or during your journey (for example, a flight delay or a missed connecting train), please do not inform us, but contact the hotel or your transfer company directly, so that they can reorganise the transfer and welcome you at the right time. The address and telephone number of your hotel or transfer company can be found on your accommodation voucher.