The Quickest Way: By Plane
The quickest way: by plane
The quickest and most comfortable way into your well deserved vacation is, as always, by plane. So you have the chance to choose from a wide range of options, FIT Journeys cooperates with many airline partners. Of course it is us that handle the reservation process. This service ensures that not only that your schedule is met, but also that you get the cheapest prices possible. For flight connections, daily up to date flight prices, bargains offers and specials, flights with charter airlines, as well as Business and First Class flights, please do contact us.
Our Airline-Partner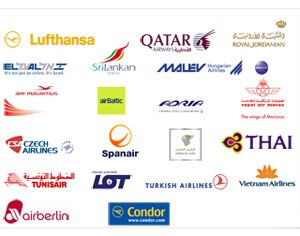 Tips for IT Scheduled Flights
Tips for IT scheduled flights
The shown flight prices apply only in connection with a FIT Journey and contain all air/ aviation security charges, landing charges and foreign departure taxes.

Abbreviation "SU-rule": during the flight journey, the night from Saturday to Sunday must be comprised

Reduction for children: As written down in the general IT- dispositions, the following conditions apply: up to 1 year of age: 90 % discount on the flight price (no seat claim), from 2 years of age to 11 years of age: 33- 50 % discount on the flight price plus taxes and charges.

Reclassification/ cancellation: The up-to-date reclassification and cancellation conditions of the respective aviation airline apply.

Reclassification after beginning the journey: Only possible with a permission of the respective aviation airline. Eventually incoming reclassification charges are payable upon arrival.
Flights may be also conducted with "Code- Sharing- Partners" of the advertised/ announced aviation airlines.

Flight prices and flight schedules are subject to changes of the respective airline company.