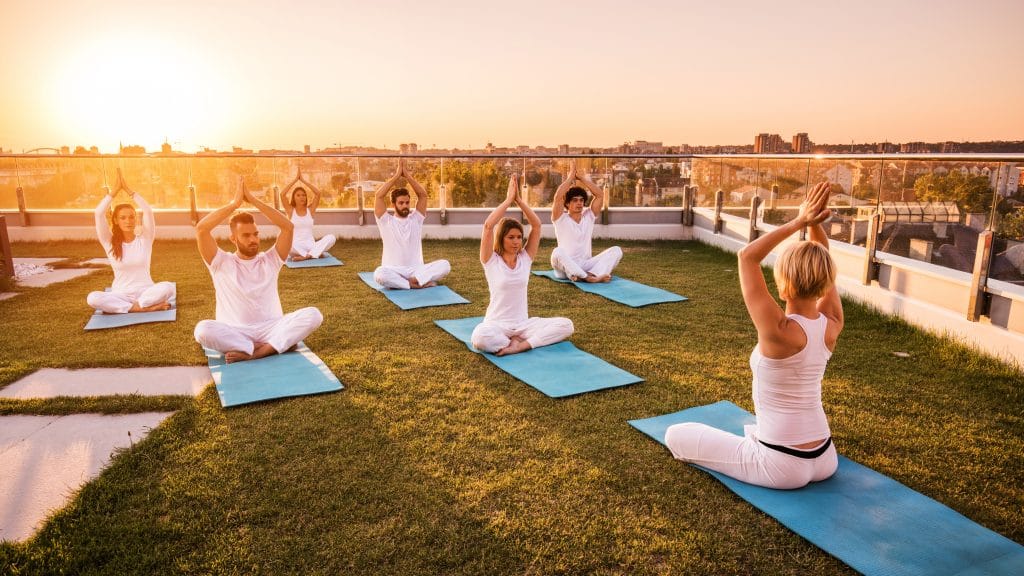 Reading time:
5
Minutes
5 easy mindfulness practices for everyday: Discover the benefits of mindfulness

"I don't have the time" is usually the go-to excuse when thinking about integrating new and healthy habits into your routine. Our daily schedules are bursting with appointments and commitments, it seems as though we can barely find the time to think or catch our breath. Between racing to work in rush hour traffic, back-to-back meetings, hurrying to pick up the kids from school, feeling too tired to stand in the kitchen to make dinner for an hour, all to just wolf it down in time for bed to start the same routine all over again – it's no wonder we're quickly feeling burnt out and in a rut!
What is mindfulness?
However, mindfulness teaches us the importance of slowing down, living in the moment, connecting with ourselves and rediscovering the simple joys in life. In taking care of yourself and helping yourself unwind, you are able to think more clearly and be more present and able to help others, ultimately also helping you reduce stress. It teaches us about what is in our control (and what isn't), how to identify triggers and needs, as well as to find meaningful connections with other people and your surroundings.
The benefits of mindfulness
Reduced anxiety, less stress, improved focus, and increased patience are among the most important benefits of mindfulness. In being more thoughtful and living in the now, you begin to learn how to make choices that improve your state of mind, whether it be to set aside social media, learn to say no to unnecessary and stressful social situations, or simply refrain from being judgmental towards others and, most importantly, towards yourself. We are often our worst critics, convincing ourselves that we are not achieving enough, that we need to keep up with others, and living too far in the future (or the past) instead of enjoying the "now". In learning to be patient and content in the moment, you begin to let go of negative stressors, accept your true gifts and talents, as well as find unconditional compassion towards yourself and others.
Many people have even noticed the direct (physical) health benefits of mindfulness, such as lower blood pressure, better immunity, relief from depression and anxiety, better sleep, reduction in chronic pain, improved cognitive function and so much more! There is really no down side to practicing mindfulness.
Lastly, you should also leave sufficient time between meals for your body to finish digesting what you have already eaten. You may, of course, eat small snacks in between meals to help you get through the day.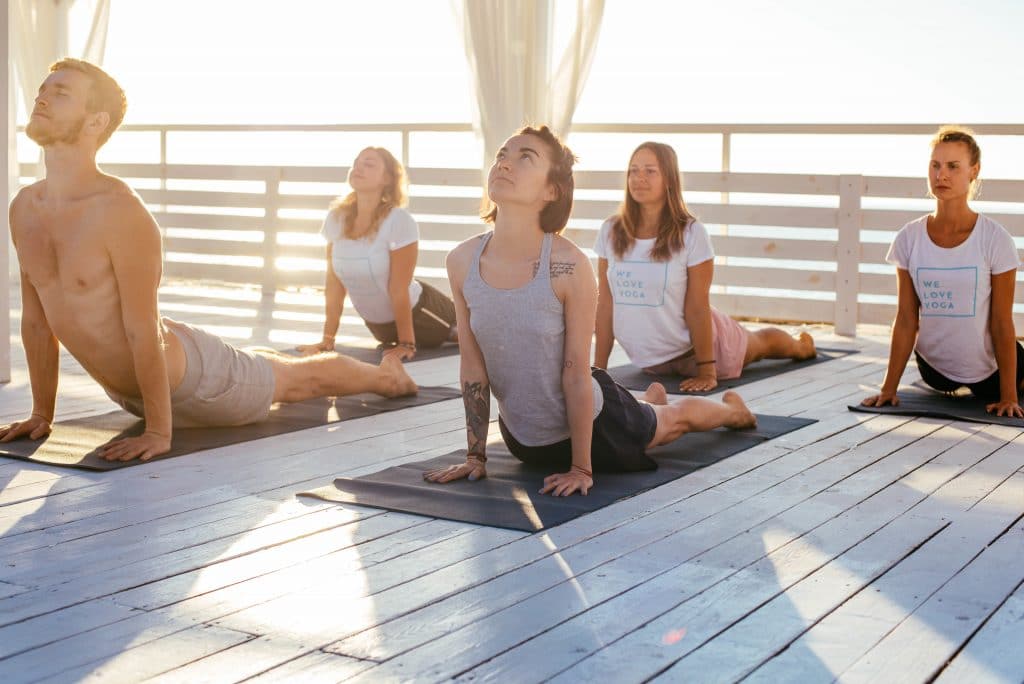 Yoga supports your mental and physical health
How to practice mindfulness
We've put together 5 of our favorite mindfulness exercises together for you to help you live in the moment and take better care of yourself!
Make your bed! This may conjure those vague childhood memories of your mother nagging you to make your bed, but there is some method to this madness – you are starting your day with an accomplishment. It may be a small accomplishment, but it is the first task on your day's to-do list that you get to check off right after getting up. Also, a tidy bedroom brings a feeling of tranquility, allowing you to start the day on a peaceful note. And there is hardly anything better than coming home to a serene room and made up bed at the end of a hectic day.
Take 10 quiet minutes for yourself. Although 10 minutes of alone time sounds like a big (selfish) sacrifice, it doesn't even make up 1% of your day! Take a few minutes out of your day to unwind and do something that gives you peace, whether it's sitting in a quiet corner with your tea and simply staring out of the window, going for a small stroll through the garden and listening to the birds (or stopping to smell the roses), or basking in the sun. While doing so, take some slow and deep breaths and feel your heart rate decrease and thoughts begin to calm down. In taking a short break to unwind, you're affording yourself the chance to think more clearly throughout the day, making those stressful moments a little less frantic.
Keep a gratitude or positivity journal. We are wired to notice the negative things in life: the bad weather, somebody's foul mood, off-putting flavors, and so on. However, we can "re-wire" ourselves to be more positive and grateful for the small blessings in life. Take a few minutes at the end of the day to reflect and find 3 things that either made you smile or for which you are grateful – somebody bringing you coffee without you asking, the warmth of the sun, or a quiet walk through the park. It can be anything that positively affected your day. The more you consciously practice this, the more it will become a subconscious habit and you will find yourself searching for and noticing the positive moments in your day.


Bonus tip:

Take the time to say thank you! We all know how tiring it feels to be taken for granted. Take the time to say explicitly thank you to your colleagues and loved ones, even if you feel that they should already know that you are grateful. This tiny and simple gesture will help you both of you feel appreciated and acknowledged, and you will have more than likely made somebody's day!
Reconnect with your family or friends with mindful dinner time. Have a longer Friday night dinner together, put away the phones, and reflect on your week. What is something that week that made each of you happy? What or who were you grateful for that week? What would you have done differently if you would be given the chance? You can even start the mindful dinner time by cooking your family favorites together (a mix-and-match potluck dinner) or watching a funny movie with homemade treats! Get away from the stressors and reconnect and find the simply joys in spending quality time with your nearest and dearest and instill mindfulness in kids.
Yoga & mindfulness: Try some regular yoga or meditation courses to help you find your inner balance and re-center your thoughts and energy. The slow and deliberate movements, concentrating on your breathing, and getting away from the hustle and bustle make yoga the ideal mindfulness physical training. It doesn't matter if you're already an expert or are just starting out with yoga, try a yoga holiday to really delve into this world of mindfulness meditation and get back to your life fully charged and ready to take action! Discover how yoga and mindfulness go hand-in-hand at some of our top yoga hotels here! Or find out more about yoga holidays.
Are you ready to take on a larger mindfulness project? Try decluttering! They say that an untidy house leads to an untidy mind. Take an afternoon to do some spring (or any season for that matter) cleaning and declutter and reorganize some part of your house. Whether it's the junk closet, going through your garage or attic, or simply reorganizing all of the kitchen cabinets, take your time to clear some space in your house. This is also a habit and value that you can instill in your children early on, as they can easily help out!
Bonus tip: Do something kind for somebody else by donating unwanted toys or clothes to charity.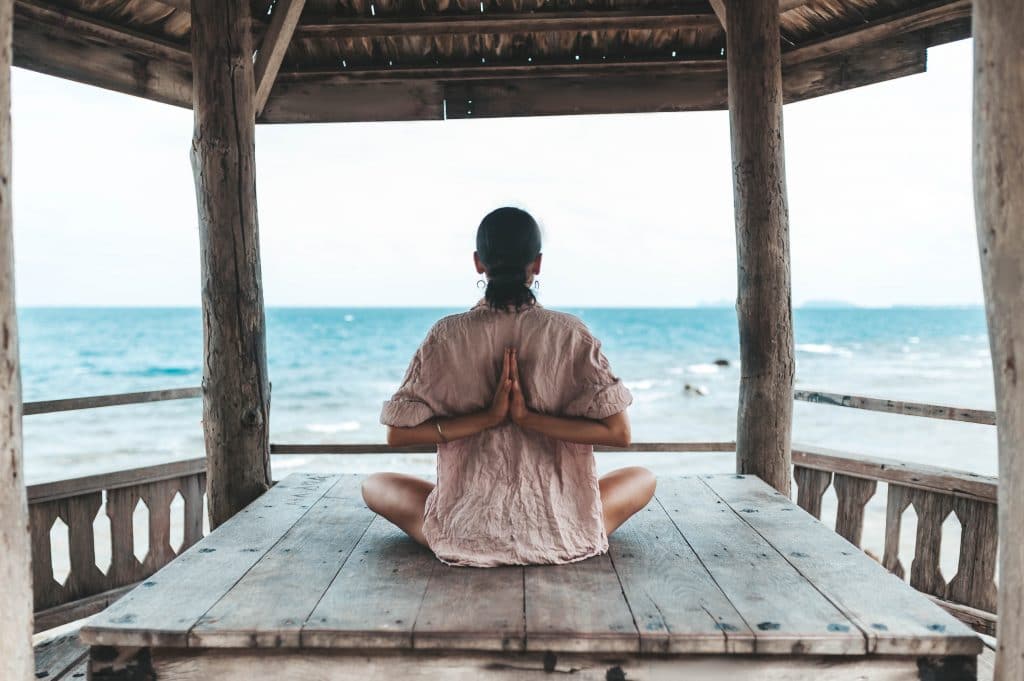 Rediscover your balance in breathtaking destinations.
WEEK 1: Burnout & Depression – Find out more about burnout treatment and how you can combine it with your next holiday!
WEEK 2: Healthy Diet – Learn all about the latest diet and health food trends, as well as the unique health benefits of Fasting Therapy.
WEEK 3: Ayurveda – The healing powers of Ayurvedic treatments.
WEEK 4: Yoga – Discover the story and the benefits of Yoga practices.