Ayrvedic cookies? Yes, it's possible! It's a widespread misconception that treats are completely forbidden in the ayurvedic nutrition. Sweets make you happy, are good for the soul and calm your nerves. Ayurveda and baking go well together if you use naturally sweet ingredients and/or alternative sweeteners. Other than that, ayurvedic baking is very similar to traditional baking.
Ingredients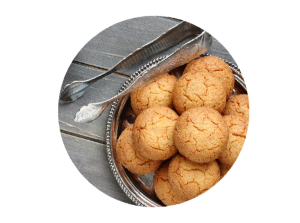 130 g clarified butter (ghee)
130 g Sharkara sugar
2 tsp cardamom
1 pinch of salt (sea salt)
150 g wheat semolina
140 g whole wheat flour
Juice from ½ small lime
Blanched almonds (or other nuts for decoration)
Dough preparation
First stir together the ghee, salt and sugar until the mass is smooth. To make it easier you can slightly warm up the ghee. Add the lime juice. Then gradually add all the dry ingredients (semolina, flour, cardamom) in small portions and mix them until smooth. The dough should be slightly crumbly. Wrap it in a cling film and put it in the fridge for approx. 25 min.
Forming and baking the cookies
Line the baking tray with baking paper and preheat the oven to 180°C, set up top and bottom heat. In small portions, form the chilled dough by hand into cherry-size balls and press them gently on the baking paper. Decorate each of them with an almond or a nut. Bake for approx. 20 min. at mid-height. The cookies are ready when they become lightly brown, the size of the cookies won't change too much.
Healthy, wholesome AND tasty – our cookies have it all. At least at our office it didn't take too long until all the cookies were gone…
For more ayurvedic recipes for all occasions visit our blog: SpaDreams Blog
If you got curious about the ayurvedic wellness, SpaDreams Ayurveda Wellness. Or why not go for an ayurvedic holiday with SpaDreams? Check our aurvedic holiday offers in India, Sri Lanka and Europe!