Reading time:
4
Minutes
9 Of The Best Anti-Stress Foods

It's a common vice: when stress builds, many of us instinctively turn to the fridge for comfort. Strangely enough, this may not even be the worst idea. Many foods we regularly have in our fridges and cupboards have been linked to stress reduction. Not only that, these vitamin rich foods are also great for helping combat depression and anxiety, as well as providing a general mood boost!
Some our vulnerability to stress and our inability to process it comes not only from our environment but also deficiencies in our bodies. Chronic inflammation, for example, is considered to be partially responsible for anxiety, depression, and stress.
Next time you feel stressed or know you will be facing some challenges, try one of these healthy anti-stress food alternatives before your reach for the crisps and takeaway.
Anti-stress food favorites
Avocado is rich in omega 3 fatty acids which are great for reducing stress and anxiety, lifting your mood, and improving concentration. Omega 3 fatty acids have even been shown to help with weight management! They are also high in essential nutrients, fiber and have been linked to better nutrient intake. The versatile avocado can be incorporated into many of our favorite salads and sandwiches, making it a favorite anti-stress food.


Nuts are a great source of fatty acids, vitamin B, and other nutrients. Some studies suggest that nuts such as almonds, walnuts, and pistachios can even help lower blood pressure. It is suggested that pistachios are the best nuts to help reduce stress, as they are high in unsaturated fatty acids and potassium. Eat, at most, a handful per day, because nuts are also high in calories.


Citrus fruits& strawberries are bursting with vitamin C, which is why many consider these the ultimate anti-stress food. A German study even showed that blood pressure and levels of cortisol, also dubbed the "stress hormone", were higher in people who had consumed less vitamin C.


Preliminary studies show that fiber could be vital in combatting oxidative stress and inflammation. Inflammation is not just a general stress on the body, but has been linked to increased chances of cancer and many other health ailments. Almonds, pistachios, flaxseed, chia seeds, and deep green veggies like kale and broccoli are fantastic sources of fiber.


Spinach is a stress buster as it is high in magnesium, which helps regulate muscle function, metabolism, stabilize one's mood, improves sleep, reduces stress, and may even be linked to improved gut health! Magnesium deficiency leads to increased inflammation as well as increased risk of cardiovascular diseases.


Chamomile has been used as a natural remedy generations to help with sleep problems, improve relaxation, reduce menstrual pain as well as serving as an anti-inflammatory and anti-oxidant.


The healthy bacteria, also known as probiotics, in yogurt have been shown to help improve gut health and therewith also have an anti-inflammatory effect on the body. Some yogurts are also high in protein, calcium and vitamins, all essential to general health and weight management. Watch out for flavored yogurts, as they are often full of unnecessary and, in some cases, harmful additives such as high amounts of processed sugars or artificial flavors and colors.


Bananas are rich in vitamin B6, manganese, potassium and other key nutrients. Surprisingly, they also have a good amount of vitamin C. B vitamins and potassium are vital components in the regulation of serotonin, which in turn is important in regulating sleep, mood, memory, digestion, and appetite.


And last but certainly not least, dark chocolate! There are health benefits from allowing yourself to indulge in a small piece of dark chocolate. It is rich in anti-oxidants, helps lower stress levels and has even shown to have an impact on emotions. Try to steer clear of chocolate that has a lot of additives, especially sugar, and try to stick to 20g or less per day. Splurge on a slightly more high quality slab of chocolate and give yourself an extra treat.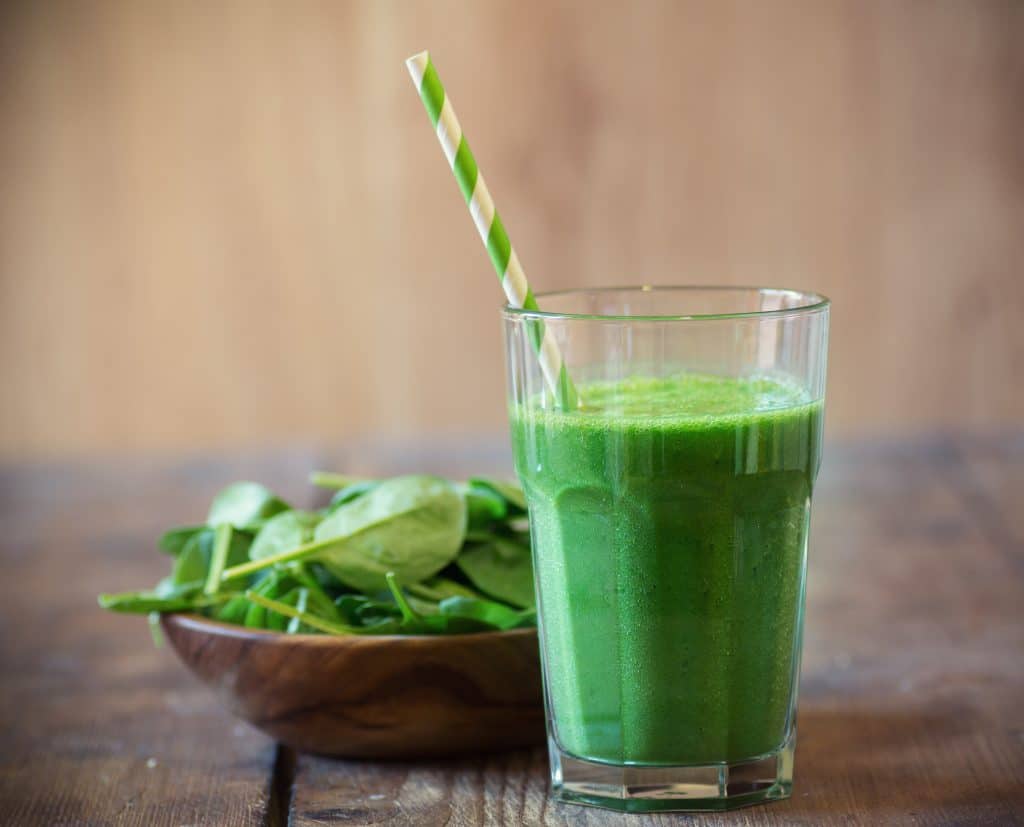 Spinach is a stress buster as it is high in magnesium.
The ultimate stress buster recipe
But where will you find the time to eat all of this food?! Why not try our favorite smoothie recipe, full of great nutrient rich foods to help you get through the day. We've also included a few time-saving tips to take the stress out of preparing smoothies!
GreenDreams – Smoothie for stress
1 cup skim milk
½ cup fat free plain yogurt
1 banana, frozen in chunks or slices


Time saving tip:

cut a banana into slices and pop them into the freezer on a tray lined with baking paper the night before. You can easily slice several bananas at a time and put the frozen slices into portion-sized bags for easy smoothie prep all week!
1 tablespoon almond butter
1-2 handfuls of washed, fresh spinach
Get creative! Try adding these nutrient dense foods for a little variety:
Chamomile tea
SpaDreams tip: Replace some (or all) of the milk with deeply steeped tea. You can also prep this the night before, together with the banana slices. Put extra tea in the fridge for use the coming days.
Chia seeds
Strawberries
Avocado
Lemon juice
Looking for an extra kick? Try adding a dash of cinnamon or turmeric, or even a chunk of ginger to your smoothie. These spices are all known for their anti-inflammatory properties as well as helping improve memory, preventing diseases, and easing digestion.
WEEK 1: Burnout & Depression – Find out more about burnout treatment and how you can combine it with your next holiday!
WEEK 2: Healthy Diet – Learn all about the latest diet and health food trends, as well as the unique health benefits of Fasting Therapy.
WEEK 3: Ayurveda – The healing powers of Ayurvedic treatments.
WEEK 4: Yoga – Discover the story and the benefits of Yoga practices.