It's not just the blend of cultures, but also the heavenly beaches, deep blue sea and balmy climate that make the Maldives one of the world's most popular travel destinations. The archipelago in the Indian Ocean, around 280 miles southwest of the Indian subcontinent, is made up of 26 atolls and over 1000 tiny, hardly developed islands. The best season for travelling to the Maldives is in the winter and early year – ideal for escaping the cold season in Europe.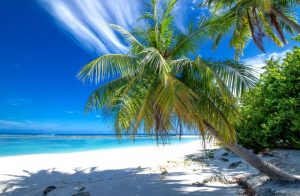 Why November to April is the best time to visit
A so-called 'tropical maritime climate' dominates the Maldives, with an average daily temperature reaching 28°C. Because of its ocean location, humidity is around 80%, but the many shady palms and constant gentle breeze make it more bearable. Twice a year, the wind changes direction: in the summer (from May to September) the southwest monsoon prevails, bringing heavy rain. In November the wind changes again and the northeast monsoon dominates. With little rainfall, eight hours of sunlight each day and sea temperatures of 27°, November to April is the best time to travel.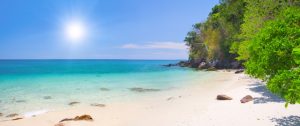 Unique flora and fauna
Coconut palms as far as the eyes can see…
This tropical tree found in these paradisiacal islands in the Indian Ocean conjures up a typical image of the Maldives. You'll see geckos everywhere, or an Indian crow or a koel – a subspecies of the cuckoo. The Alexandrine parakeet is typical of the Maldives, standing out with its green plumage and red beak. Just as diverse is its marine life – hard corals make up beautiful reefs which have been involved in the development of the atolls. Countless creatures call the reefs home, including parrot- and trumpetfish, as well as moray eels and manta rays.
Take advantage of the Maldives
The tropical island paradise offers relaxation alongside unique wildlife and a true Robinson-Crusoe feeling. Straw-roofed beach huts await with the most modern interiors, along with many wellbeing offers. Discover the atolls, the magnificent landscape and the breathtaking underwater life for yourself, and enjoy pure relaxation in a unique tropical setting.
Book your holiday to the Maldives now! >>
Curious? Then discover our matching offers: