Claudia Wagner, one of SpaDreams's managing directors, has just returned from Sri Lanka and has shared her exciting impressions of what it's like to travel to and in Sri Lanka now. During her two-week stay, she visited several hotels, saw how vacations on this exotic island are currently run and why an Ayurveda retreat is now more fitting than ever before.
Claudia, thank you for taking the time for an interview today. You were already visited Sri Lanka when it opened at the end of January, so now was your second time, how comfortable did you feel visiting this time around?
As in January, I can only continue to praise Sri Lanka's hygiene measures and am very enthusiastic. Shortly after the reopening I was there with a small travel group. Over the summer, it has now become clear that this specially devised "Safe Travel" concept is the right approach to revive tourism in the country. During the stay, one feels safe and well taken care of.
You just mentioned the country's Safe Travel concept. What is the basis of this concept, developed by the Sri Lanka Tourism Authority?
First and foremost, guests should feel safe and currently enjoy spending their vacation in Sri Lanka. Relaxation is to be provided.
Within the concept, the hotels could apply for certain certifications. Mainly one distinguishes between "Level 1" and "other certified" hotels. The "Level 1" hotels are only allowed to receive foreign guests. The staff also must comply with strict regulations. This includes regular tests, and the staff also live on the hotel premises. Another aspect of the Safe Travel concept is also to protect the local population from infection by tourists. We are pleased that many of our Ayurveda partner hotels have opened and are certified, among others, as a Level 1 hotel.
Sri Lanka also distinguishes between vaccinated and non-vaccinated travelers. What are the rules for the fully vaccinated guests?
Each guest, regardless of vaccination status, must apply for a visa before entry and present a negative test result from the home country when checking in at the airport. It should be noted that the test result must be presented in English. For vaccinated guests, that's about it with the requirements. Both "other certified", "Level 1", and other hotels can be booked by them. Depending on the hotel, it may be that even for vaccinated people a test is necessary on site, our travel experts will then inform the guest when booking. The Ayurveda retreat of already vaccinated guests usually starts quickly after check-in, as there is no need to wait for further test results.
Is it true that there are a few additional requirements for non-vaccinated guests?
Those who are not vaccinated can book a stay in a "Level 1" hotel. Directly after arrival in Sri Lanka, another PCR test will be performed. If this result is negative, then the Ayurveda retreat may be started. On the 12th day another test will be performed. These additional PCR tests are booked directly when booking the trip.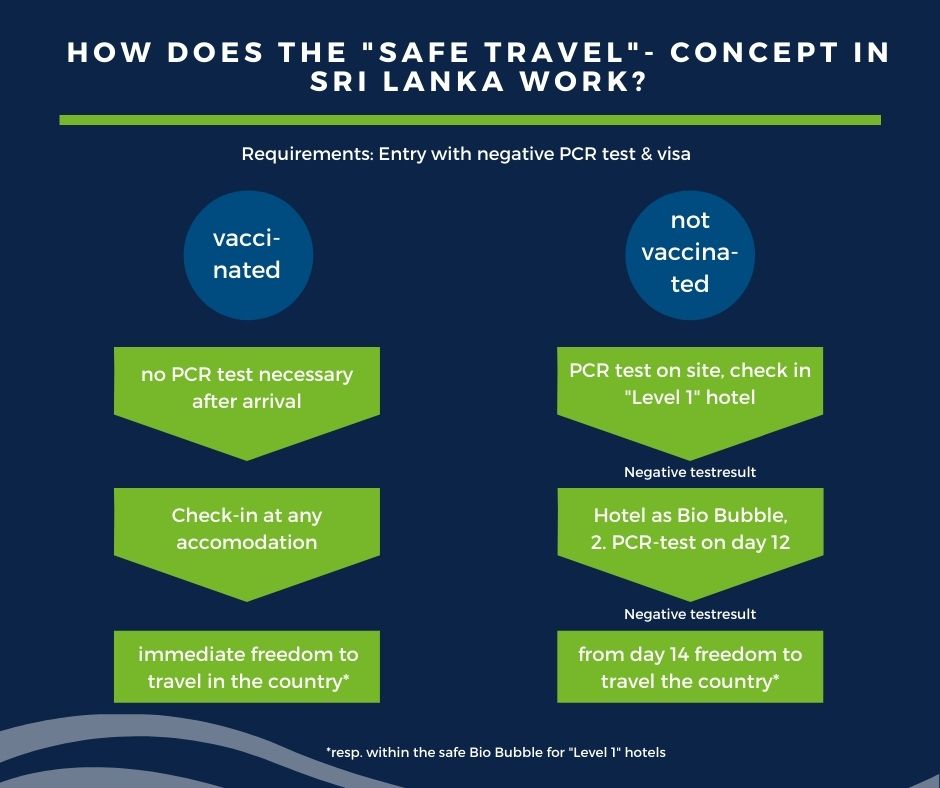 How can we picture a typical day in a "Level 1" hotel on site? Do you have to sit in your hotel room the entire time or are you allowed to explore the grounds?
The hotel grounds of a "Level 1" hotel form a so-called flexible Bio Bubble, in which one can move freely. You are allowed to go to the restaurant, the pool, etc. Within this bubble, excursions to a selection of sights are also possible. For guests of the "Level 1" hotels there are special drivers who take you to the attractions. By the way, the Bio Bubble in the Level 1 hotels applies to all guests, regardless of vaccination status.
Is it allowed to go to the beach as a guest of a "Level 1" hotel?
Beaches in Sri Lanka are usually open to the public, so guests might encounter locals there. This is where the protection of the local population mentioned in the Safe Travel concept comes into play and therefore beach visits for guests in "Level 1" resorts are omitted. After all, contact with locals outside the hotel should be avoided in the first weeks after arrival. But that doesn't matter, some "Level 1" Ayurveda resorts have beautiful, spacious gardens where you can relax in the breaks between treatments or enjoy dreamlike views.
What happens if one of the on-site test results comes back positive or you feel sick?
Even though it is unlikely that one will be tested positive on site, given the precautions taken, this aspect has been taken into account in the "Safe Travel" concept. For this reason, every guest, whether vaccinated or non-vaccinated, must add insurance to cover quarantine and hospitalization in private hospitals, if necessary, in the event of illness. There are special quarantine hotels for guests who have tested positive. In case of more severe courses, guests are taken to private hospitals, these are up to date with the latest medical standards. The costs are covered by Covid insurance.
From your report so far, we can see that Ayurveda and Sri Lanka currently fit together very well. What are the advantages and what is special about an Ayurveda retreat there? Can you tell our readers a few points?
After the last year, many people have focused even more on their own health. Supporting one's own immune system, actively doing something good for the body – these are all aspects that are taken up by Ayurveda. Authentic Ayurveda is ultimately about bringing body and mind back into balance. The well-being usually sets in quickly, also thanks to the climate. Especially in our dreary wintertime, an Ayurveda retreat in Sri Lanka is ideal if you want to switch off from the stress of everyday life and relax properly.
You meet many like-minded people in the resorts and get into contact immediately. Nice conversations and often long-lasting friendships arise. Ayurveda resorts are therefore also ideal for solo travelers.
And how does an Ayurveda retreat usually work?
Before the first treatments start, each guest has an individual consultation with the Ayurvedic doctor on site. In this consultation, sensitivities and possible illnesses are addressed. The guest's own goals are also taken into consideration. This first consultation forms the basis for the treatment plan, because not every Ayurvedic treatment is suitable for every guest.
A typical spa day then begins with yoga, followed by the individual treatments. Healthy Ayurvedic meals tailored to the body type are of course just as much a part of the day as rest breaks, lectures or cooking demonstrations.
So you are very busy during the day and do not necessarily have to leave the hotel – so the stay in the Bio Bubble of a "Level 1" hotel fits very well.
There are different Ayurveda retreats, how do I find out which one suits me best?
Most therapies differ in terms of intensity and number of treatments. Our travel experts are available for advice and together with the traveler find the right Ayurveda offer for the individual wishes and needs. Once you have found a program, you will also find a suitable hotel together. The offer is extensive – from simple, classic Ayurveda hotels to 5-star resorts, from traditional to modern architecture, there is a suitable hotel for every taste.
Thank you, Claudia, for sharing your experience with us.
Have we piqued your interest in an Ayurveda retreat to Sri Lanka? Then you can find more information about Ayurveda in Sri Lanka here.
EMPTY api-answer: No JSON received - is the API down? Check the URL you use in the shortcode!