Our best luxury Ayurveda resorts in Sri Lanka
What to expect from your Ayurveda health retreat
The program points for your Ayurveda retreat in Sri Lanka depend strongly on the length of your stay. Treatment plans usually include Ayurveda classics like massages as well as Ayurvedic facial masks and aromatherapy. Many resorts offer small Ayurveda workshops, for example on Ayurvedic nutrition.
More extensive Ayurveda therapies require at least a 1 week stay. In addition to Ayurveda treatments such as massages or aromatherapy, additional Ayurveda offers and courses are also available. Treatments plans, which are then usually tailored towards an Ayurveda detox, can then include yoga courses or even an Ayurveda cooking course. Ayurveda retreats can also be geared towards tackling food intolerances or weight management and will then lend more importance to diet.
Yoga retreats are a wonderful addition to any Ayurveda therapy in Sri Lanka against stress. Ayurveda hotels often offer local excursions to traditional meditation sites and Buddhist temples. This is an ideal opportunity to discover the country's culture during an Ayurveda retreat in Sri Lanka.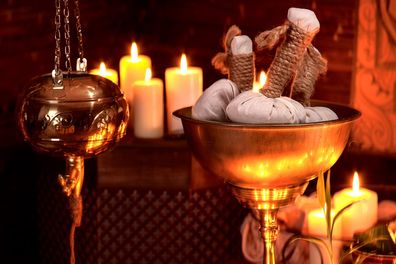 Panchakarma
Freely translated from Sanskrit, Panchakarma means "fivefold treatment". The classic Ayurvedic cleanse is used to eliminate metabolic waste products, but also for stress therapy and "mental purification". Characteristic of the Panchakarma therapy is the internal and external use of oil treatments. These include the ingestion of clarified butter (ghee) for the elimination of fat-soluble metabolic waste products, the Ayurvedic oil massage Abhyanga or the forehead oil pouring Shirodhara to cleanse the third eye located on the forehead.
Rasayana
During your Ayurveda treatment in Sri Lanka, the Rasayana retreat also offers targeted stress therapy. The term is composed of the words rasa for "juice" or "taste" and ayana for "proper movement". The aim is to direct the flow of bodily fluids and energies into orderly channels through certain behavioral measures (Achara-Rasayana) and the use of medicinal herbs (Oshadhi-Rasayanas). According to Ayurvedic understanding, this should awaken the body's self-healing powers, strengthen it and rejuvenate it through regeneration as well as revitalization.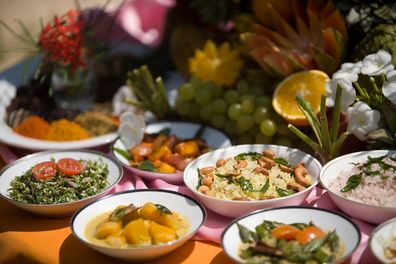 Ayurveda weight loss & detox
In contrast to medically questionable zero diets, Ayurveda fasting never completely renounces food. Rather, the goal of therapeutic fasting is to promote weight loss through reduced food intake, with low-calorie soups, leafy vegetables, rice and mung bean dishes on the menu. This is usually supplemented by an Ayurvedic detox using cleansing Ayurvedic herbs.
Ayurveda retreats in Sri Lanka
Sri Lanka's most beautiful destinations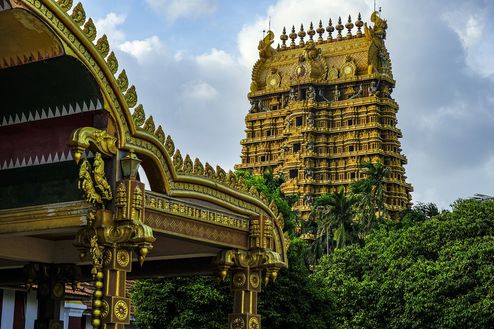 North coast
Due to its short distance to the South Indian mainland, the north of Sri Lanka is characterized by the Indian architectural style. The best example is the local Gopuram temple towers. A combination of Indian and Sri Lankan temple buildings are also the Dagoba stupas on the north coast. In addition, the northern Sri Lankan city of Jaffna is home to the Nagulesvaram Temple and the Kandaswamy Temple, two of the most important Hindu temples in the country. This makes the north coast of Sri Lanka an ideal destination for yoga and cultural vacationers. A constantly warm tropical climate with little precipitation provides complementary for wonderfully sunny Ayurveda vacations in Sri Lanka.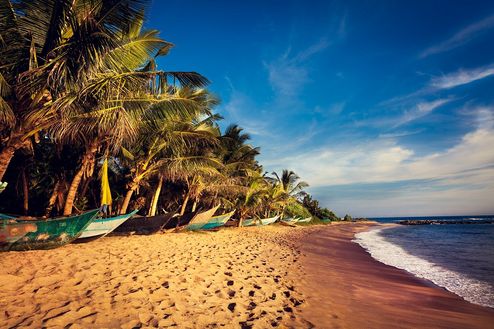 East coast
The east coast of Sri Lanka is known for its picturesque sandy beaches. In a local Ayurveda resort you can therefore perfectly combine beach vacations and Ayurveda vacations in Sri Lanka. A special tip are the beaches Passikudah- and Kalkudah-Bay, where you can explore the coral reefs of the Sri Lankan east coast during organized dives. The Kanniya Hot Springs in Trincomalee also promise extraordinary wellness experiences. The ancient pools of the spa are fed by seven springs with different temperatures.
South coast
On the south coast of Sri Lanka are the Madunagala Hot Wells in the town of Hambantota. The region is also characterized by extensive river landscapes and bathing bays such as those of Unawatuna. They are ideal for yoga training in the open air. With the fortress and old town of the port city of Galle, the south coast of Sri Lanka also has a genuine UNESCO World Heritage Site. The south coast is therefore ideal for combined cultural and Ayurveda vacations in Sri Lanka.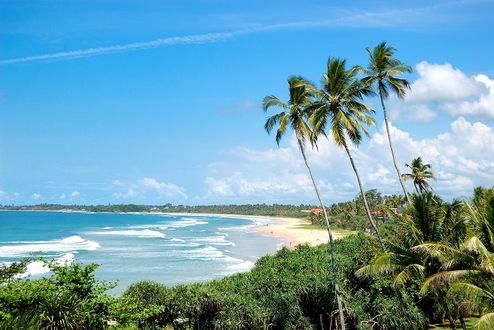 West coast
Popular yoga beaches on Sri Lanka's west coast such as those of Hikkaduwa, Bentota and Beruwala are among the most beautiful in the country and also have numerous hotels and resorts specializing in traditional Ayurveda treatment in Sri Lanka. The temple complexes of the Sri Lankan capital Colombo also promise cultural highlights. A visit to the city's own market district Pettah is also recommended, where you will find everything from Ayurvedic medicinal herbs to healthy Ayurvedic food for culinary adventures during your Ayurveda vacations in Sri Lanka.
Our best Ayurveda resorts in Sri Lanka
FAQ - Ayurveda in Sri Lanka
How expensive is an overnight stay in an Ayurveda resort at SpaDreams?
You can book an Ayurveda Resort in Sri Lanka for 3 nights at SpaDreams starting from 282 Euro.
How can I save when booking an Ayurveda hotel in Sri Lanka?
For especially low prices, we recommend bargains such as last minute or all-inclusive offers as well as our popular early bird specials! If you're not set on traveling during a particular time of year, prices are especially tempting during off-peak seasons.
What is the best time for an Ayurveda vacation in Sri Lanka?
If you are vacationing in the north, northeast or east, the best time to travel is between March and November. Vacations in the south or west of Sri Lanka are better booked from April to November.
All Ayurveda Offers in Sri Lanka