What exactly is Panchakarma?
Panchakarma in Ayurveda refers to the detoxification or cleansing therapy aimed at preventing or treating diseases and restoring the balance between body and soul. The imbalance can be caused, for example, by improper diet, stress, environmental factors or even private problems. The body becomes unsettled and toxins and waste products can be deposited, which also causes the doshas - Vata, Pitta and Kapha, the basic energetic forces - to become unbalanced. In the long run, this can promote the development of disease.
Translated, Panchakarma means "fivefold action" or "fivefold purification", or "the five actions". This refers to the five procedures of Ayurvedic detoxification, with the help of which the body is cleansed of excess doshas and thus brought back into balance. Below you will learn more about the different treatments and the course of the Panchakarma therapy.
Components of a Panchakarma retreat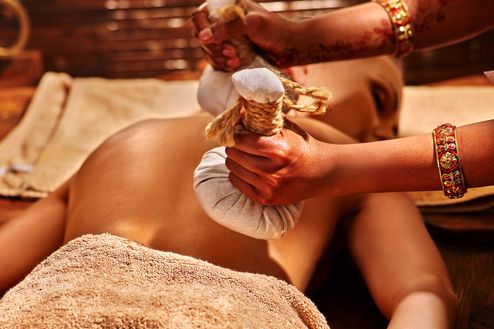 External treatments
In Ayurveda, different external treatments are used. These include, of course, different types of massages. Here, the whole-body synchronous massage (Abhyanga), the whole-body powder massage (Udvartana, with an exfoliation of barley and chickpea flour) and the whole-body synchronous massage with raw silk gloves (Garshana) are among the most important forms of massage. In addition to oil massages, other oil treatments (snehana) are also used, such as the typical forehead oil pouring shirodhara. In order to flush the substances dissolved by the massages from the tissues, herbal steam treatments are used.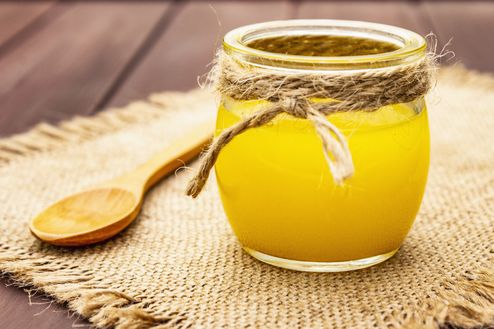 Internal treatments
In addition to the external treatments, the purification of the body is also carried out internally. For example, in the morning you take ghee, which is purified, sometimes medicated butter fat. This penetrates the cells and dissolves the doshas. Ayurvedic herbs and spices are also used to activate metabolic waste products and to support the body after cleansing. The five cleansing techniques of Panchakarma therapy are also among the internal treatments and will be further explained below.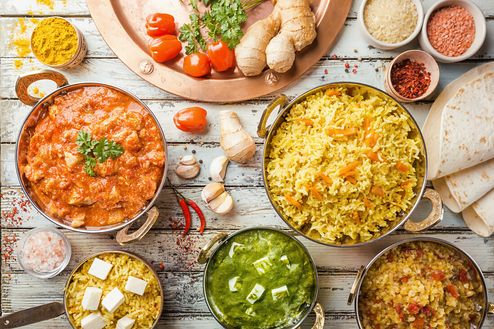 Nutrition
The right, dosha-compliant diet plays a central role in Ayurveda. Therefore, your diet plan is also adapted to your dosha or constitution type to rebalance the doshas. Ayurvedic food is mostly vegetarian, from time to time there is white meat or white fish. It is important to eat a balanced diet, which in Ayurveda means that all tastes should be included. These include: sweet, sour, salty, spicy, bitter and tart/ astringent. Another important concept is Agni, the digestive fire, which is considered to have important therapeutic significance.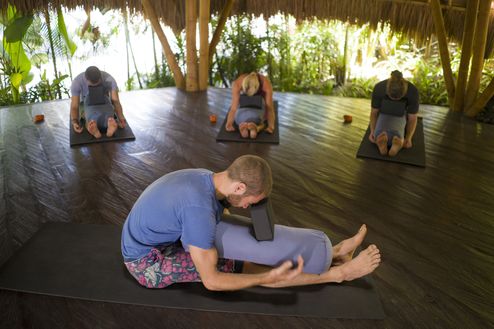 Relaxation techniques
To restore the balance between body and soul, relaxation techniques are also an important part of an Ayurveda retreat. These include above all yoga and meditation, but also breathing exercises. In many Ayurveda hotels and resorts, yoga and meditation are on the program daily, others offer it at least several times a week.
Ayurveda Panchakarma retreat: indications & benefits
A classical Ayurveda Panchakarma retreat can be used for the treatment of numerous diseases. For example, it is beneficial for the following indications:
Allergies
Anxiety
Respiratory diseases
Burn-out
Gynecological disorders
Skin diseases
Cardiovascular diseases
Headaches and migraines
Stomach and intestinal diseases
Psychosomatic diseases
Sleep disorders
Metabolic disorders
Stress
Tinnitus
The course of a Panchakarma therapy
Diagnosis
An integral part of any Ayurveda retreat is the consultation with the Ayurveda doctor or specialist at the beginning of your stay. Through an intensive examination and various procedures such as pulse diagnosis, the doctor or specialist can accurately determine the state of your doshas and localize imbalances.
Your constitutional type is then determined. For this purpose, your Ayurvedic specialist will have an in-depth conversation with you and will also take a close look at external features such as your skin, hair, fingernails and eyes. Based on all of these observations, the specialist will create an individual treatment plan that is tailored to your exact needs. From the variety of Panchakarma treatments, the most suitable for you will be selected and the diet will also be adapted to your Dosha type. During the course of the therapy, the Ayurveda specialist will make sure that the chosen treatments will help you during further consultations.
The subsequent Panchakarma therapy, with treatments individualized for you according to your focus, is divided into three main phases:
Our recommendation: Since each phase of the Panchakarma therapy takes its time, you should stick to the recommended travel time of at least two weeks for your Ayurvedic detox. This way, the appropriate time can be planned for the purification, reconstruction and strengthening phases.
Find the right Ayurveda accommodation
For your Panchakarma therapy we have a variety of different Ayurveda hotels and resorts in our portfolio. Especially in India and Sri Lanka, many facilities are certified as Ayurveda hospitals and work closely with the Ayurveda clinics of the country, where the Ayurveda doctors, specialists and therapists were trained. Many of them come from traditional families and have years of experience in Ayurvedic medicine.
Also the Ayurveda specialists of our hotels and resorts in Nepal, the United Arab Emirates or in Europe can draw from many years of experience. Some doctors even come from India or Sri Lanka themselves. At SpaDreams we place great emphasis on the authenticity of the Ayurveda therapies, so we always ensure that the hotels and resorts for original Ayurveda retreats are also specialized in Ayurveda.
Which Ayurveda hotel suits you best depends entirely on your personal wishes and requirements. Our travel experts will be happy to help you find the right Ayurveda accommodation.
The three most popular destinations for Panchakarma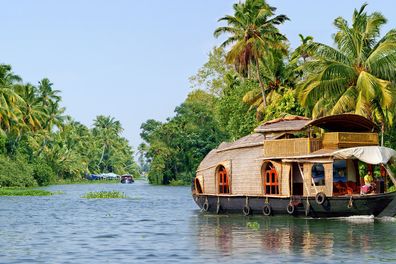 India
In the birthplace of Ayurvedic healing, authentic Panchakarma retreats await you in traditional Ayurveda hotels or luxurious resorts. Enjoy the dream location of your accommodation on a palm-fringed sandy beach, in the mountains or in the midst of tea plantations. The warm hospitality of the hotels and their staff will make your stay even more enjoyable.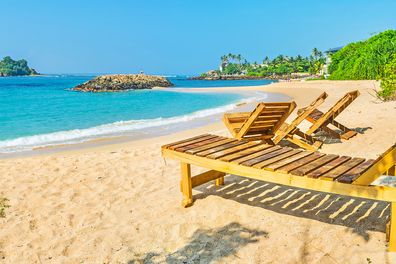 Sri Lanka
Alongside India, Sri Lanka is also a popular destination for authentic Panchakarma retreats. From traditional Ayurveda hotels to beach resorts, there is something for every guest. The island attracts with beautiful nature, long sandy beaches and many exciting excursion destinations, such as temple sites or colorful markets.
Germany
For your Ayurveda Panchakarma retreat you do not necessarily have to fly far! Even in Germany there are already many hotels that offer genuine Ayurveda retreats. Whether in Bavaria, the Rhön or on the island of Rügen - in the wonderful surroundings of the German Ayurveda hotels you can experience the Far Eastern art of healing closer to home.
Our most popular Panchakarma retreats
Escape from everyday life with a Panchakarma retreat and find relaxation and tranquility - targeted and with long-term effects. Choose the Panchakarma trip that suits you from our wide range of offers.
FAQ – Most frequently asked questions about Panchkarma
Ayurveda Panchakarma - What are the experiences?
Feel free to take a look at the customer reviews on our Ayurveda hotel pages. Our customers have shared their experiences there, so you can find first-hand information.
How long should a Panchakarma retreat last?
For a Panchakarma retreat you should plan enough time due to the special structure. 7 nights are not enough for this Ayurveda retreat, so many hotels offer classic Panchakarma therapies only from 14 nights. 21 nights would be preferable.
How much does a Panchakarma retreat with SpaDreams cost?
Thanks to our favorable conditions, you can book a classic Ayurveda Panchakarma retreat with 14 nights with us starting from 432 euros per person in a double room.
Which cleansing techniques are used in authentic Ayurveda?
In order to purify the body, mind and emotions - which is the main treatment of the Ayurvedic cleansing therapy - various cleansing techniques are used in the original Ayurveda. These can range from inhalations to enemas to therapeutic vomiting. Especially in Germany and Europe, but also in Asia, consideration is given to the Western mentality, so that the more extreme cleansing techniques of Ayurvedic Detox are not used. Here, more attention is paid to your well-being and mainly treated with massages, herbal oil treatments, sweating sessions and full body wraps.
All Panchakarma retreats worldwide