Our best hotels for your Ayurveda retreat in Mauritius
You can book these Ayurveda packages in Mauritius
Ayurveda Treatments and Programs in Mauritius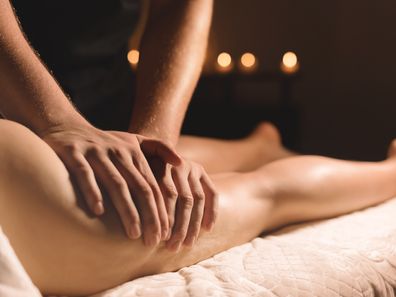 Panchakarma
In three phases you cleanse your body during a traditional Panchakarma on Mauritius. The toxins are eliminated after they have been loosened in the preparation phase through gentle massages by your Ayurvedic specialists. Through Ayurvedic methods of elimination, your body can gradually expel the waste products during the cleansing phase. To support your physical regeneration, take Ayurvedic herbal preparations in the build-up phase and complement your Ayurvedic treatment in Mauritius with yoga and meditation.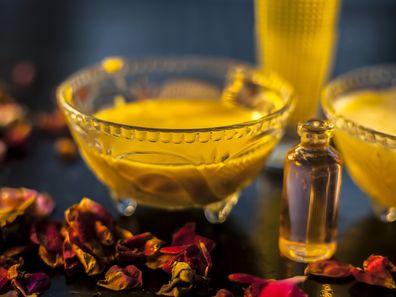 Rasayana
We would love to maintain a youthful glow throughout our lives. A Rasayana retreat in Mauritius brings back your youthful freshness and rejuvenates your appearance through soothing Ayurvedic treatments. Thanks to a diet perfectly tailored to you, gentle skin and body treatments and rejuvenating herbs, the anti-aging program will give you a radiant look. Conscious breathing and meditation give you deep balance and get your blocked life energy flowing again. Experience how light your body can feel and how free your mind can be.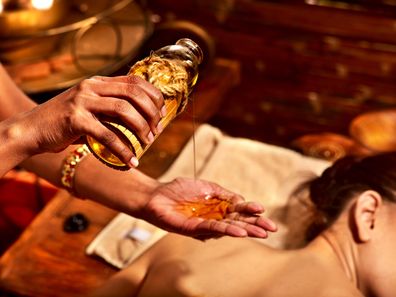 Wellness Ayurveda
When was the last time you really relaxed and felt the weight of the world lift from your shoulders? Ayurveda wellness in Mauritius gives you the opportunity to get to know your body and to listen better to its quiet signals. Soothing oil massages will put you in a state of deep relaxation during your Ayurveda time out. The paradisiacal nature of the island state invites you to live in harmony and soothes your soul and spirit. Learn ancient breathing techniques during Ayurveda in Mauritius to calm your nervous system and keep a cool head in future stressful situations.
This is what our Ayurveda accommodations in Mauritius can offer you
Once in paradise - you can fulfill this dream with Ayurveda in Mauritius. Numerous Ayurveda accommodations with tropical ambience offer everything the vacationer's heart desires. From 3 to 5 stars, over the direct location at the sea up to versatile wellness offers, the Mauritian Ayurveda hotels and resorts hold an absolute well-being program ready for the guests. Opt for the Ayurveda luxury hotel directly on the beach or book a comfortable single room with sea view in the Ayurveda resort under palm trees.
No matter which Ayurveda accommodation you ultimately choose, the soothing wellness offers for stress management or relief from sleep disorders will help you find your way back to your own center towards deepest relaxation.
Get close to the Mauritian nature with the most varied outdoor activities, such as kayaking, catamaran sailing, diving, snorkeling or hiking and strengthen your immune system through extensive outdoor exercise.
During their Ayurveda stay in Mauritius, guests can be pampered by experienced Ayurvedic therapists and doctors, some from India and Sri Lanka, with traditional head, foot and facial massages or herbal steam baths and inhalations.
The perfect destinations in paradise for your Ayurveda vacations in Mauritius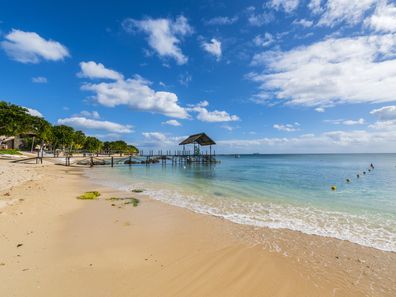 Northwest coast & Balaclava
In the northwest of Mauritius, not far from the coastal town of Balaclava, discover the Baie aux Tortues Marine National Park, also known as "Turtle Bay". The turquoise waters of the bay are warm and crystal clear. While snorkeling or diving, you can discover a colorful coral reef, right by the shore. Thanks to its sleepy charm, you will find numerous opportunities to come to rest in Balaclava. At the Pamplemousses Botanical Garden, you will have the chance to admire hundreds of different species of plants and flowers from all over the world in the shade of planted pergolas. Watch countless sailboats in Grand Baie.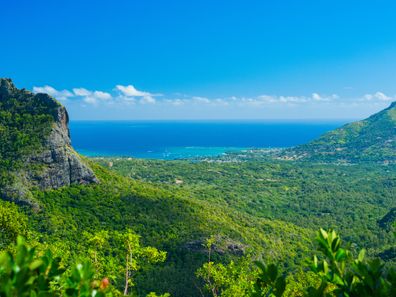 Western coast & Wolmar
During your Ayurveda vacation in Mauritius, the west coast of the island attracts you especially with charming contrasts of white sandy beaches and rugged mountains. This region of the island state thus attracts both beach vacationers and sports enthusiasts. The crystal clear water at Flic en Flac beach invites you for swimming or other water sports. It stretches lined by countless filaos, over 8 kilometers and ends in the neighboring Wolmar. Far away from the paradisiacal tropical beaches, the mountains of the highlands await you. In the Black River Gorges National Park, hiking fans get their money's worth and climb the Black River Peak, the highest mountain in Mauritius.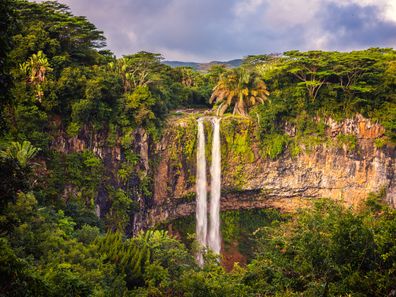 Southern coast & St. Felix
Mauritius south coast you can explore on your Ayurveda trip as the most pristine and wildest part of the island for you. Far away from the tourist masses, nature lovers have the opportunity to explore the best snorkeling and diving ground in Mauritius in the marine national park of the Blue Bay Lagoon. Impressive coastal scenery can be seen around Baie du Cap. There, cooled lava juts out as a headland directly into the sea. During hikes in the surrounding mountain region, the Chamarel waterfall awaits you, where the Rivière de Cap plunges 100 meters into the depths at a rocky edge. Despite the rugged coastal landscape, the southern coast of Mauritius has an absolutely paradisiacal sandy beach. The beach of St. Felix is considered an absolute insider tip and enchants its visitors with an extraordinary beauty and a mysterious reputation.
View all Ayurveda hotels in Mauritius
FAQ – Tips for your Ayurveda holiday in Mauritius
What is the best time to travel to Mauritius for an Ayurvedic retreat?
The optimal travel time for an Ayurveda vacation on Mauritius falls in the months of May to November, because then there is a dry season on the island. In the rainy season from December to April, visitors should expect more rainfall.
How do I find the right Ayurveda resort for me in Mauritius?
SpaDreams offers a diverse range of Ayurveda accommodations, which provide various Ayurveda packages for booking. From Ayurveda rejuvenation retreats, to wellness Ayurveda packages, to traditional Panchakarma therapy, you can book completely according to your individual needs and health goals. It is best to check the specific package scope of your favorite Ayurveda trip before booking.
What is the suitable duration for an Ayurveda retreat in Mauritius?
An Ayurveda short vacation is possible from 3 nights, for example, on an extended weekend. If you want to do a traditional Ayurvedic Panchakarma treatment, a stay of at least 14 nights is recommended.
All Ayurveda offers in Mauritius