First class hotels for your Ayurveda trip to Nepal
Book the right Ayurveda package in Nepal
Ayurveda treatments and programs in Nepal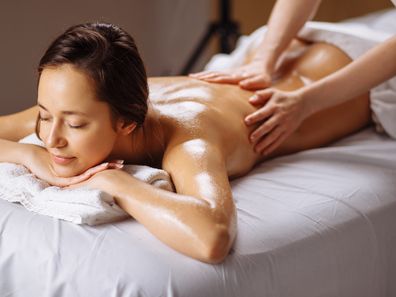 Panchakarma
The Panchakarma retreat consists of three steps, starting with the preparation. Over several days, clarified butter enriched with valuable herbs is given to you on an empty stomach. This dissolves deep-seated waste products and toxins. In the second phase, the dissolved toxins are removed through the intestines, mouth, nose and skin. The therapist will decide which of the cleansing rituals to use based on your physical condition. The detoxification is supported by oil massages and steam baths. During this retreat you will be given a light diet. The third phase is dedicated to physical and mental well-being with the help of yoga, light exercise and meditation.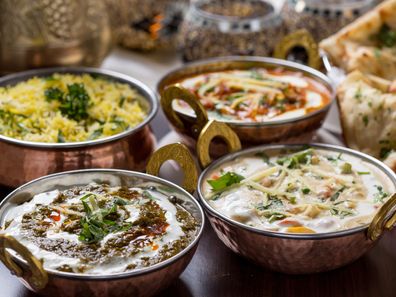 Ayurveda Weight Loss Retreat
Ayurvedic weight loss does not mean abstaining from food, but rather listening to the original needs of the body. You will learn which foods truly satisfy you, rather than indiscriminately participating in general consumerism. Nutrition in Ayurvedic cooking means pausing, practicing mindfulness, and eating with joy and pleasure. Authentic Ayurveda in Nepal firmly believes that it is not only improper diet that is crucial for weight problems. Reduced metabolism is just as much a focus as a change in diet. Detoxification and purification are an integral part of an Ayurvedic weight loss retreat. This takes place in the form of intestinal lavage and purifying massages, oil treatments and steam baths.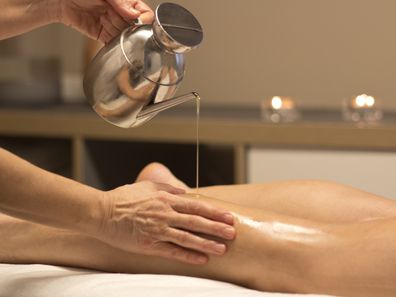 Wellness Ayurveda
This is the gentlest form of Ayurveda retreat in Nepal. Here the emphasis is on mindfulness, meditation and regaining inner peace. Your Ayurveda treatments focus on healthy eating, warm oil pours and detoxifying massages. Ayurveda in Nepal bears little resemblance to Western medicine. What is a feel-good program in this country has been practiced in the Asian healing arts for thousands of years to establish health. Traditional steam baths, massages and movement exercises are used to regain lost energy and help understand the body and heal the soul.
This is what you can expect from our Ayurveda Resorts in Nepal
During your Ayurveda retreat in Nepal, pamper yourself in a 5-star premium hotel, immerse yourself in a Tibetan monastery or in a specially equipped Ayurveda center. Many of the accommodations are extremely luxurious and are located in prime locations.
The focus of Ayurveda hotels is on healing the body and mind and creating a balance between humans and nature. Our Ayurveda centers are run by experienced and certified Ayurveda doctors and therapists with many years of experience.
Depending on the category booked, you will be accommodated in comfortable single and double rooms up to exclusive suites. Most of the Ayurveda resorts have spacious wellness areas with indoor and outdoor pools as well as sauna, steam and spa baths. Well-equipped fitness rooms are standard in many of the hotels, as is the offer of special full-body massages to relax, detoxify and purify.
Selected hotels also offer Ayurveda cooking courses under professional guidance. Certified diet chefs provide for culinary moments of happiness and wait with elaborate local and international dishes, which are always served fresh and according to your treatment plan.
Fantastic places and destinations for your Ayurvedic retreat in Nepal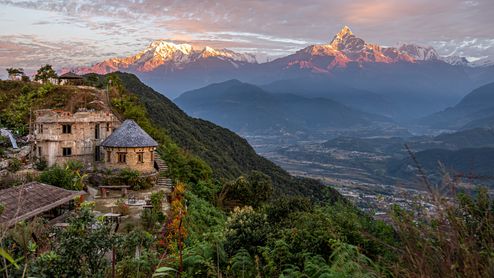 Pokhara
The city of Pokhara is located in a valley on Lake Phewa, which is surrounded by the Annapurna mountain range and offers a breathtaking panorama. Lake Phewa is perfect for rowing boat and pedal boat tours during your Ayurveda trip in Nepal. Another highlight is Devi's Fall, a small waterfall. Guests like to take a break for a little time out in the form of meditation and relaxation, as the gentle rush and fresh air are a feast for the senses. Besides, Pokhara is a great starting point for pleasant hikes. They thus complement and support the success of your Ayurveda treatment in Nepal.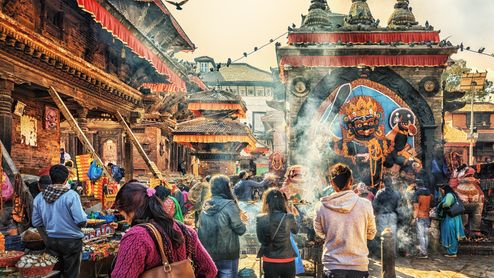 Kathmandu
Once you get used to the hustle and bustle of Kathmandu's streets, you will succumb to the charm of the Nepalese capital at the foot of the Himalayas. Kathmandu offers numerous reasons for an Ayurveda vacation in Nepal. Historic temples make not only the hearts of cultural enthusiasts beat faster. The magic of this city, which is one of the most beautiful in Asia, and the friendly inhabitants will keep you busy long after your Ayurveda vacations in Nepal. The surrounding countryside is also a highlight during your visit to Kathmandu. Hikes through nature offer breathtaking views of the Himalayas and Mount Everest, the highest mountain in the world.
Our hotels for Ayurveda vacations in Nepal
FAQ – Tips for your Ayurveda retreat in Nepal
What is the recommended duration for an Ayurveda retreat in Nepal?
Due to flight time and time difference, your Ayurveda retreat from Europe should be at least 14 days to 3 weeks.
Is an Ayurvedic retreat in Nepal suitable for everyone?
Every healthy person can undergo Ayurvedic therapy in Nepal, as the type and intensity is individually adapted to your well-being. If you are unsure, we recommend consulting your family doctor.
How do I find the right Ayurveda resort for me in Nepal?
You only have to enter your personal preferences and criteria into our search mask and our database will give you access to all bookable resorts. Of course, our travel experts are always at your disposal.
What is the best time to travel to Nepal for an Ayurveda vacation?
Depending on the region, the months between mid-February and mid-May, and between late September and early December are recommended.
Can I combine an Ayurveda retreat in Nepal with a round trip?
Of course you can start a round trip before or after finishing your Ayurveda therapy in Nepal. Our travel experts will put together the most beautiful routes for you.
All Ayurveda offers in Nepal