Our best authentic Ayurveda retreats in India
What to expect from traditional Ayurveda treatments
Our partner hotels in India have an extensive range of programs with luxurious Ayurveda treatments for both healing and wellness. The exclusive packages can be adapted to your length of stay, up to a multi-week Ayurveda holiday in India.
Each Ayurveda retreat begins with an initial consultation. Here traditionally trained Ayurveda therapists determine your "Dosha type". Accordingly, a bespoke Ayurveda therapy plan is created just for you.
Typical treatments such as ayurvedic massages and traditional forehead treatments are an integral part of each therapy. Relaxation programs such as yoga, meditation and movement exercises are also incorporated into your therapy to support all Ayurveda procedures. Many resorts offer the opportunity to deepen your knowledge of Ayurveda or explore ayurvedic cooking with special courses and workshops.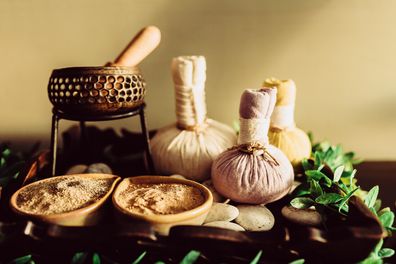 Panchakarma
In Ayurvedic medicine, health is the highest good and therefore the basis of a vital life. During Panchakarma therapy, a detox therapy which translates to the "five procedures", toxins are systematically and gently flushed from the body and at the same time the soul is healed by means of massages and warm oils.
Before you start Panchakarma, you will be informed by a certified therapist about the procedure and, together with you, they will create a therapy plan tailored specifically to you.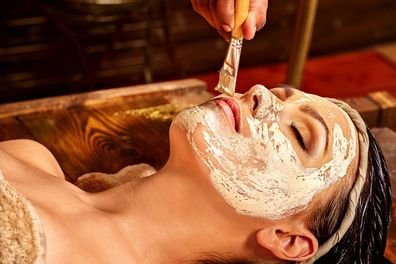 Rasayana
Rasayana aims to turn back time and help you feel younger and more vital. This therapy will free you from toxins and waste products that age your body and shorten your lifespan as well as gently rebuild your life force. You will be provided with an individual nutrition and wellness plan for the duration of your Ayurveda retreat in India. This ensures a detoxification and purification in the gentlest form and frees cells and tissue from unnecessary waste. Cell and tissue rejuvenation is the goal of this Ayurveda retreat. You will notice changes in the appearance of your skin after a very short time and feel fitter and more active.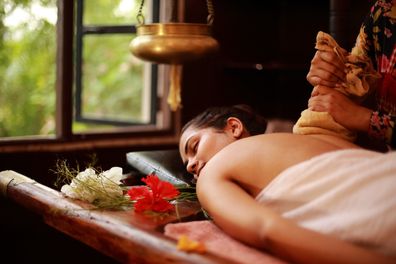 Ayurveda detox
A healthy body runs smoothly. Mechanisms such as metabolism, the lymphatic system, lungs, liver and kidneys routinely remove all harmful substances. Ayurvedic medicine in the form of herbal supplements aid the detox process. But from time to time, even the best system is overwhelmed and needs not only a break, but also active support for recovery and regeneration. A detox helps your body rebalance its own defenses through rest, exercise and detoxification to prepare it for what lies ahead.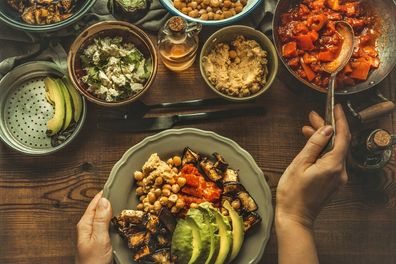 Ayurveda weight loss
In determining your specific dosha (vata, pitta, kapha), Ayurveda practitioners are given lots of vital information about your body, including tendencies for your life habits, physical and mental health, and even information about your metabolism. When an ayurvedic specialist establishes your dosha type, they are able to tailor a weight loss plan that is based on your body and personal habits, both unique contributing factors to weight management. The treatments will also be tailored to help you rebalance your body and soul as well as eliminate toxins, aiming to help you achieve your long-term weight loss goals in a healthy way and keep the pounds off!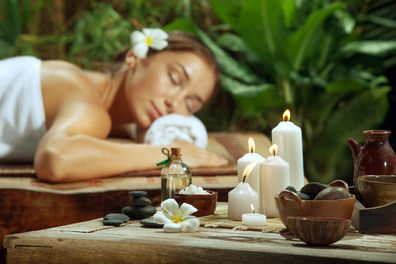 Wellness Ayurveda
And sometimes you just need, and deserve, some pampering! Why wait until there is a problem or you are overly stressed. Let our luxurious resorts and devoted Ayurveda therapists help you forget your woes and keep you in top shape! Take part in yoga and meditation classes and realize your dream Ayurveda in the most authentic and natural way. Culinary delights are served to you every day by top chefs from India. Let yourself be whisked away with one of these exotic getaways and enjoy all of the pleasures that India has to offer!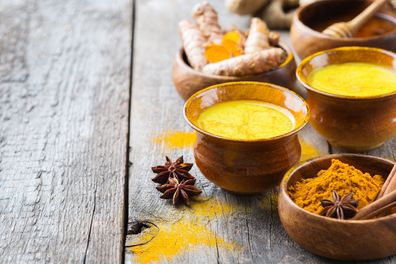 Ayurvedic therapy
Many people with medical conditions, often chronic, turn to Ayurvedic medicine as an alternative to typical modern or Western medicine treatments. Customary modern medical treatments often involve taking a variety of pills that give many people more side effects than relief. They have since turned to Ayurveda for a holistic and natural approach to treating their chronic illnesses or symptoms with traditional treatments and age-old Ayurvedic medicine and herbal remedies. Many doctors even approve Ayurvedic medicine as a complementary treatment method in conjunction with modern medical approaches.
Ayurveda resorts in India
Best destinations in India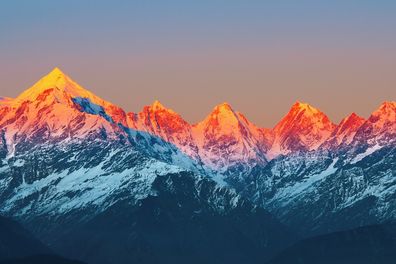 Northern India & Uttarakhand
The region of Uttarakhand is located in the Himalayas in northern India, bordering Tibet and Nepal. It is home to India's largest mountain range, the Nanda Devi, and offers spectacular views with snow-capped peaks and ski slopes. In addition, you will experience densely forested sections and flower valleys.
Religious pilgrimage sites and sacred Hindu temples are popular pilgrimage sites of the Himalayas and create the best foundation for your Ayurveda holiday in India. During spontaneous yoga sessions at an ashram you can recharge your batteries and life energy next to the two holy springs Ganges and Yamuna.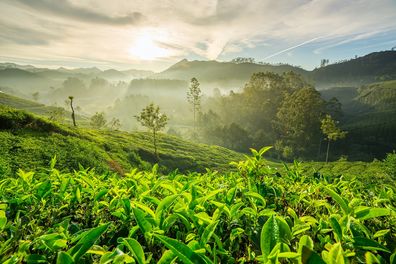 South India & Udagamandala
The south of India is magnificent, colorful, warm and traditional. Here all clichés are fulfilled when you think of India: richly decorated temples, fragrant tea plantations, palm-fringed and sandy beaches. Ayurveda in India does not only have to mean inner contemplation, but also activates lost joie de vivre.
In spite of everything, you will also get your money's worth as a peace seeker in Southern India; because idyllic oases of peace can be found as well as tropical forests. Cultural sights like the city of Mysore, which will enchant you, or Udagamandala, a city in the Nilgiri Mountains, which is the starting point for excursions into the breathtaking nature of South India.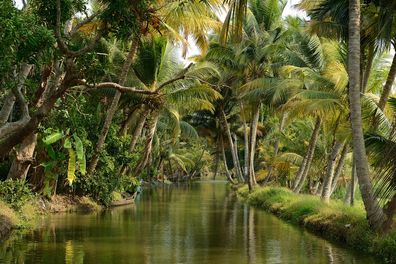 Southwest India & Kerala
Huge tea plantations, rice and spice cultivation, palm beaches, and national parks, like the Periyar National Park which elephants, monkeys and tigers call home, are set in lush green landscapes. 29 large lakes and lagoons and 44 rivers form the main transportation network of southwest India.
The backwaters are the connection between the city of Kochi and the port city of Kollam. On well-built wooden barges you can escape from everyday life and discover the hinterland of this beautiful landscape.
You will pass colorful temples, pause at energetic power places and can feel how time does not matter here, but only the inner clock counts. This unique region invites you to an escape from everyday life and is the perfect destination for your Ayurveda vacation in India.
Our best Ayurveda resorts in India
FAQ - Ayurveda in India
When is the recommended travel time to travel to India for an Ayurveda holiday?
Generally speaking, the best time to travel to India is between October and March. However, you should keep in mind that each region has a different climate. And although it may be tempting to go to India in the hottest and sunniest seasons, many Ayurveda doctors recommend the more temperate months as they are the most beneficial for Ayurveda treatments.
Which languages are spoken in India?
The official languages are Hindi and English.
Can I do an Ayurveda retreat as a smoker?
Since the aim of an Ayurveda retreat is to rid the body of toxins and harmful substances, it is highly recommend that you refrain from smoking in the weeks leading up to your retreat as well as during.
Do I need a visa for an Ayurveda retreat in India?
In general, you will need a visa to enter India. However, this depends on nationality as well as country of residence, as well as the purpose of your travel. There are several visa types available, such as the standard E-Visa but also a medical E-Visa. It is best to consult your country's office of foreign affairs or the Indian embassy in your country of residence for the most up-to-date information.
Which Ayurveda hotel offers the best Ayurveda?
At SpaDreams we check to ensure that each Ayurveda hotel offers authentic Ayurveda under the supervision of a qualified Ayurveda practitioners, doctors, and therapists. Our Ayurveda hotel partners are equally dedicated to offering the best quality Ayurveda experiences.
All Ayurveda Offers in India