What to expect in our Ayurveda hotels
Each of our Ayurveda hotels offers something special, as they are located in wide variety of destinations, with unique natural scenery or close to beautiful cultural cities. Find your dream accommodation, whether its at the beach, in the mountains, near the city or in a tropical jungle. We also offer a wide range of hotels, from ultra luxurious to down-to-earth. Would you prefer a luxurious wellness hotel with Ayurveda, an Ayurveda boutique hotel or a traditional Ayurveda spa hotel? Choose the type of hotel that best suits you and your needs.
However, all our hotels have one thing in common: they are subject to our high quality standards and are of 3 to 5 stars or equivalent levels, all to ensure you the best possible experience on your Ayurveda holiday.
Facilities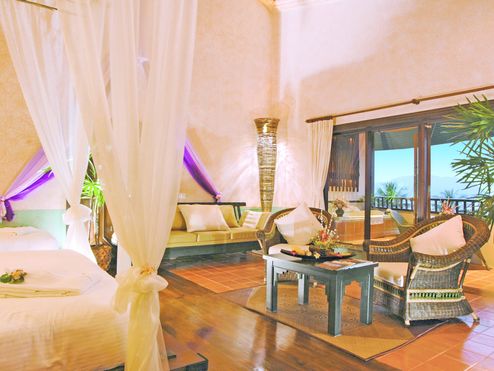 In our Ayurveda hotels you can often find a combination of modern facilities and traditional charming ambience. In addition to a high-quality wellness areas, some hotels also offer a fitness room. The comfortably furnished single and double bed rooms usually have a bathroom with toilet as well as shower or bath. Some of the rooms or luxurious suites even have a balcony or private terrace, where you can really enjoy the fresh air, the beautiful view and the sun. In addition, most Ayurveda hotels have WiFi and satellite TV.
Ayurveda treatments
Come to our Ayurvedic hotels to enjoy a variety of treatments that have a soothing effect on your body and mind. Our hotels offer different Ayurveda programs, such as the traditional Panchakarma and Rasayana packages, wellness Ayurveda retreats or even unique fasting and weight loss programs. The specific types of treatments you will receive will be determined in an initial consultation with your Ayurvedic doctor in an individual treatment plan. Most programs include daily Ayurveda massages with revitalizing oils, the traditional forehead oil pouring Shirodhara and heat treatments, as well as specially adapted food.
Staff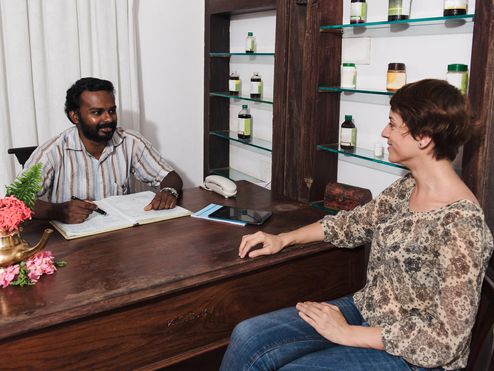 In our Ayurveda hotels you will be accompanied during your entire course of treatment by experienced and well-trained Ayurveda doctors and therapists, who will always be at your side with advice and support. In Europe, several of the Ayurveda specialists are also from Sri Lanka and India, allowing for the most authentic experience possilbe.
In the hotels you can turn to the specialized staff at any time if you have any questions. You can rely on the fact that you will be treated and supported in a professional way and do not have to worry about anything.
Food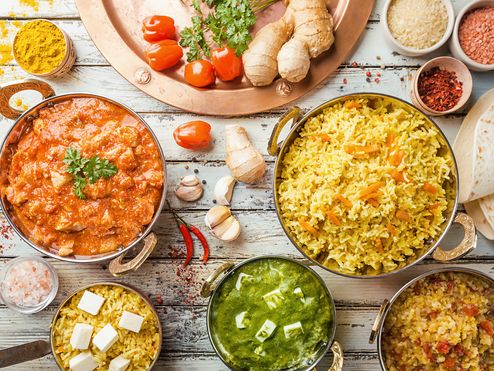 For your physical well-being during your Ayurveda trip is of course also catered to in the restaurants and bars in the hotels. In our Ayurveda hotels, guests have the option to book breakfast, half, or full board. The exact type of food you will eat will be determined together with the doctor so that it is to your individual needs, depending on your determined dosha type. Come and enjoy the traditional Ayurvedic cuisine, which uses a wide variety of spices and fresh, regional ingredients of the highest quality. Fasting and detox retreats are also available, where Ayurveda chefs will provide you with wholesome meals and hot drinks. In addition, vegetarian, vegan or lactose-free food is offered in most hotels if required.
Different Ayurveda hotels for your dream holiday
Design your Ayurveda trip freely according to your wishes and objectives. Whether you're looking for a quaint Ayurveda hotel or a luxurious wellness Ayurveda resort, you will be able to find the right accommodation with us!
Ayurveda wellness hotel
In a wellness hotel with Ayurveda, the focus is on increasing your overall well-being. In beautifully designed wellness areas. Depending on your destination, the hotels might even offer saunas, steam baths, thermal baths and pools, for example, to really relax. Wellness and beauty treatments are combined with the purifying elements from the Indian healing arts to holistically counteract your stress. Enjoy soothing Ayurvedic treatments such as Ayurvedic oil massages, where the whole body, head or feet are massaged with warm oils to relieve tension. Also the forehead cast Shirodhara causes a deep well-being feeling and works besides stimulating on both brain hemispheres. For many guests, a short Ayurvedic weekend getaway with some Ayurvedic treatments are enough to fully relax.
Hotel with Ayurveda therapy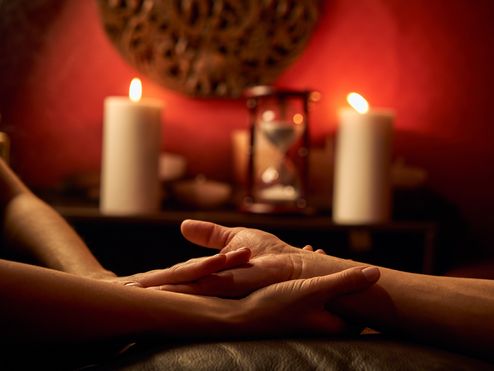 An Ayurveda spa hotel is designed to give you a healthier and happier life through holistic treatments. Your Ayurvedic doctors will first determine your dosha type in an initial consultation and create a treatment plan individually tailored to your needs, which will also specify the necessary form of treatment. With traditional Panchakarma therapy, the body is cleansed of toxins and revitalized, while Rasayana therapy has a rejuvenating effect and restores the flow of blocked vital energy. Ayurvedic nutrition is also an important part of your treatment, which is why traditional and healthy dishes are always offered in the hotels. Surrounded by idyllic nature, you can completely find yourself here and attain physical and mental health.
Ayurveda fasting hotel
Would you like to lose weight or thoroughly detoxify your body? Then an Ayurveda fasting hotel is right for you. In hotels that specialize in fasting, you will be served traditional dishes made from fresh ingredients by certified Ayurvedic chefs that will help your body eliminate harmful metabolic waste. Again, it is crucial which dosha type you correspond to. Pitta and vata people benefit from more gentle fasting options that reduce food intake to a few meals a day. For kapha types, liquid fasting is recommended, for example. Of course, trained Ayurvedic therapists are available to assist you with this process at your hotel. For a long-lasting change of diet also in everyday life, valuable tips are given to you by the Ayurveda specialists in many places.
Yoga und Ayurveda Hotel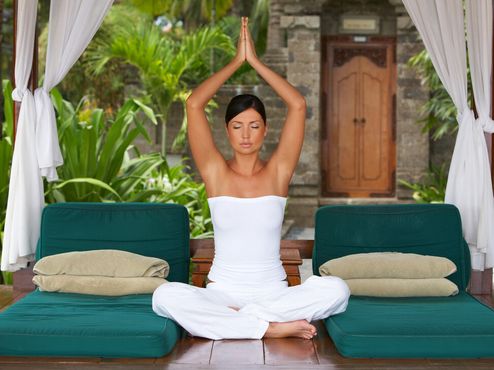 In special yoga and Ayurveda hotels, the focus is on calming the mind through yoga and meditation, because only with a clear mind can deep healing of the body be achieved. While healthy diet, herbal medicine and Ayurvedic treatments balance the three doshas Vata, Pita and Kapha, it is important to achieve an inner balance as well. To balance the three mental forces Sathwa, Rajas and Themas as well, yoga and meditation are necessary. In our Yoga and Ayurveda Hotels you will therefore learn different yoga practices and find your own center with guided meditations. Together with the treatments of the traditional teachings, such as forehead oil castings, oil massages and the Ayurvedic diet, body and soul come into complete harmony.
Our best rated Ayurveda hotels
The most beautiful destinations for your Ayurveda holiday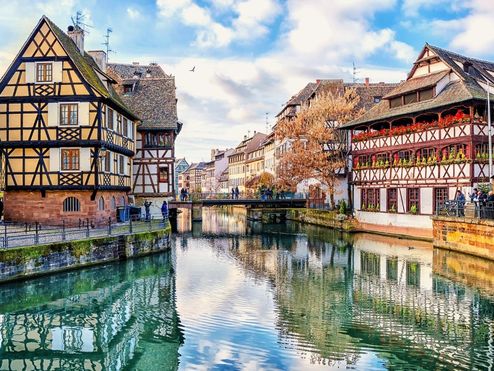 Ayurveda in Europa
For your Ayurveda retreat you do not necessarily have to travel to the Far East. The ancient Indian art of healing is also available in Europe. So you can spare yourself long travel times and time differences, which in itself can be stressful.
Whether near the beautiful beaches of the North Sea, the Baltic Sea or the Mediterranean Sea, in mountainous landscapes or in quiet health resorts and cities - you have the choice where you prefer to spend your Ayurveda retreat.
SpaDreams has a wide range of first-class Ayurveda hotels at various locations throughout Europe.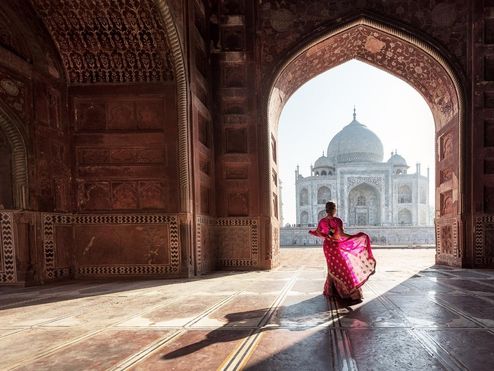 Ayurveda in Asia
In Asia you can experience Ayurveda in a traditional ambience. Especially in the countries of origin of the healing science, India and Sri Lanka, we have a large offer of Ayurveda hotels. Here you can experience authentic Ayurveda surrounded by fabulous nature and gain enough distance from stressful everyday life due to the spatial distance. Go hiking in spectacular mountain landscapes, relax on a day at the beach overlooking the turquoise waters of the sea and meditate in temples in the middle of a jungle. During a stay in an Ayurveda hotel in Asia, you can live completely in harmony with nature and let yourself be enchanted by the foreign cultures.
FAQ – Our tips for picking the perfect Ayurveda hotel
How long should my stay in an Ayurveda hotel be?
The suitable length of stay depends entirely on your wishes and needs. If your focus is on wellness, a short vacation over a weekend is already worthwhile. An Ayurvedic rejuvenation treatment is already sensible from one week. For more complex therapies such as Panchakarma or Ayurvedic fasting, you should plan at least 12 nights. For more profound changes, however, a longer stay of up to 4 weeks is recommended. You should also take into account the duration of the trip and the time difference with the accompanying acclimatization phase when planning the length of your stay.
For whom is an Ayurvedic hotel suitable?
A vacation in an Ayurveda hotel is worthwhile for everyone who wants to do something for their health and well-being. The treatments can be adapted for all age groups and also individually for the needs of men and women. A wellness and Ayurveda stay is suitable for solo travelers as well as for friends or couples.
What should I take with me to the Ayurveda hotel?
This depends strongly on the chosen Ayurveda hotel and the duration of the booked program. For Ayurveda wellness programs you usually only need your normal luggage. Bathrobes for the wellness area as well as a hairdryer are often available in the rooms. For an authentic Panchakarma treatment you should bring comfortable, loose-fitting clothes made of natural fibers. This applies not only to daytime clothing but also to underwear, which will come into contact with the Ayurvedic oils during the treatments. Sarongs for the treatments can usually be brought by yourself or purchased cheaply on site. When booking, you will usually receive more detailed information here.
How much does an overnight stay in an Ayurveda hotel cost?
The cost of an overnight stay depends on your chosen destination. In India, you can book a 3-night stay from as little as 185 euros. In Germany, 2 nights can be booked from about 295 euros.
How can I save when booking an Ayurveda hotel?
If you book your Ayurveda trip early, you will benefit from our early bird discounts. In addition, you can watch out for regular discount promotions and secure a bargain with a last minute offer. For Ayurveda hotels in Asia, a stay in the monsoon season is the cheapest and around Christmas the most expensive.
What should I look for when choosing my Ayurveda hotel?
It is important to make sure that your Ayurveda hotel has the right offer of retreats for you. It is best to check before your trip, which Ayurveda packages are offered in the hotel. Furthermore, both the Ayurveda doctors and the therapists should have a recognized training. If you book through a specialized tour operator with appropriate experience, then you do not need to check this yourself.