Interview with Dr. Věra Chlupová from the Health & Spa Hotel Dvorák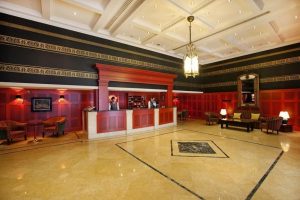 Dr. Věra Chlupová from the Health & Spa Hotel Dvorák in Karlovy Vary in the Czech Republic shared with us her experience in F. X. Mayr treatment at the hotel.
How long have you been working at the Health & Spa Hotel Dvorák in Karlovy Vary?
I've worked here since 2011. And before I came here I worked at the radon therapy baths in Jachymov.
What makes the Health & Spa Hotel Dvorák individual?
One of the advantages of the hotel is its location. The hotel is right in the city centre, just a few steps away from the world famous colonnades and thermal sources. The services provided at Dvorák Hotel make it unique. It's the only hotel in the Czech Republic that offers healing therapy provided by F.X. Mayr and that fully established the dieting system. If guests are interested in this then our doctor can recommend them a diet, one that is easy to follow in our restaurant too.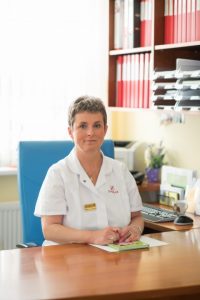 What treatments would you recommend to your guests?
Our balneology centre offers not only the classic therapeutic treatments, but also a wide range of wellness therapies. Personally, I would recommend that our guests try an aroma massage, a herbal massage, an exfoliating therapy or an anti-cellulite treatment, which makes use of the beneficial effects of cinnamon and seaweed.
Which health problems are most frequently experienced by the guests that come to you?
The guests come with digestive problems such as stomach inflammation and upsets from pancreatic activity, also with metabolic conditions, such as diabetes and gout, but also liver disease.
You've already mentioned that Health & Spa Hotel Dvorák is the only one in the Czech Republic that offers F.X. Mayr therapy. What exactly is it?
This type of therapy is all about the total cleansing and regeneration of the body, the aim of this being to remove harmful and poisonous substances from your body. The body tends to over acidify, and the therapy should rebalance the PH level in the body fluids. According to Dr. Mayr a healthy digestive system and gut flora are the most important things for the human immune system.
If your intestines are healthy, then the rest of your body can be too. There aren't many facilities where you can be treated by F.X. Mayr methods. Do you need a certificate for this?
Each treatment needs to be carried out under professional supervision by an experienced doctor. That's why I graduated in 2011 from a course in Austria and Germany. The course was only about F.X. Mayr therapy. When I completed the course I got a diploma which makes me the only doctor in the Czech Republic specialised in it.
What does a typical healing programme look like, for a guest that has chosen F.X. Mayr method?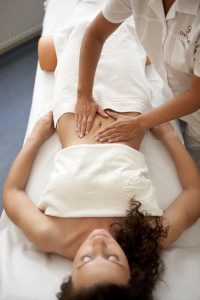 Before beginning the programme, there is a medical examination and then the diet is the basis of the healing. Therapy has three stages modified accordingly to the needs of the guest. The first stage is the tea diet, then the milk diet and finally the gentle diet. The first phase lasts around two days and consists mainly of drinking herbal and green tea, still water, cereal coffee and vegetable broths. The second stage of the diet allows patients to consume some bread and milk products, however cow's milk is banned. Chewing slowly is very important during this stage, you need to try to slow down your pace of life and do things without rushing. The third stage allows you to eat vegetable soup, cooked meat and fish. To support intestinal peristalsis, the diet is aided by stomach massages carried out by specially trained doctors. It is also recommended to drink the thermal water from the thermal sources in Karlovy Vary. The doctors can also advise some other activities such as going in pools, massages or underwater massages.
Have you tried the therapy yourself?
I tried the F.X. Mayr therapy for ten days and it was a brilliant experience. Weight loss is a bonus effect that most people like.
How long does the therapy last? Should you do it more than once?
The minimum time for the healing is 7 days, but we usually recommend one lasting a fortnight. Lots of patients don't actually know that you need to prepare your body beforehand, otherwise the healing time is longer. You can do it up to twice in one year but it depends on the patient's wishes.
How should patients prepare for the therapy?
Patients should start to prepare themselves around 10 days before starting the therapy. They should reduce intake of raw vegetables, fruit, all fruit and vegetable juice drinks, sweets, coffee, alcohol and fatty meats. All of these things over acidify the body. We do recommend that you stay away from cooked and steamed vegetables.
Who is the therapy suitable for?
The therapy is always individual. But in general, it is recommended for patients over 18 with digestive problems, depression, obesity, migraines etc. I would not recommend it to diabetics, pregnant women or people with oncological illnesses.
How many patients do you get per year that want to try F.X. Mayr therapy?
We get almost 1000 patients per year taking part in our F.X. Mayr therapy.
What are your plans for the future? Are there any changes planned for the hotel, particularly in the spa area?
We're continually updating our choice of healing treatments and services – we always do it with our guests' wishes in mind. In recent years we have been able to introduce something brand new to our guests, called Biomag 3D. It is a type of pulse magneto therapy that is suitable for joints, the spine, tooth ache, psoriasis and thyroid illnesses. It can also be used for liver regeneration and to detoxify your body.
What do you want for your guests?
I want our guests to be happy and healthy. I want them to return to our hotel feeling that we always give them more than what they were originally looking for.