Packages and Programmes with Best Price Guarantee
Entrance to the Spa with use of indoor pool with dead sea water, whirlpool, sauna, steam room and gym
Use of indoor and outdoor swimming pool and a bathrobe
WIFI
Recommended for the following conditions
Eczema / Psoriasis, Respiratory system / Asthma, Skin / Allergies
Telephone booking code: 358P1
Daniel Dead Sea in detail
Hotel
☀ Resort & Spa Hotel with an attractive design, separated only by the access road from the Dead Sea, private beach section (shuttle).
How You Reside
302 comfortable rooms and 12 suites with bath / shower / WC, bathrobe, hair dryer, air conditioning, telephone, safe, minibar, Tea-/coffee set, LCD satellite TV, Internet access, overlooking the Dead Sea. Some with balcony or connecting rooms. Non-smoking floors. Wi-Fi.
Dining & Leisure
Buffet and à la carte restaurant, vegetarian food, wine, pub, lobby lounge and poolside grill. Conference center. Bowling, video game room.
Wellness & Spa
Spa on 2 floors (for SpaDreams guests included): fresh water indoor pool, an indoor pool with water from the Dead Sea, Solarium, Jacuzzi, sulfur pool, Finnish sauna, steam room, gym, 20 treatment rooms for beauty treatments and various massages and mud wraps, seaweed wraps, anti- cellulite scrubs and more.
Outdoor swimming pool with beach chairs and umbrellas, children's pool. Animation, child care (depending on season). Natural solarium.
Important information:
At the instigation of the Dead Sea Preservation Government, the infrastructure is being extended in the whole region. The construction works are from mid-January to about the middle/end of August 2014. All beaches in this region will be affected.
Doubleroom
Double room with bath, shower, toilet, bathrobe, hairdryer, air conditioning, telephone, safe, minibar, tea and coffee making facilities, sat.- TV, WiFi and a view of the Dead Sea or the desert.
Room code for telephone bookings: 358D1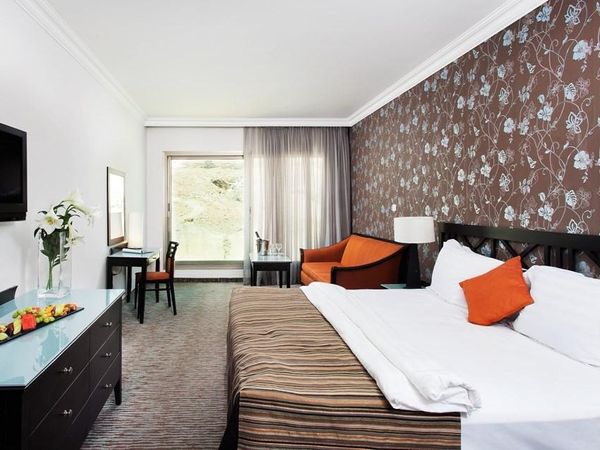 Double for single use
Single room with bath, shower, toilet, bathrobe, hairdryer, air conditioning, telephone, safe, minibar, tea and coffee making facilities, sat.- TV, WIFi and a view of the Dead Sea or of the desert. Single rooms are double rooms for single use.
Room code for telephone bookings: 358E1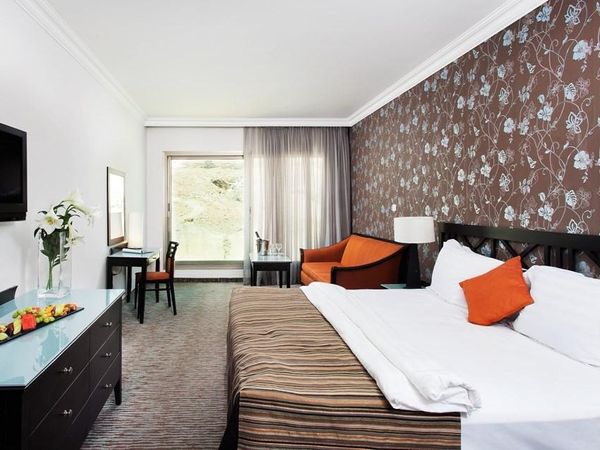 Getting There
Transfer TLV Airport (about 150 km) Group transfer € 101, from 1.9. € 111, from 1.3. € 117 pp (return), private transfer TLV without waiting € 223, from 1.9. € 243, from 1.3. € 253 per car / route (1-3 pers.).
Nearby Airports
Ben Gurion International Airport (TLV) : (approx. 157 km / 113 minutes)
Additional information
Children: 2 adults + 1 child (0-1.9 yrs.) 100% discount, (2-11. 9 yrs.) €32-49 per night/ half board.
Good to Know
Climatic cure in the German Medical Center
The clinic of the German Medical Centre (open Sun.-Fri) specialises in highly effective treatments to cure skin diseases, respiratory diseases and rheumatism. The DMZ is located in the Lot Hotel Ein Bokek and SGB V is recognized as stationary rehabilitation facility pursuant to § 107 to a supply contract and compensation agreement according to § 111 SGB V. With natural healing methods using the region-specific resources (sea water, salt, sea mud, air) the German-speaking doctors and specialists from the fields of dermatology , rheumatology and pulmonology care for you and help achieving a long-term healing process. Also available: emergency medical service 24/7.
Climate care
Anamnesis, physical examination
Determination of the individual treatment plan for sun and sea bathing times, tailored to the seasons and the personal skin type
Any ointments, oils and medicines required for disease
Screening and treatment by a nurse if needed
Final medical examination with a discussion of the results and final report
In addition, psoriasis, vitiligo, eczema and acne:
Scalp treatment in the DMZ if prescribed by doctor
Relaxation training, Autogenic training, breathing exercises, if prescribed by doctor
Additionally rheumatism and uveitis:
Hand-grip test
All applications prescribed by the doctor (about 5 per week) such as Sulphur, Dead Sea bath, sunbathing, with black mud applications (hot and cold), cryotherapy (cold), medical massage
Ophthalmological examination for uveitis
In psoriatic arthritis:
Combination of all the previously mentioned treatment packages
In asthma:
Spirometry (lung function test) and interpretation
Measuring the oxygen content in the blood
"Peak flow monitoring" (measuring the maximum air flow during exhalation)
Recommendations
After consulting your doctor, you should stop taking medication on time before you check in to the cure, unless they are absolutely necessary. Ointments containing cortisone to settle at least 4 weeks before checking in, cortisone tablets should be taken up for examination and discussion with the physician on treatment start. Please bring a detailed report from your attending physician for examination, also all the ointments and medications that you are taking and any diet plans.

Our opinion:
A modern house in a very good location, a few minutes' walk from the private beach. Let the soul float in the Dead Sea.
10 reasons to book with SpaDreams
Wide range
Best price guarantee
99% customer satisfaction
Over 40 years of experience
Expertise
Individual service
Best quality
Always there for you
Data security
Innovativeness and trend consciousness
Our opinion
A modern house in a very good location, a few minutes' walk from the private beach. Take a break from everyday life at the Dead Sea.