---
Find the Perfect Healing Holiday:
If you already know what you're looking for, then use our holiday search bar below right away. You can select your chosen travel theme, destination and duration as well as any special criteria. At our wide range of health retreats, you can choose between a wide range of health spa therapies as well as diet, detox and fitness plans. For example, you can detox with a healthy and nutritious meal plan, enjoy massages and ayurveda therapies, increase your fitness with yoga and pilates sessions or refind your inner balance with the help of health and wellness experts. Alternatively, you can delve deeper into the world of health travel and find out about all the different types of healing programmes, spa towns, health hotels and the treatments for specific health conditions.
---
---
Which healing holiday is right for me?
If you're asking yourself this question, then you're in the right place! On this page you will find all the relevant information on this topic so you can make an informed decision about the right holiday for you.
Start by learning about what interests you most. For example, check out the different types of healing therapies. There you can find out about the different therapies involved in each programme, how they improve the health, other activities to accompany your healthy journey and where they are offered.
Alternatively, start by exploring spa towns around the world– there you will learn everything about spa towns, both closer to home and far away. This is the perfect place to start your research if location takes priority over health programme for you. Know you want to stay in Europe for your trip? Click here to discover the most beautiful spa towns in Europe.
If the priority for you is rather the hotel or health retreat itself, then why not begin your search by looking directly at the health spa hotels and choose your holiday based on the medical expertise and facilities available.
If you want to improve a specific health condition on your trip, check out our page on all indications and treatments of illnesses. There you can find out which type of health programme is suitable as a treatment for which illness, how the programmes are run and where they take place.
Finally, if you are looking for a specific healing therapy, you can start your search with our encyclopaedia of remedies treated in our hotels. For example, if you have always wanted to take a mud bath, you can type this into the search bar and you will get results on how and where to get one!
How long should my healing holiday be?
If you already have an idea of the trip you'd like to do, then you just have to think about how long it makes sense to go for.
When simply maintaining or boosting general health, there is no fixed recommended duration. A typical healthy short break can be anything from 2 – 4 nights whereas longer healing getaways can last at least 3-4 weeks, so it's up to you!
When treating specific health issues, such as psoriasis or arthritis, the spa doctors tend to recommend a specific length of time (usually at least 2 weeks) to see any long-lasting results. This will vary depending on the severity of the illness and the type of therapy. In these cases, we really recommend following the advised length of stay for positive results.
Types of Healing Holidays at SpaDreams
---
5 Elements of Complex Healing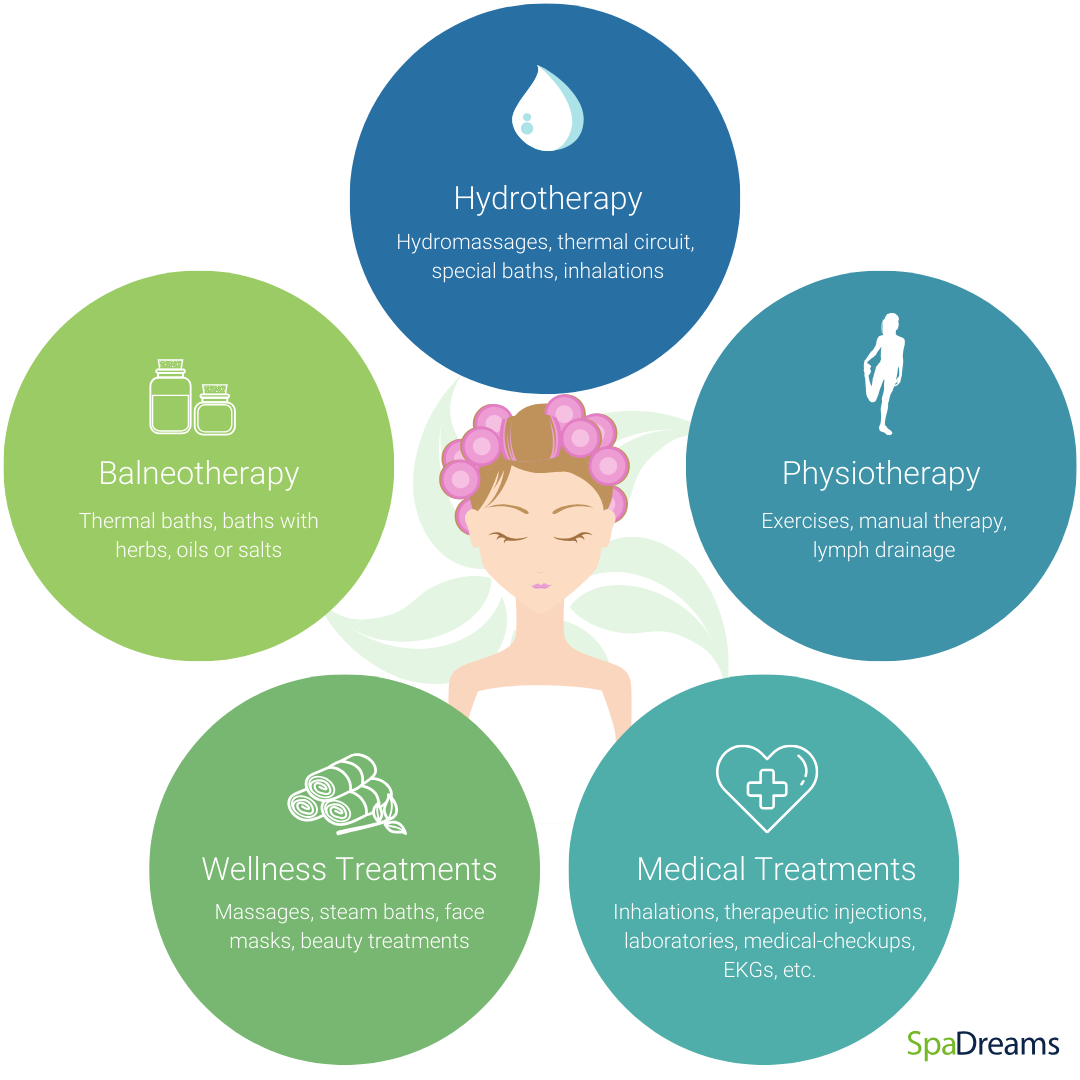 Popular Healing Holiday Offers
Book Your Healing Holiday Today