Which different types of healing therapy are there?
On this page you will find all the information on different types of health therapies and therapy programmes, including both classical and alternative therapies.
We will briefly introduce you to all of our health therapy forms, from the classic therapies to holistic and alternative therapies, so that you have an overview of all the options and can start planning your health retreat getaway. By clicking on the individual therapy types, you can find out more details about how the therapy programme works, its benefits, the ideal length of stay and where you can experience it. Read on to learn more!
---
Quick Access Menu
---
Find Your Perfect Health Therapy Hotel
If you already know exactly which therapy you would like, you can also go straight to matching offers by using the search bar below:
---
Key Therapy Definitions - Getting Started
There are so many Greek and Latin or medical terms in the topic of therapies, so it's worth explaining a few of the key ones first so you don't get confused. If you don't need this because you're already a professional, jump straight to our overview of all different types of therapies.
Let's start with the term "hydrotherapy." This therapy belongs to one of the largest therapy families. The word "hydro-" means water and "-therapy" means "method or treatment to heal disease". Thus, hydrotherapy means "healing by treatment with water". Water is usually used in the form of baths, showers, washes, steam rooms or for drinking.
Now the second word, which regularly causes confusion: "balneotherapy". Let's take a closer look at it: "balneo-" is only used as a prefix, i.e. at the beginning of a word, and then means "bath". We already know what "therapy" means. Thus, balneotherapy means "healing by treatment with baths". The term hydrotherapy can be used to summarise all therapies with which water is used. The term balneotherapy can be used within the hydrotherapy family to describe all therapy plans in which baths are the most important component.
Fun fact: similar connections between healing water and place name can also be found in cities like "Bath" in England, "Baden Baden" in Germany or "Teplice" in the Czech Republic.
That's the end of our key therapy definitions - now you are ready to dive in deeper into the diverse world of healing therapies.
---
Types of Healing Therapies
An Overview
Below you will find an overview of all the different types of healing therapies, so you can find the right therapy quickly. By clicking on the name of each therapy you will be directed to a detailed page where you will find further information.
Thermotherapy
Therapies with Heat and Cold
Thermal Spa Therapy
Therapies with Thermal Water
Mineral Water Drinking Therapy
Therapy with Internal Use of Mineral Water
Mineral Peat and Mud Therapy
Therapy with Mineral Mud or Peat Baths, Masks and Wraps
Fangotherapy
Therapy with (medicinal) mud, called "fango" in Italian
Thalassotherapy
Therapy by the Sea
Kneipp Therapy
Therapy with Water as Developed by Sebastian Kneipp
Complex Healing
Treatment through Medical and Therapeutic Applications
Holistic Healing Therapies
Therapy of the Whole Body on a Physical, Mental and Spiritual Level
Radon Therapy
Therapy with the Natural Gas Radon and Mild Radioactivity
Sulphur Therapy
Therapies with Healing Water with Increased Sulphur Content or Sulphur Healing Mud
Climatotherapy
Therapy in a Special Stimulating or Mild Climate
Back Therapy
Therapy for Back Problems and Pain
Aerosol Therapy
Therapy with Thermal Water Inhalations
Oxygen Therapy
Therapy with High Dose Oxygen
Hydrotherapy
The Healing Power of Water
Balneotherapy
Healing Through Bathing
Spa Taster Programmes
Small Spa Formats as a Taster Spa Programme
5 Elements of Complex Healing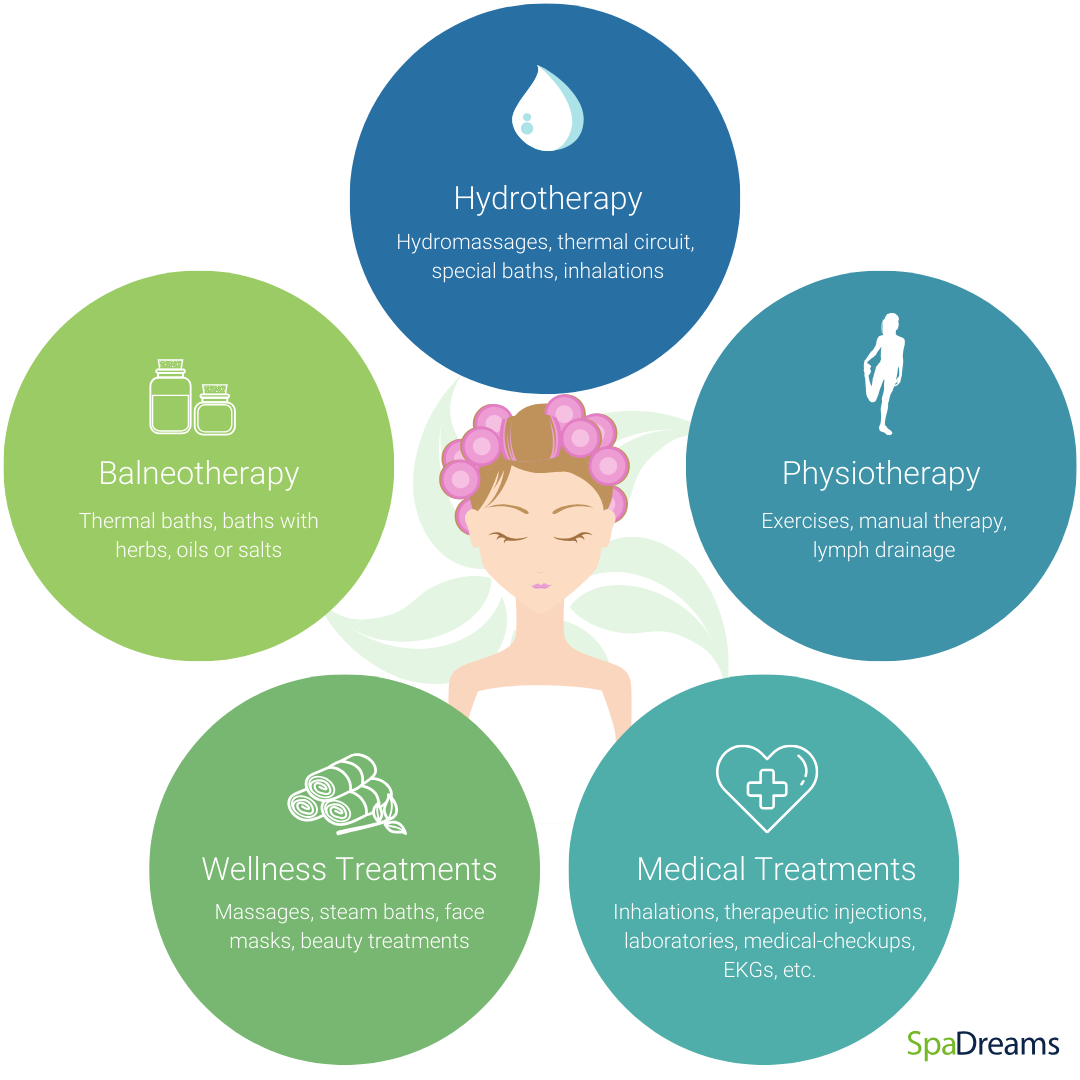 Therapy Trinity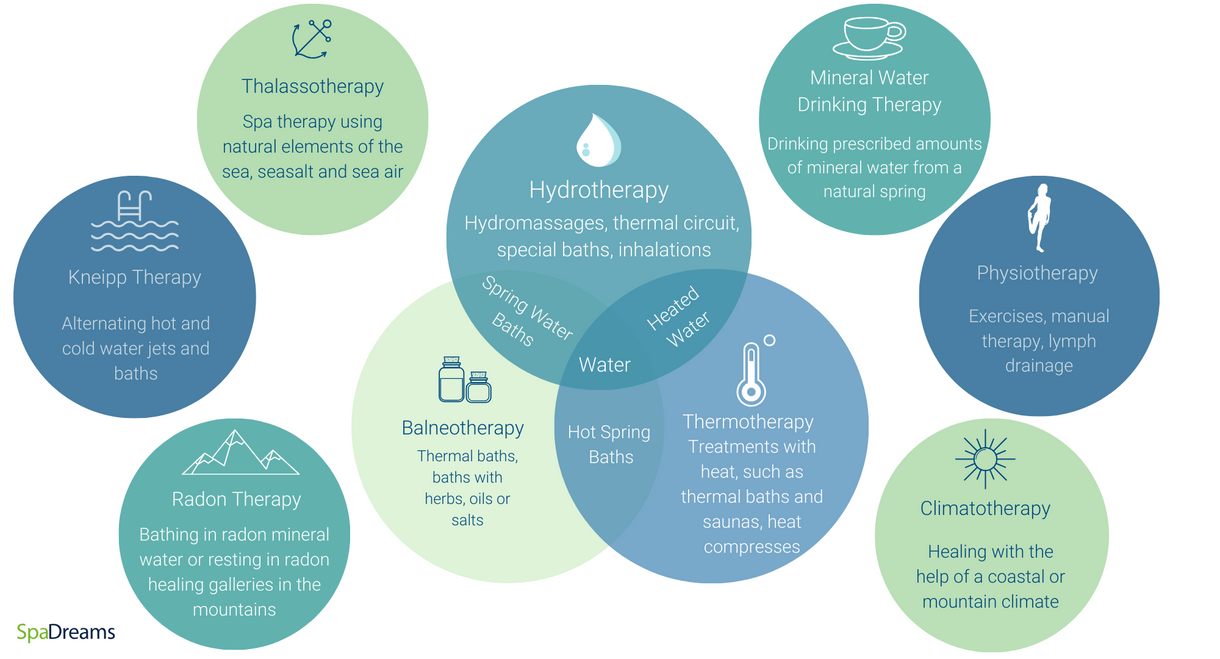 Most Popular Healing Therapy Offers
Book Your Healing Therapy Holiday Today