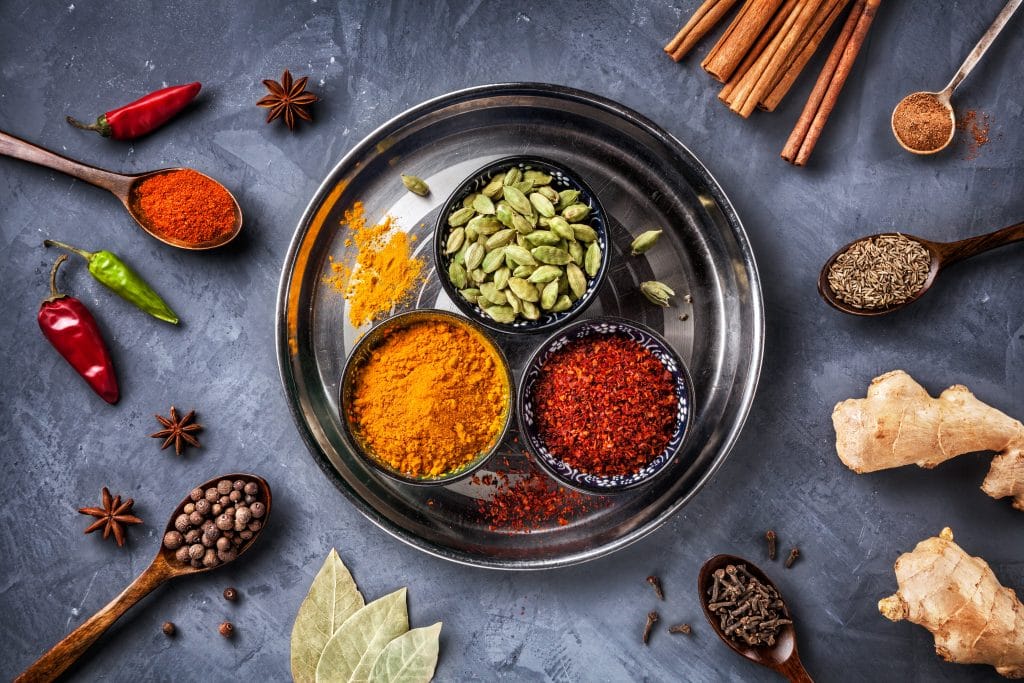 Reading time:
5
Minutes
Ayurvedic Fast Food – Quick and Easy Dinner

Delicious Ayurvedic food does not have to be complicated or take ages to prepare! Two head Ayurvedic chefs at some of our most esteemed hotels have put together some easy recipes for you to whip up in your kitchen so that you can continue to enjoy Ayurvedic food at home without sacrificing quick and easy dinner principles. We've also added some ingredients and tips at the end to help you customise your meals according to your individual doshas!
What characterises Ayurvedic food and diet?
Ayurvedic medicine is one of the oldest healing practices in the world, stemming from the belief that good health comes from balance the mind, body, and soul. Alongside personalised treatments and herbal remedies, a vegetarian, whole food Ayurvedic diet is essential to achieving this delicate equilibrium.
But it is not just about the Ayurvedic food you eat, but also about adjusting your eating habits! Ayurveda diet advises to eat mindfully. This means you should appreciate the food in front of you, the various colors, flavors and smells. Take your time savor the taste of your food as you're chewing, picking up on notes like sweet, salty, sour, bitter, spicy, and astringent. However, eat quick enough to eat the food as it was intended, for example warm food should be enjoyed while it is warm and not allowed to grow cold.
When you can, you should also source organic food. Ayurvedic diets are fantastic for detoxing and helping your body eliminate harmful toxins. In using as many organic ingredients and whole foods as possible, you end up supporting the detox process. It is often about quality versus quantity.
Lastly, you should also leave sufficient time between meals for your body to finish digesting what you have already eaten. You may, of course, eat small snacks in between meals to help you get through the day.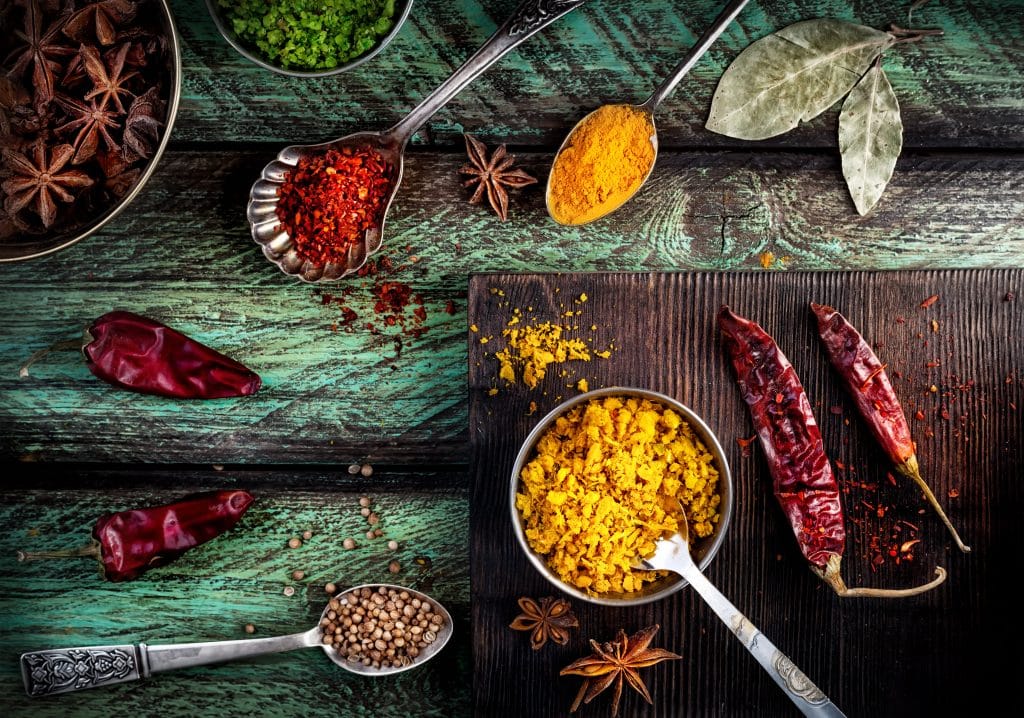 Ayurvedic spices enhance digestion and metabolism and prevent digestive disorders such as bloating
The benefits of an Ayurvedic diet
Many people have discovered the benefits of not only Ayurvedic medicine, but also the Ayurvedic diet in day-to-day life. Although it is attributed to helping deep-rooted problems, such as health conditions, but the Ayurvedic diet in particular has been linked to weight loss. None of us like starving while trying to lose weight, but Ayurveda allows you to eat plenty while feeling full, and still achieving your slimming goals. The abundance of fresh fruit and veggies aid your digestion by adding necessary fiber to your diet, but also bolster the necessary nutrition to support your body's immune system, mental health, and more!
Bonus Tip: To get the most out of your Ayurvedic diet at home, try combining it together with some yoga or meditation. The light exercise from weight loss will help you with weight loss and meditation will support your relaxation and mindfulness.
Quick and easy dinner – Ayurvedic food made easy
When we hear "healthy food", many of us automatically think of dull steamed veggies or standing in the kitchen for hours on end. The head chefs of Ananada in the Himalayas and Atmantan have shared their favorite quick and easy dinner recipes with us, to help you master the art of Ayurvedic cuisine at home without sacrificing time with your family. You may even be able to trick those fussy kids into eating a few more veggies.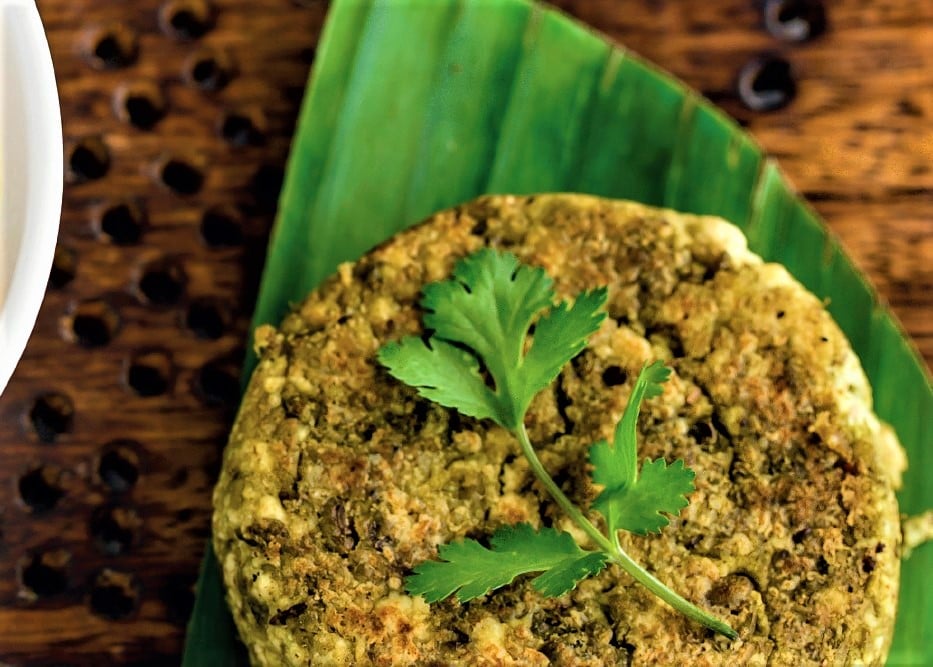 Ananda mini burgers:
Ingredients:
100 g peeled mung beans
2 tsp Chana Masala (spice mixture; alternatively 1 tsp 5-spice powder)
100 g tofu
2 stems coriander leaves, finely chopped
1 ½ tsp cumin powder
Salt
2 tablespoons ghee or clarified butter
Preparation:
Put the mung beans in a pot of water and let it come to a boil. Then cover and let simmer for about 30 minutes until soft (check water level in between). Drain.
Mash the mung beans, tofu and finely chopped the coriander leaves. Mix together with the spices, add salt to taste, and form into mini burgers.
Fry in clarified butter on all sides for about 5 minutes until crispy brown.
Tip: You can eat these as burgers for a healthier version of a cheat day treat, or pair them with this fresh veggie salad for an easy, breezy summer meal.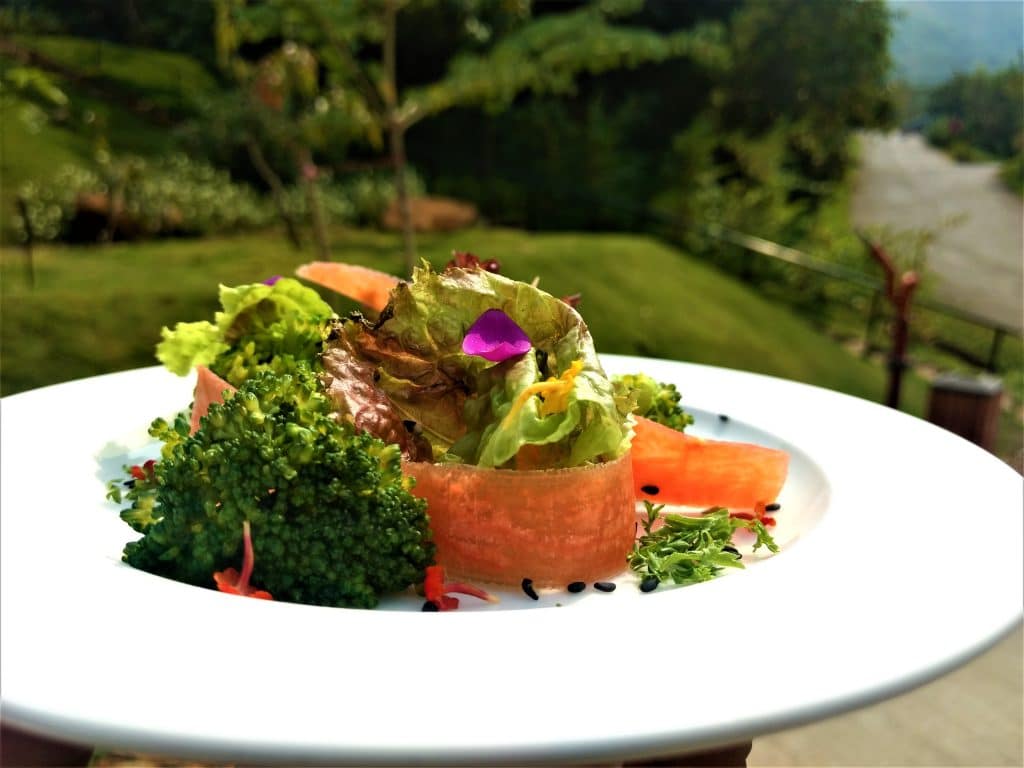 Crunchy Veggie Salad:
Chef Abhishek from Atmantan uses lantana flowers as an edible decoration. Cress blossoms also look very beautiful and add a spicy flavor. He also argues that Ayurvedic cuisine does not always have to taste like Indian food or use very exotic ingredients. For this vegetable salad he uses olive oil and edible flowers.
Ingredients:
1 medium broccoli
2 carrots
½ bunch of rocket salad
4 cherry tomatoes
½ organic orange
2 tablespoons extra virgin olive oil
Salt and black pepper
1 tsp white wine vinegar
1 tablespoon sunflower seeds
Edible flowers to garnish
Preparation:
Peel the stems of the broccoli, chop them finely and separate the florets. Blanche these in a little water for 2-3 minutes. Peel carrots and use the peeler to cut thin carrot strips. Clean the rocket salad, rinse with cold water, shake dry. Wash cherry tomatoes, cut in half.
Grate the orange zest, press the orange, mix both with olive oil, salt and pepper and white wine vinegar and whisk into a smooth dressing. Arrange vegetables on plates, drizzle with dressing. Garnish with sunflower seeds and flowers as desired.
Dosha Cooking Inspiration
Let your inner Ayurvedic chef shine and use ingredients that are recommended for your dosha to customise these quick and easy dinner recipes!
Vata Ayurvedic foods:
Sweet potatoes
Cucumber
Beets
Asparagus
Cherries
Avocados
Bananas
Lemons
Papaya
Herbs & spices: most are ok in small quantities
Pitta Ayurvedic foods:
Asparagus
Radishes
Cucumber
Peas
Sweet potatoes
Spinach
Avocados
Bananas
Figs
Mangoes
Plums
Herbs & spices: Dill, mint, cumin, cilantro
Kapha Ayurvedic foods:
Beets
Asparagus
Onions
Radishes
Spinach
Apples
Cranberries
Papaya
Pomegranate
Raisins
Herbs & spices: sesame, ginger, cumin
Are you not sure if you are vata, pitta, or kapha? Take the dosha test here!
Happy cooking!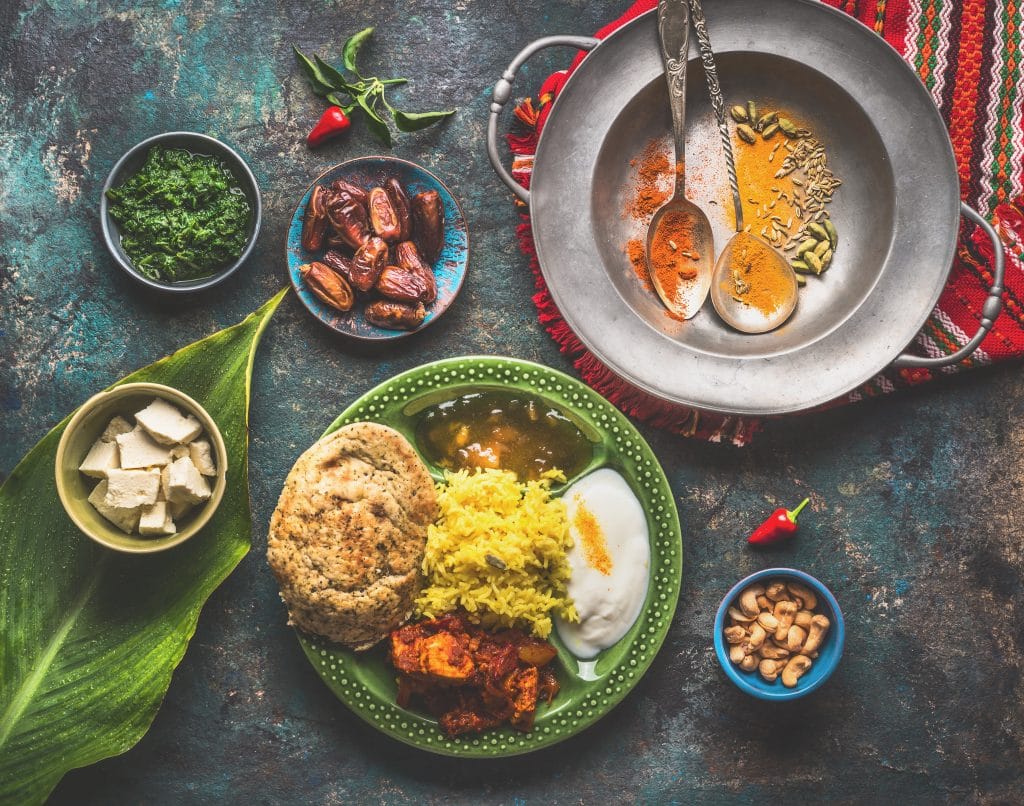 WEEK 1: Burnout & Depression – Find out more about burnout treatment and how you can combine it with your next holiday!
WEEK 2: Healthy Diet – Learn all about the latest diet and health food trends, as well as the unique health benefits of Fasting Therapy.
WEEK 3: Ayurveda – The healing powers of Ayurvedic treatments.
WEEK 4: Yoga – Discover the story and the benefits of Yoga practices.