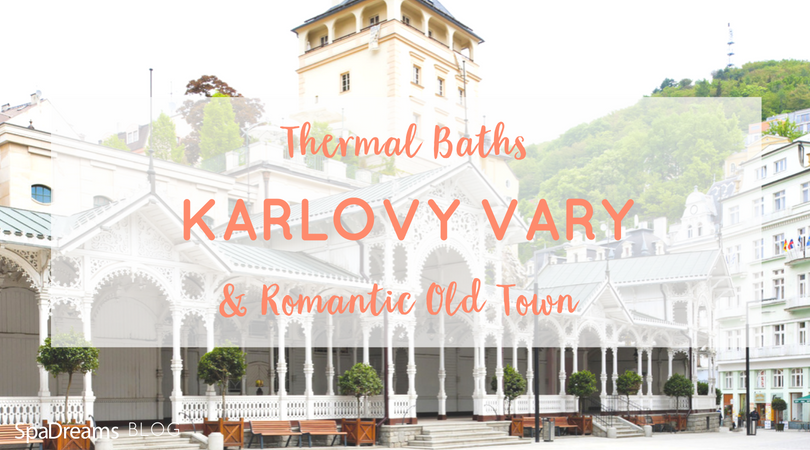 Welcome to Karlovy Vary, the prettiest spa town ever, hidden in the middle of Czech Bohemia.
Also known as Karlsbad in German, Karlovy Vary is a spa town built around the Pramen Vřídlo geyser in the West of the Czech Republic. Despite its thermal baths and luxurious hotels, those spa lovers have pretty much kept it secret. But where precisely is Karlovy Vary and how do you get there?
Location

At only 10 minutes away from the airport, Karlovy Vary is one of the best towns to visit for a weekend in the Czech Republic. It's also within a 3 hour train or bus journey from Prague, and not far from the German border.
In a valley where the Tepla and Ohre rivers join, the town's coloured houses seem snug and protected by its surrounding forested hills. This wes-andersonesque place is so aesthetic that it has inspired or been featured in many films, even such as James Bond films.
Health
For over 650 years, visitors to Karlovy Vary have been enjoying the powerful mineral water of the thermal springs (30° – 72°c). It can be tasted either in the colonnade or at one of the many Karlovy
Vary spa hotels. Drinking therapy, thermotherapy, detox and weight loss programmes are all supported by this unique mineral water.

What minerals are in the spring water at Karlovy Vary?
It is rich in dissolved minerals such as CO2, Lithium, Sodium, Potassium, Copper, Beryllium, Magnesium, Calcium, Strontium, zirconium, Manganese, fluorine, iron and much more. All in just the right proportions so as to be beneficial for health.
People drink the water to protect against liver disease, pancreatic cancer, digestive problems, diabetes, metabolic disorders, overweight, locomotor problems, and also regenerates the organs.
The f.x. mayr fasting programme, a three-staged regime with a liquid fast included, is particularly favoured in this town, as the thermal waters, tranquil location and beautiful nature make the perfect place to undergo a total detox.

Activities
When you aren't basking in the Czech thermal baths, hiking, cycling or even geocashing can be enjoyed in the surrounding forests which are beautiful all year around, whether in the lush green summer, golden autumn or snowy winter. You can walk up to the observation tower for a stunning view of the surrounding hills and town.
There is a barely a week without a festival or an event in Karlovy Vary. The town hosts one of oldest film festivals in the world, as well as the soon upcoming International Folklore Festival, this year from Sept 4th – 9th 2018.  The festival delights visitors with folk ensembles, musicians and traditional dances from all continents of the world, not just the Czech Republic.

Food
There are festivals all year round, but with colder weather comes more of an excuse to eat Trdelnik, a traditional pastry roasted on an open flame and rolled in different toppings such as caremalised nuts, icing sugar or cinnamon. There is also the town's signature torte, the Karlovarský dort – layers of thick chocolate cream, wafers and hazelnuts. And let's not forget the town's signature alcohol – Becherovka, a warming, herbal bitters with a taste of ginger and cinnamon. Check out our pinterest to see pics of these.
Visit in Autumn to enjoy the golden hues of the surrounding forest as the leaves begin to fall, or in winter for cozy Christmas markets and warming goulash. Here you will find a selection of the best Karlovy Vary spa packages and cozy wellness hotels for your Eastern European holiday.