Hungary seduces with its unique, romantic landscapes as well as the architecture including palaces, historic churches and bridges over Danube… but what makes the country a prime spa and wellness destination is not easy to spot at a glance. About 1000 metres under the ground, there is hidden the source of Hungary's popularity as a spa and wellness retreat – thermal waters rich in valuable minerals. Large parts of the country benefit from the healing properties thermal springs, which have been appreciated since the ancient times. Thanks to its quality spa and wellness resorts Hungary is among Europe's most popular destinations for wellness travel.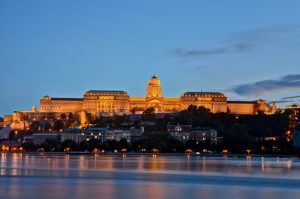 Budapest
Relax in Budapest
Due to a deep fracture in the rocks underneath the grounds of Budapest, the city is especially blessed with the thermal waters. Since around Budapest there are particularly many thermal sources, in the city you can find a lot of spas offering professional thermal treatments. In Budapest there are between ten and twenty different spas and most of them have a long tradition. One of the most impressive spas is the Gellert Thermal Spa, which really magnifies with its sumptuous, art nouveau interior. The spa offers 13 different swimming and bathing pools, which include a wave pool and several steam baths.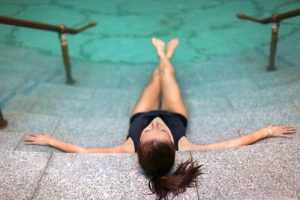 Gellert Spa
Another remarkable spa is the Széchenyi Gyógyfürdő (Széchenyi Bath), which looks simply stunning from the outside and as much impressive inside. This spacious spa looks like a royal palace and offers enormous outdoor pools, which are open in the summer months. You can also use a variety of indoor pools with water of different temperatures.The spa is considered one of the most beautiful spas in Hungary and it is worth visiting not just for exquisite spa treatments, but also to admire the monumental architecture. Looking at it, it is hard to believe that it is not reserved for royalties.
Anna Baths in the town of Szeged
Built in 1896 and completely renovated a few years ago, the spa enchants with a fairytale-style architecture and is characterised by particularly strong healing power of its water. If you suffer from skin diseases or respiratory diseases, swimming in the pools of this spa will definitely benefit your health. Another source of the healing properties is the peat found in the neighbourhood, that is rich in minerals and used for a variety of treatments.The spa is a sophisticated cultural facility as well. In the summer you can enjoy classical concerts and opera performances in the courtyard.
Hévíz
Hévíz is one of the most popular spa and wellness destinations in Hungary due to its proximity to the Lake Balaton as well as to the thermal Lake Hévíz, where you can take a bath outdoors even in the winter.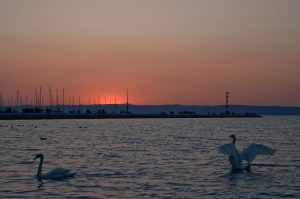 Lake Balaton
The perfect spa break in Hungary
In addition to its beautiful thermal baths of Hungary can inspire with fascinating natural landscapes and impress with well-developed tourist infrastructure. The spa hotels in Hungary offer excellent price / quality ratio and high-standard health and wellness treatments. Great hotels and hospitable locals will make your holiday in Hungary an unforgettable experience.
Curious? Then discover our matching offers: