It is true that we tend to pick southern destinations for our holidays, without really paying attention to the possibilities for relaxing holidays in Central or Northern Europe. Yet these regions, sometimes very close to home, offer the opportunity to spend an unforgettable relaxing time away from crowds of tourists.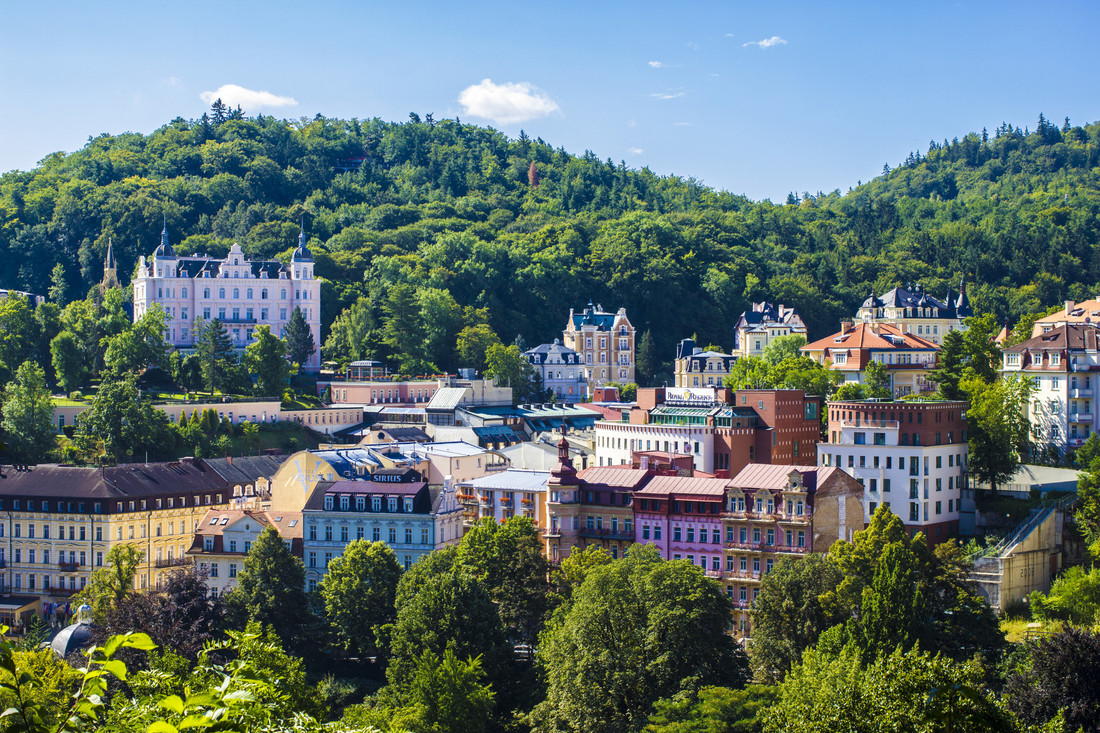 Karlovy Vary (Karlsbad in German) in the Czech Republic is one of those destinations that offers everything for an ideal relaxing trip. After reading this article, you will probably wonder why you have never been there before!
Why choose Karlovy Vary?
It is ideally located.
Situated only 10 minutes from the city's airport, the Karlovy Vary spa resort is easy and quick to get to, making it ideal if you can only stay for a short time. Located in the valley at the meeting point of the Tepla and Ohře rivers, Karlovy Vary offers attractive green landscapes that will surely invite you to explore the city and enjoy outdoor walks.
And if you have several days off, we recommend you dedicate one or more days before or after your stay at Karlovy Vary to visit the capital city Prague, which is only about 2 hours away by car or train.
Karlovy Vary is also the most important city of the famous thermal triangle of Western Bohemia also composed of Mariánské Lázně and Františkovy Lázně. With a long thermal tradition, the hotels located in the spa resort offer thermal cures and slimming programs as well as the well-known FX Mayr fasting cure and drinking cures.
Due to the unique thermal water
Karlovy Vary has about 13 springs of mineral water (30 ° -72 ° C) of volcanic origin. This thermal water is ideal for drinking cures, thermal cures, detox and weight loss, depending on the duration of your stay.
When used as part of a drinking cure, it has beneficial and calming effects on your health, especially in the cases of liver disease, pancreatic cancer, digestive problems, diabetes, metabolic disorders, overweight, locomotor problems, and also regenerates the organs. Many people who tried a drinking cure in Karlovy Vary were very satisfied by their results and now repeat the experience every year.
During your stay in our SpaDreams partner hotels, this cure is completed with medical and professional follow-ups, as well as healthy eating and sports activities in nature to optimize results! This is why we recommend a stay of 2 to 3 weeks for optimum efficiency.
The F.X. Mayr cure, which is another very popular cure among health and wellness travel lovers, is also offered by our hotels in Karlovy Vary. This fasting cure gets its name from Franz Xaver Mayr who has also been a cure doctor in the city. Also known as the "milk – bread roll diet", it aims to stimulate the metabolism and detoxify the body to rehabilitate the intestine and restore a sensation of lightness.
An active region
The region of Karlovy Vary organizes varied events of different styles every month. Some festivals, repeated annually, have become very well-known and welcome many curious visitors every time. Here is a small list of ideas for festivals to see and things to do during your stay in Karlovy Vary: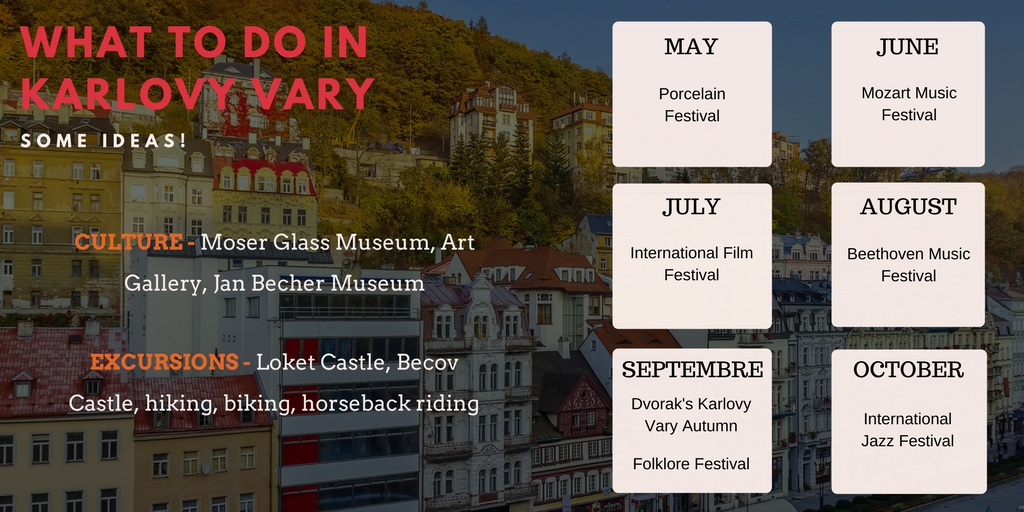 For all these reasons, Karlovy Vary is an ideal destination if you want to spend a relaxing stay while discovering the culture and the surroundings of the city at the same time. Find now your ideal hotel among our best hotels in Karlovy Vary.
You will also be seduced by our wide range of thermal cures, especially in Hungary or other parts of the Czech Republic. Or if you'd rather enjoy the benefits of water by the seaside, do not hesitate to take a look at our thalasso cures!