Slovenia ›
Hotel Terme
Health, wellness and bathing fun in the largest wellness & spa centre of Slovenia. Located in a quiet location close to a foothill and directly by the river Save. Only about 30 km away from the Croatian capital Zagreb.
Most Popular Hotel Features
Internet available in hotel
Swimming pool
In the mountains
Family-friendly
Sauna
Gym
Vegetarian meals
Packages and Programmes with Best Price Guarantee
2x Entrance daily to the summer (ca. end of April to mid-October) or winter thermal riviera
Use of indoor and outdoor pool
Use of sauna and fitness studio
1x Daily entrance to the swimming pools of the neighbouring hotel Catež
Participation in the animation programme as offered
Telephone booking code: I45P1
Hotel Terme in Detail
Your Hotel
☀ Terme Čatež is situated about 162m above sea level at the foot of the Gorjanci and Šentviška gora massifs in the picturesque village of Čatež ob Savi and directly on the Sava in south-eastern Slovenia.
As the largest wellness and spa centre and the country's second largest tourist centre, Terme Čatež offers a wide range of daily activities for bathing fun on a total of 12,000 square metres of water, health, wellness, sport, golf and gastronomy. An Indian village and a pirate bay offer families with small children in particular authentic experiences on playgrounds and discovery places as well as in traditional tipis and small swimming pools.
Starting from the thermal baths, an attractive surrounding landscape invites to excursions and exploration tours. The Hotel Terme is located in the quieter part of the centre and has its own indoor and outdoor thermal swimming pools.
How You Reside
212 modern and renovated rooms and 14 apartments. Double room (approx. 25 sqm) with bath or shower/WC, hairdryer, bathrobe for hire (approx. € 4/day), slipper, satellite TV, telephone, safe, minibar, air conditioning and partly balcony. Single rooms are double rooms for single use.
DBL room
Double Room (approx. 25 qm) with bath or shower / WC, hairdryer, rental bath robes (about € 4 / day), slippers, satellite TV, telephone, safe, mini bar, air conditioning and some have a balcony.
Room code for telephone bookings: I45D1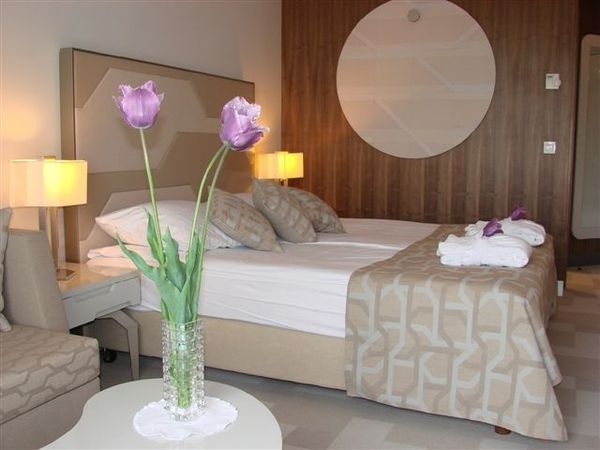 SGL = DBL
Single Room (approx. 25sqm) with bath or shower / WC, hairdryer, rental bathrobes, (approx. € 4/ day), slippers, satellite TV, telephone, safe, mini bar, air conditioning and some have a balcony. SGL=DBL are double rooms for single use.
Room code for telephone bookings: I45E1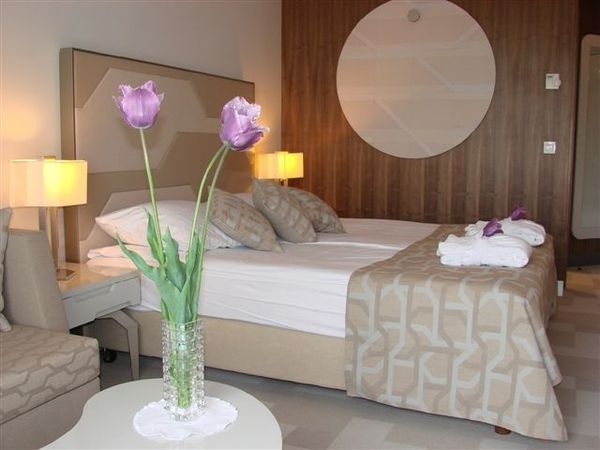 Dining & Leisure
All meals in buffet form with national and international dishes, in the morning additionally with organic corner. With half-board you can choose between lunch or dinner. À-la-carte restaurant, cocktail bar and terrace.
Wellness & Spa
Hotel's own health and beauty centre with classical, ayurvedic and underwater massages, Tui-Na (Chinese pressure point massage), foot reflex zone therapy, aromatherapy and Roman-Irish baths (therapy consisting of cold warm and moist dry applications).
On nearly 12,000 square meter water surface the Thermalriviera extends, which is divided into the Sommerthermalriviera (external Thermal bath landscape on 10,000 square meter) and the Winterthermalriviera (indoor bath landscape on 1,800 square meter). Both parts are connected by a bridge. Summer thermal Riviera: 10 thermal pools and numerous water attractions such as slides, wave pools, Olympic sports pools, children's pools, whirlpools, water park with playground equipment, slow river with swimming rings. Winter thermal Riviera: various swimming pools, whirlpools, massage tables, waterfalls, water slides, adventure tree, small beaches and massage rooms. Sauna park (approx. € 10/3 hours) with 8 different saunas (e.g. crystal sauna, Finnish sauna, salt sauna) and 3 solariums.
Health centre with a qualified team of doctors, physiotherapists, nurses, orthopaedists and masseurs who deal with the core area of rehabilitation of sports diseases. A special fitness studio with training equipment and therapy rooms is available for this purpose. Preventive treatments and programmes have a targeted effect against postural deformities, degenerative diseases of the spine and general signs of fatigue. In addition, rehabilitation programmes are carried out with a focus on aftercare following surgery or a stroke.
Hydrokinesitherapy, hydrotherapy, kinesitherapy, thermotherapy, electrotherapy, magnetotherapy, work therapy, isokinetics - measurements of muscle strength.
Getting There
BY RAIL JOURNEY To Dobova approx. 10 km.
Return Transfer: SpaDreams recommends a taxi from the airport/railway station.
Nearby Airports
Ljubljana Jože Pučnik Airport (LJU) : (approx. 130 km / 81 minutes)
Zagreb Airport (ZAG) : (approx. 50 km / 40 minutes)
Additional information
Local tax: approx. 2,50 €/day, per person, to be paid upon arrival.
Registration fee: approx. € 1,50/stay, payable on site.
Parking: included.
Discount for children: 2 adults + 1 child (0-5, 9 years) 100%, (6-11, 9 years) 50%.
Pets: not allowed.

Hotel Amenities at a Glance
10 reasons to book with SpaDreams
Wide range
Best price guarantee
99% customer satisfaction
Over 40 years of experience
Expertise
Individual service
Best quality
Always there for you
Data security
Innovativeness and trend consciousness
Our opinion
Water fun in different swimming pools and in a large sauna park and indulgent treatments such as Indian masssage or plantomer facial.