8 Best Vegan Vacations in Europe and Beyond
If you're vegan, you'll know how frustrating it is when restaurants assume that veganism is synonymous with "diet" and the only thing you can eat are lettuce leaves, nuts and berries. Luckily veganism is on the rise and gastronomy is becoming much more accommodating to its plant-based guests. That said, when it comes to booking an all-inclusive vegan holiday, most of us still find ourselves trawling through the internet to find out which hotels won't leave us eating as frugally as a monk.
That's why here at SpaDreams we've listened to the vegan trend and put together a list of our 8 best vegan vacations in Europe and Asia, with a variety of spa, health and relaxation options. Read on to discover where you should spend your all-inclusive vegan holiday…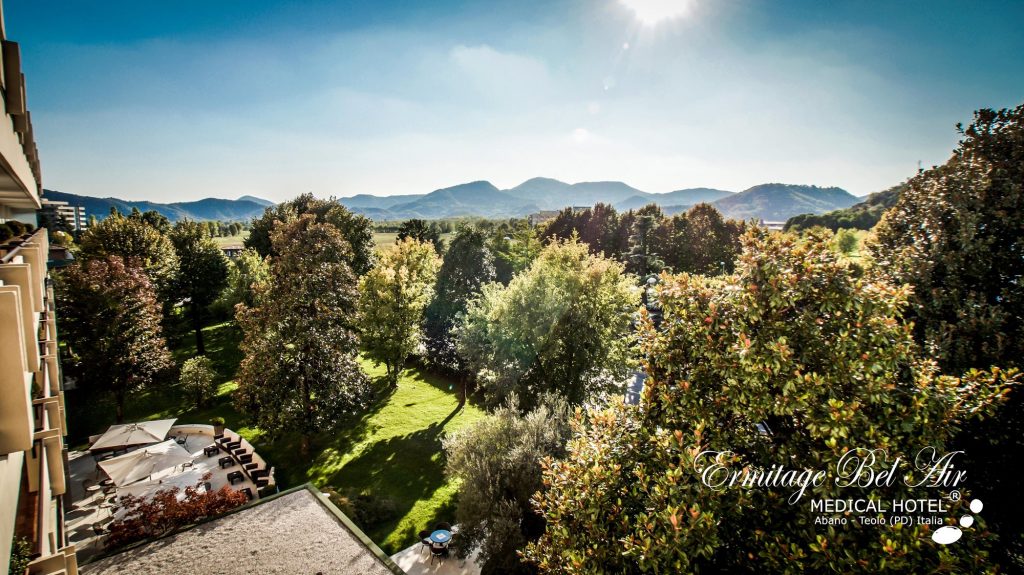 8. ★★★★Ermitage Bel Air Medical Hotel | Euganean Hills, Northern Italy
At Ermitage Bel Air Medical Hotel in the Euganean hills of Northern Italy, experience the healthy gourmet cuisine of their Total Vegan line, created by the leading experts of vegan and raw food diets in Italy. This you can enjoy alongside a thermal relaxation package with use of the thermal pools, tennis court and aqua aerobics classes. The salt-bromide-iodine thermal waters spring from the Piccole Dolomiti after thousands of years filtering from depths of over 4000 metres, making an effective natural treatment of bone and joint inflammations. On Saturdays there is also a transfer to the arcaded city of Padua where you can enjoy delightful vegan gelato at one of its many ice cream parlours…
Address: Via Monteortone, 50, 35037 Teolo PD
For more info, call: 020 3608 7377
Webpage: https://www.spadreams.com/ermitage-bel-air-medical-hotel-montegrotto-terme-euganean-hills-h464/
Price: 1 Week Thermal Relaxation, full board & double room £588 per person*
7. ★★★★★Hotel Neptun Spa | Warnemunde, Baltic Sea
If you've not yet visited Germany as a vegan, you definitely should! Despite a traditional cuisine of bratwurst, fried potatoes and sauerkraut, veganism is extremely popular in Germany and an increasing number of health-conscious, vegan and environmentally friendly restaurants have been popping up over the past few years.
At the hotel Neptun and Spa on the beautiful Baltic Sea coast in the north of Germany, you find the only certified thalassotherapy centre in Germany, accompanied by the culinary delights of the hotel's 8 restaurants. Although its menus already have sections dedicated to vegetarians, the hotel clarifies that they always try to understand the eating habits of their vegan guests individually, and based on this they order the ingredients to create personalised menus.
Hotel Neptun is not far from the centre of Rostock where you can enjoy yet more vegan variety. For example, you can try a naturally vegan falafel with creamy sesame sauce, or visit one of Rostock's three exclusively vegan restaurants.
Address: Seestraße 19, 18119 Rostock, Germany
Telephone: 020 3608 7377
Webpage: https://www.spadreams.com/hotel-neptun-spa-warnemunde-baltic-sea-h10N/
Price: 1 Week Thalasso Therapy Half-board & Double room £1319 per person*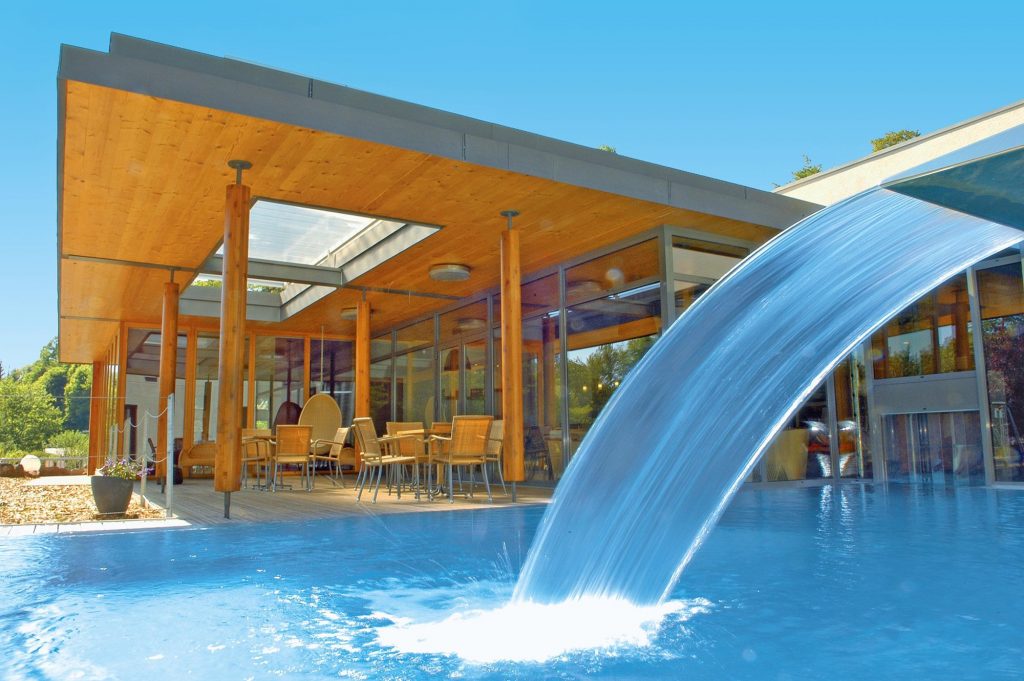 6.★★★★La Clairière Bio Spa Hotel | La Petite Pierre, Alsace, France
Located in La Petite Pierre in the tranquil Alsace region of northern France, La Clairière Bio and Spa Hotel serves all organic cuisine including a variety of vegan dishes. Its seasonal menu offers both healthy and gourmet cuisine, with its numerous vegan dishes easily highlighted on the menu. As an example of the vegan cuisine it serves, how about the 'Six Flavors' Plate including Mungo dahl, vegetable curry, quinoa, with asparagus, cucumber raita and lamb's lettuce or its Ayurvedic Mung bean soup with Indian spices and ginger. During your stay you can also profit from the traditional Chinese medicine or Ayurveda treatments such as harmonisation of the three doshas, fango mud baths and ethereal oil body massages. Day trips to the medieval city of Strasbourg, the Saverne chateaus or the glasswork Lalique museum are also recommended.
Address: 63, route d'Ingwiller 67290 La Petite Pierre, Parc Naturel Régional des Vosges du Nord, Alsace France
Telephone: 020 3608 7377
Website: https://www.spadreams.com/la-clairiere-bio-spa-hotel-la-petite-pierre-alsace-h640/
Price: 1 Week Yoga in the Forest Half Board & Double Room £1807 per person*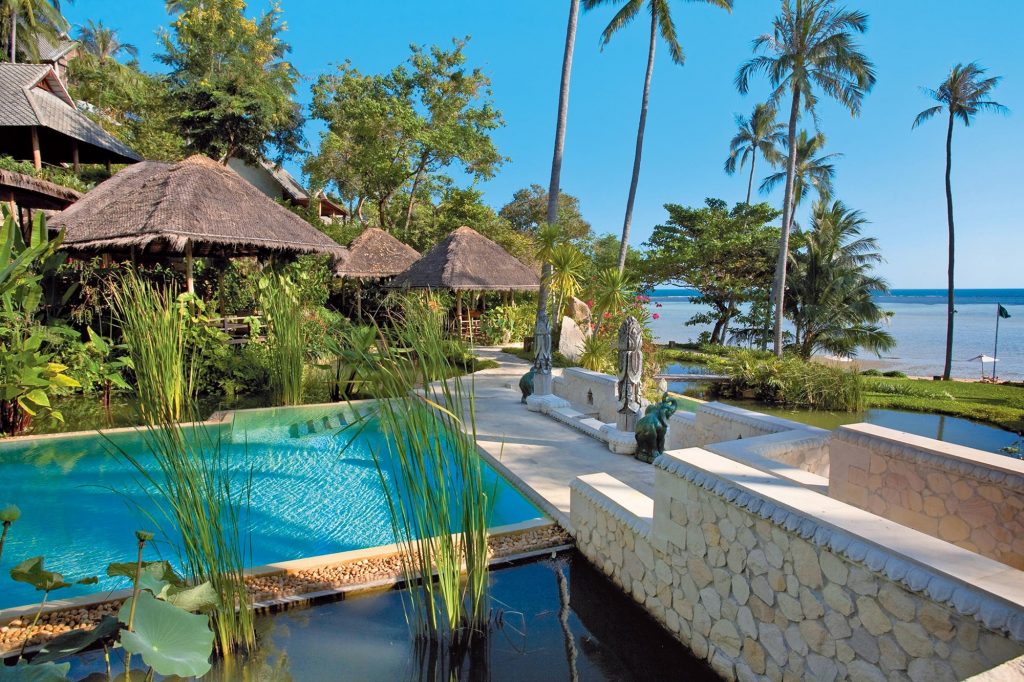 5. ★★★★★Kamalaya Wellness Sanctuary and Holistic Spa | Na Muang, Koh Samui, Thailand
The holistic 5 star spa resort of Kamalaya is located on a beautiful stretch of white sand coastline in Thailand. Their Soma Restaurant prepares food using all organic ingredients including a variety of healthy Thai and western vegan dishes. Focusing on whole foods and exotic herbs and spices, their dishes include pad thai, wok steamed vegetables, tom yam soup and buckwheat pancakes. Food is never overcooked or deep fried and instead is carefully baked, steamed or sautéd. Their motto is "When diet is wrong, medicine is of no use. When diet is correct, medicine is of no need." It also has an Alchemy Tea Lounge with fresh herbal teas and the Amrita café for drinks by the pool.
Address: 102/9 Moo 3, Laem Set Road, Na-Muang, Koh Samui, Suratthani 84140 Thailand
For more info, call: 020 3608 7377
Website: https://www.spadreams.com/kamalaya-wellness-sanctuary-holistic-spa-na-muanglaem-set-beach-koh-samui-h784/
Price: 1 Week Wellness and Yoga Deluxe Half board & double room £1001 per person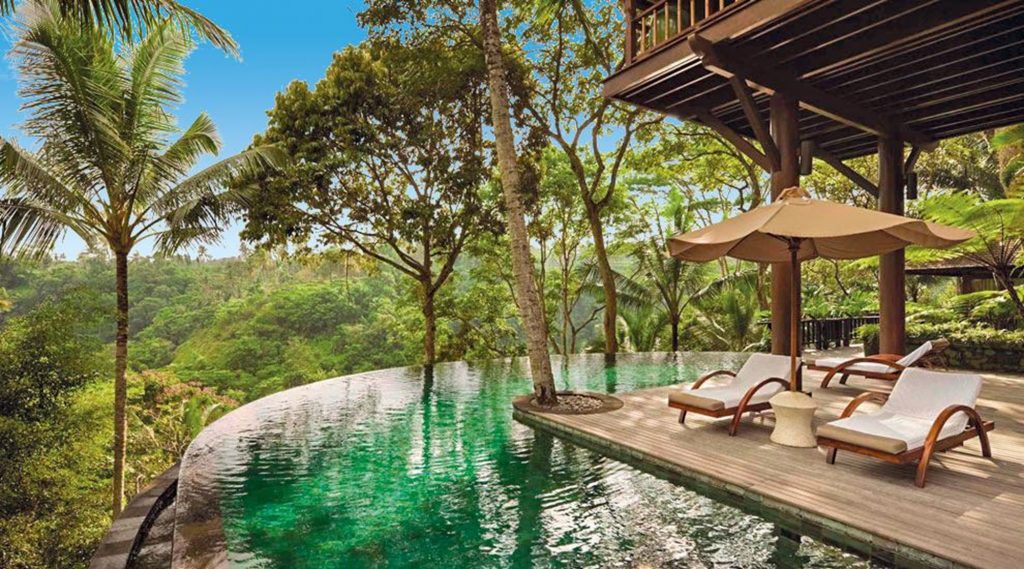 4. ★★★★★Como Shambhala Estate | Ubud, Island of Bali
Bali is a haven for vegans and fruitarians alike and research shows that the majority of vegans reside in Asia.
For ultimate luxury and seclusion from the tourist bustle, stay in a private villa at 5 star Como Shambhala Estate at the top of the Begawan Giri Mountain, awarded many times as one of the best hotels in the world. They offer exquisite and balanced Indonesian cuisine including vegan and raw vegan dishes, such as quinoa and beetroot salads, barley salads and traditional Balinese dishes such as gado gado. For further variety, venture into Ubud town centre where vegan and raw cafes abound. With views over the tropical primeval forest and a well-being centre right next to the river, you going to find it extremely hard to leave this magical place.
Address: Banjar Begawan, Desa Melinggih Kelod, Payangan, Kabupaten Gianyar, Bali 80571, Indonesia
For more info, call: 020 3608 7377
Website: https://www.spadreams.com/como-shambhala-estate-ubud-island-of-bali-h871/
Price: 1 week Como Experience Half-board & double room £2081 per person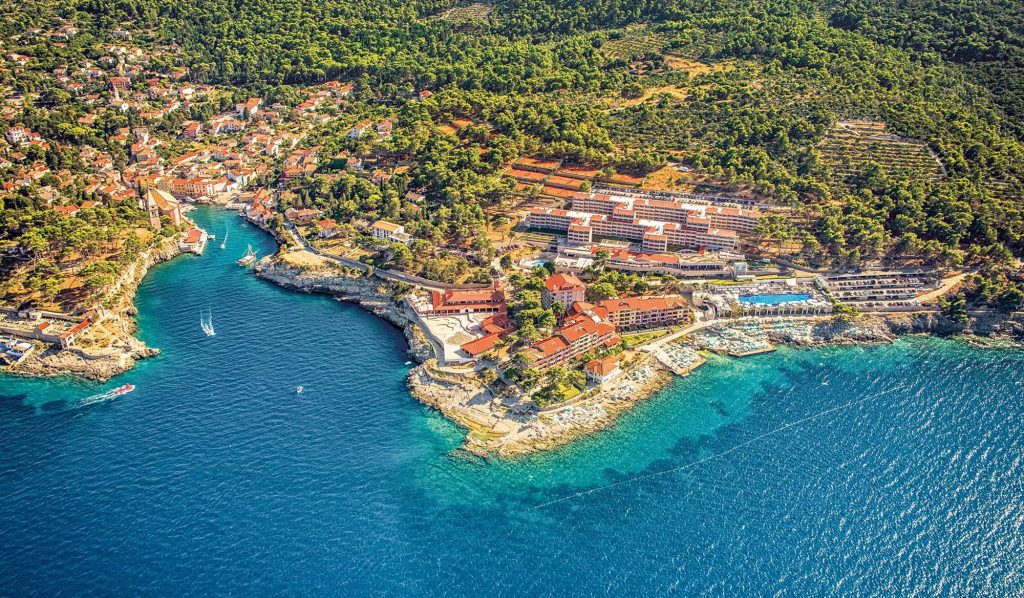 3.★★★★ Vitality Hotel Punta | Croatia
If you're lacking vitamin D, then visit Vitality Hotel Punta on the island of Losinj, one of the sunniest locations in Europe on the coast of the Adriatic Sea. The hotel's restaurant provides Mediterranean style dishes using herbs from its own gardens with varied vegan options on pre-arrangement. They are the only hotel in Croatia to have an ECARF certificate ensuring those with allergies can relax at meal times. The rotating buffet serves dishes from all the regions in Croatia throughout the week and the vegan meals include things such as:
Different types of oatmeal
Different types of bread
Seasonal fruits and vegetables
Eco fresh juices
Different types of pasta
Veggie burgers
Tofu
Quinoa combinations
Vegetable soups
Celeriac puree on a bed off grilled vegetables
Crispy vegetable steak with fried sweet potato slices
And much more! And this is all accompanied by holistic wellness therapies, swimming in the saltwater pools and blissful yoga sessions.
Address: 51551, Veli Lošinj, Croatia
For more info, call: 020 3608 7377
Webpage: https://www.spadreams.com/vitality-hotel-punta-veli-losinj-kvarner-gulf-h686/
Price: 1 Week Relaxing Holiday Double room & half-board at £307 per person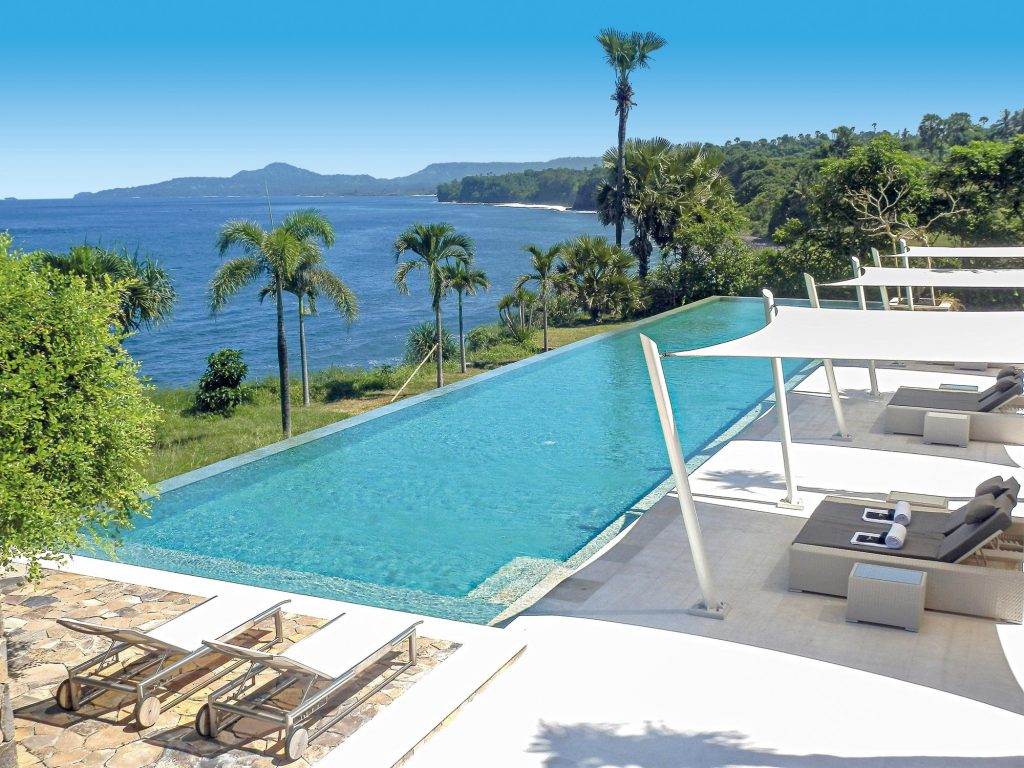 2. Shunyata Villas | Seraya, Bali
At multi-award winning Shunyata villas in Seraya, Bali you will find tranquillity and deep relaxation, as it is located in its own exclusive nature resort away from the mass tourism hot spots. They have so much vegan food to offer that we couldn't resist including some examples, it sounds divine!
Soup: (usually starter for Lunch)
Dhal Soup
Mung bean Soup
Vegetable Quinoa
Soup Flavours: Leek, Moringa, Carrot, Pumpkin, Tomato (soup often comes with homemade bread sticks or alike)
Salad: (usually main course for Lunch)
with tofu-strips or fried tofu
with sweet tempeh
with avocado and roasted seeds
with different kinds of medallions/dumplings
a Greek salad variation
Starter: (for Dinner)
Quesadillas (with spinach instead of cheese)
Green Papaya Soup with homemade Papadam
Mushroom in Banana-boat
Spinach Crispy Bowl
Homemade Spring Rolls
Stuffed Zucchini or stuffed Paprika
Raw Zucchini Pasta
Main Course: (for Dinner)
Vegetable-, Tofu/Tempeh-Kebab
Pumpkin Dumblings
Martabak, Tofu Isi, Gado-Gado, … (Balinese dishes)
Homemade Fetucchini with tomato/soy/vegetable sauce
div kinds of curries (e.g. mushroom curry, pumpkin curry)
all kinds of medaillons (corn-, oat-, beetroot-, eggplant-)
(depending on the course and the season the main course comes with diff. kinds of vegetables, diff kinds of rice or (sweet-)potatoes (whole, mashed or as homemade fries) and with 2-4 sauces aside)
Dessert: (for Lunch or Dinner)
Mango "Cheese" Cake (without real cheese of course ?)
Balinese Dadar
Date Nut Cream
Chia Pudding
Shunyata Trilogy (3 different kind of sweet balls: coconut, chocolate, sesame)
Cococota with Plums
Fried Coconut Banana
Is your mouth watering yet? With days spent dining on this delicious vegan cuisine and lounging by the infinity pool, you'll never want to leave!
Address: Jalan Pura Batu Telu, Seraya, Celagi, Seraya, Kec. Karangasem, Kabupaten Karangasem, Bali 80851, Indonesia
For more info, call: 020 3608 7377
Website: https://www.spadreams.com/shunyata-villas-seraya-island-of-bali-h87D/
Price: 1 Week Luxurious Relaxation Half Board & Oceanview Villa £752 per person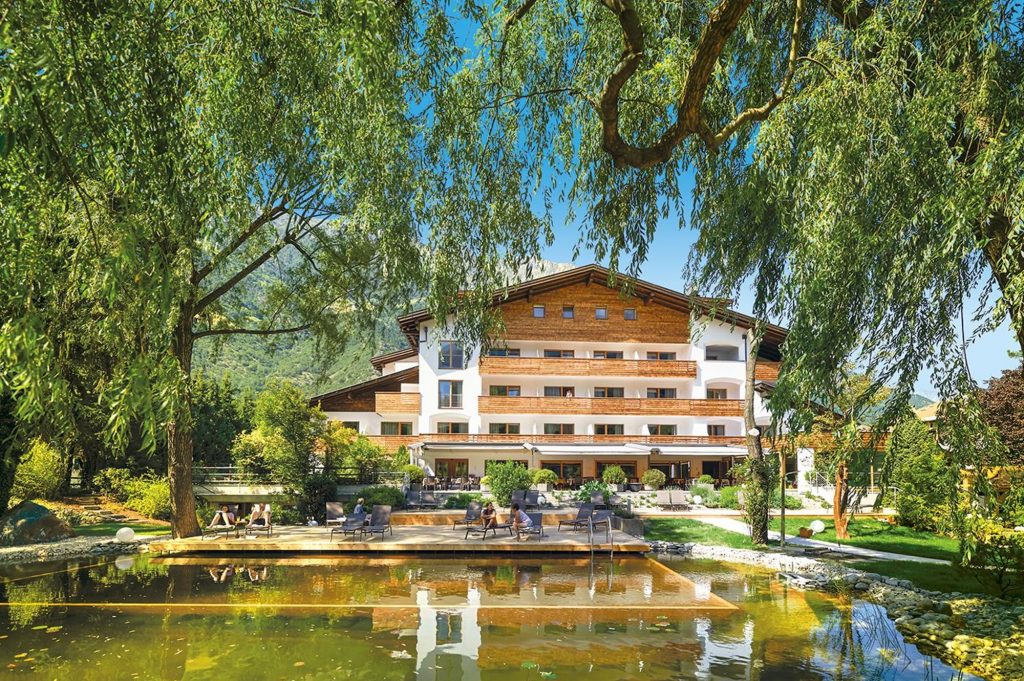 1.★★★★ La Vimea Biotique Hotel
One of the crowning gems of our list of all-inclusive vegan resorts is the hotel la Vimea in northern Italy. It is EXCLUSIVELY VEGAN and so seems to have cottoned on sooner than most hotels that veganism is a trend here to stay!
This hotel's vegan menus rival all of the others listed and if this weren't enough, they carefully source all of their ingredients from local friends and farmers as well as from their own agricultural project in Tuscany. If there's one hotel that's doing it right, it's this one.
Now you can enjoy worry-free dining on gourmet Italian vegan cuisine ?
Some examples of the gourmet dishes on their evening menu include:
Joy in the Glass with crispy barley, puntarella-chicory, lime
Creation Helianthus with lollo, turnip, apple and sunflower seed
Fusilli "Ikarus" with cauliflower, olive and dried tomato
Uriel's delight with meringue, quince, fine crumb.
These delicacies are accompanied by mountain views, yoga sessions, Ayurveda treatments and relaxation in the hotel gardens.
Address: August Kleeberg 7, I-39025 Naturno BZ, South Tyrol, Italy
For more info, call: 020 3608 7377
Website: https://www.spadreams.com/la-vimea-biotique-hotel-naturns-south-tyrol-h465/?currency=gbp
Price: 1 Week Pure and Easy Half Board & Double Room £626 per person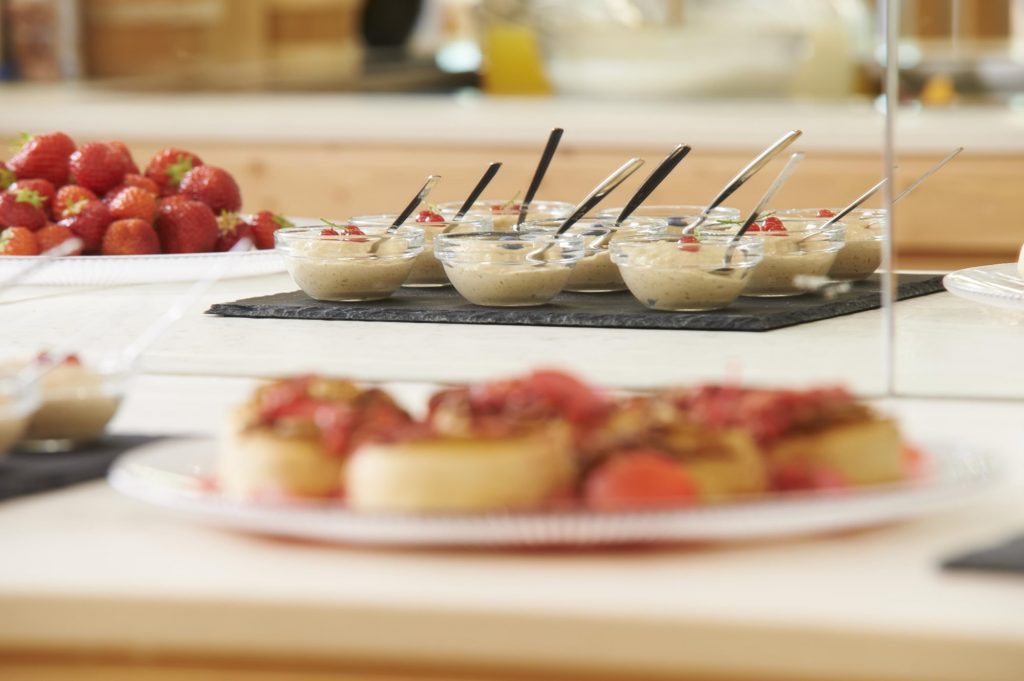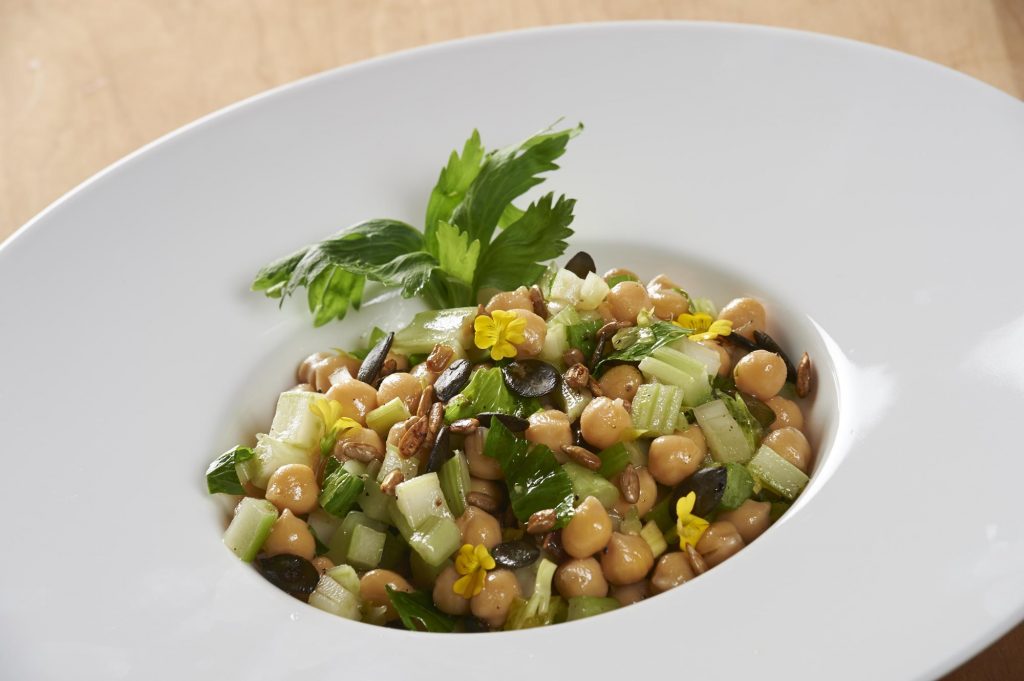 If these hotels have tickled your taste buds and you'd like more information, feel free to click on the links or contact one of our expert travel advisors who can then provide you with a tailored, vegan package deal holiday! View our website or contact us by phone on 020 3608 7377 and email on info@spadreams.com! We're happy to help ?
Curious? Then discover our matching offers: