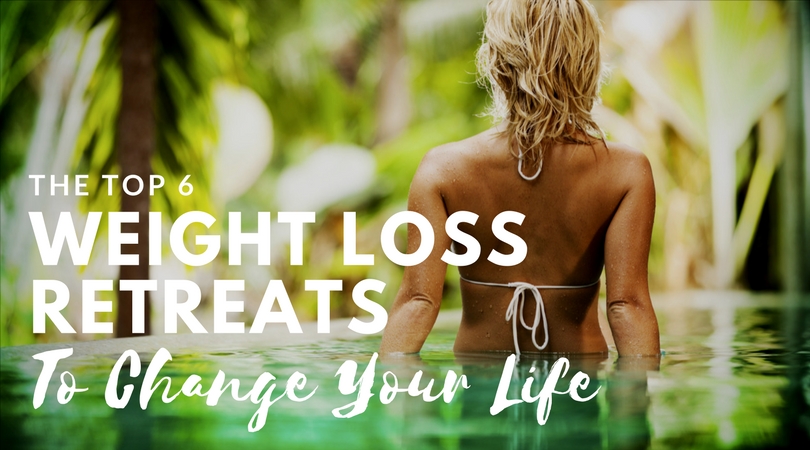 Looking for a way of losing weight that is much healthier, more effective, longer lasting and more relaxing than dieting alone? Read on to discover 6 of the best weight loss retreats in Europe and Asia, where weight loss methods range from Ayurvedic cuisine and fasting to yoga and fitness training.
With some of the best weight loss programmes in the world and dedicated nutritional experts and fitness coaches to guide you through the slimming process, you can be sure that a weight loss programme at any of these spa hotels will change your life for the better.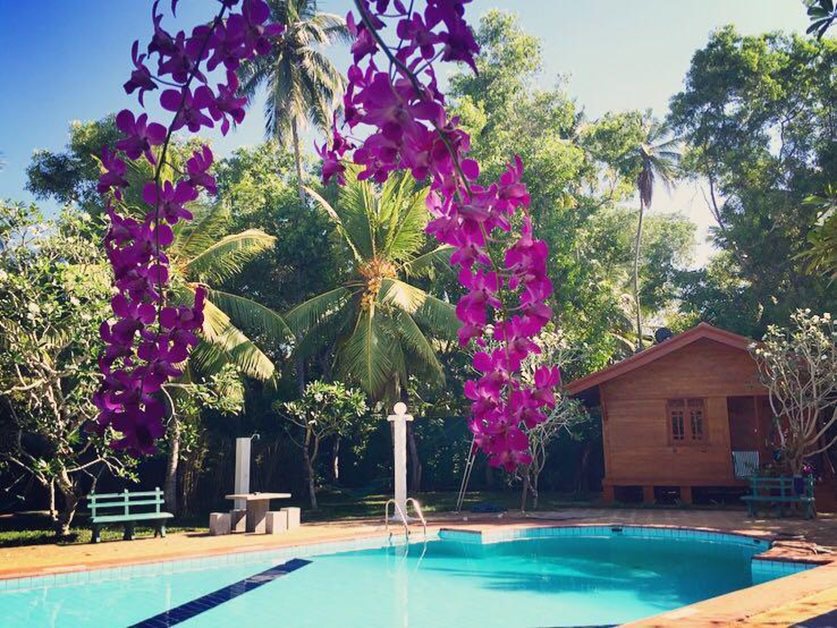 Weight Loss Method: Ayurveda Therapy
Ypsylon Resort in Beruwala, India, awaits you with exotic flowers, golden sands and fresh, lovingly prepared cuisine. Slimming is almost a natural effect of the Ayurveda diet as its vegetarian dishes contain only good fats in low quantities, much the contrary of the average holiday diet.
Their "green smoothie smile" is served for breakfast and herbal teas are available throughout the day. The 2 week slimming programme includes 30 Ayurveda treatments per week, so if you're going to be dieting, you may as well be pampered through the process.
Yoga sessions help to firm skin that may have loosened during weight loss. After meditation sessions, your peaceful mindset will be met by a clearer conscience in the knowledge that the hotel makes every effort to be environmentally friendly.
Address: Moragalla, South of Colombo, Beruwala 12070, Sri Lanka
Telephone booking with SpaDreams: 020 3608 7377
Website: https://www.spadreams.com/ypsylon-resort-beruwela-west-coast-sri-lanka-h75Y/
Price: Current offer: 50% off – 14 Night Ayurveda Slimming £472 per person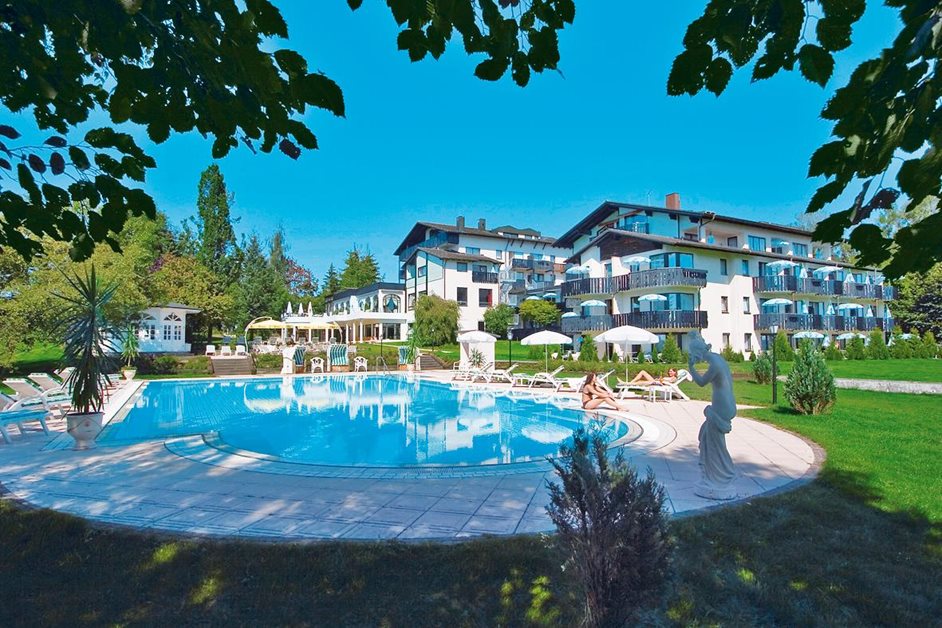 Weight Loss Method: Volumetrics Diet and Fitness
Weight loss is serious business at hotel Tanneck. If Germany is known for its efficiency, this weight loss programme is no exception. It is based on three core components: nutrition, exercise and relaxation all accompanied by specialist advice and therapy.
The diet is a combination of the H20 concept (making sure to drink water before meals) and the 'volumetrics' concept that replaces low quality, high calorie foods with higher volume, low calorie foods and good fats, to leave you better satiated without overeating. This means lots of fresh fruit and vegetables, whole grain products and high quality oils like olive and rapeseed. The diet also meets the German Society for Nutrition (Deutschen Gesellschaft für Ernährung) and so you can be sure it's a safe and healthy way of losing weight.
The stay includes lectures and advice on nutrition as well as a daily schedule of group and individual fitness activities. Your new healthy self will continue long after the holiday as you are equipped with nutritional knowledge, recipes and diet plans to take home. Check it out now and see how surprisingly relaxing it is to relinquish all food related decisions for 2 weeks.
Address: Golf & Spa Hotel Tanneck
Hartenthaler Str. 29
86825 Bad Wörishofen
Telephone booking: 020 3608 7377
Website: https://www.spadreams.com/hotel-tanneck-bad-worishofen-alpine-foothills-h807/
Price: 14 Nights Weight Loss Days 3.0 £1,318 per person full board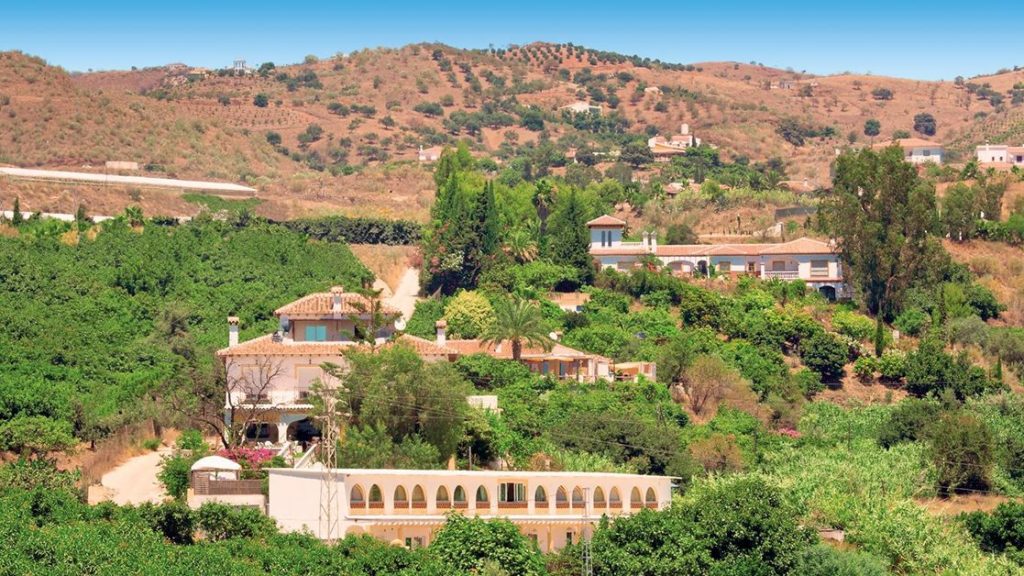 Weight Loss Method: Ayurveda Panchakarma and Yoga
An alternative method of healthy weight loss is Ayurveda. Ayurveda is an ancient Indian healing method based on mostly vegetarian cuisine, yoga and a holistic approach to health. As such, returning to a healthy weight is part and parcel of the Ayurveda way of life.
Whilst you can certainly travel to India to experience Ayurveda panchakarma in its native habitat, a holiday closer to home at the Luna y Sol Ayurveda Hotel in the south of Spain will leave you as equally slender and serene. Situated amongst mango and avocado groves in the lush green area of the Costa del Sol, you can enjoy a mix of Spanish, Arabian and Indian heritage.
The food is thus inspired by both Andalusia and Ayurvedic nutritional principles focusing on wholefoods and teas and tailored according to the individual Dosha constitution. The 10 night slimming treatment programme includes yoga sessions as well as a variety of therapeutic treatments that promote detox and relaxation throughout the weight loss process. Your stay will feel rich, warm and wholesome, and you'll return slimmer and glowing from your trip.
Address: Lugar Cortijo La Minda, 0 S N, 29749 Almayate Alto, Málaga, Spain
Telephone: 020 3608 7377
Website: https://www.spadreams.com/luna-y-sol-ayurveda-hotel-malaga-almayate-alto-costa-del-sol-h62A/
Price: 10 night Ayurveda Slimming Treatment full board £1,227 per person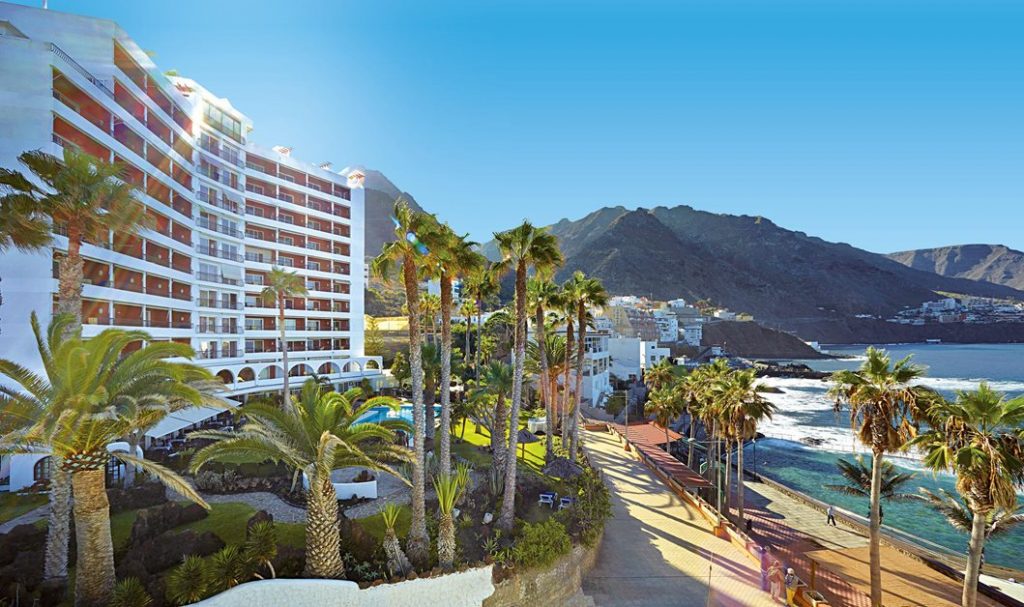 Weight Loss Method: F.X. Mayr Diet and Thalassotherapy
If you're looking for a healthy weight loss holiday that helps to reduce weight and detoxify the system, then the F.X. Mayr programme at Oceano Hotel Health Spa is the perfect one for you. It was awarded Best Medical Detox Spa in 2014 and sees its guests returning year on year with 5 star reviews.
The F.X. Mayr diet is also known as the milk and bread roll diet due to its concept of simple, mild meals. A specialist doctor at the start will lay out a programme for you including fasting periods. Thalassotherapy, massage and digestive system cleansing complete the slimming effects of the diet.
The hotel has beautiful views over both the Atlantic and Mount Teide and is walking distance from the small fishing village of Punta del Hidalgo with a natural harbour and restaurants. Its year round sunshine makes it the perfect destination for a winter weight loss holiday.
Address: Calle Océano Pacífico, 1, 38240 Punta del Hidalgo, Santa Cruz de Tenerife, Spain
Telephone: 020 3608 7377
Website: https://www.spadreams.com/oceano-hotel-health-spa-tenerife-punta-del-hidalgo-teneriffa-h677/?currency=gbp
Price: Currently 10% off Detox OCEANO 14 Days on the F.X. Mayr Diet at £2481 per person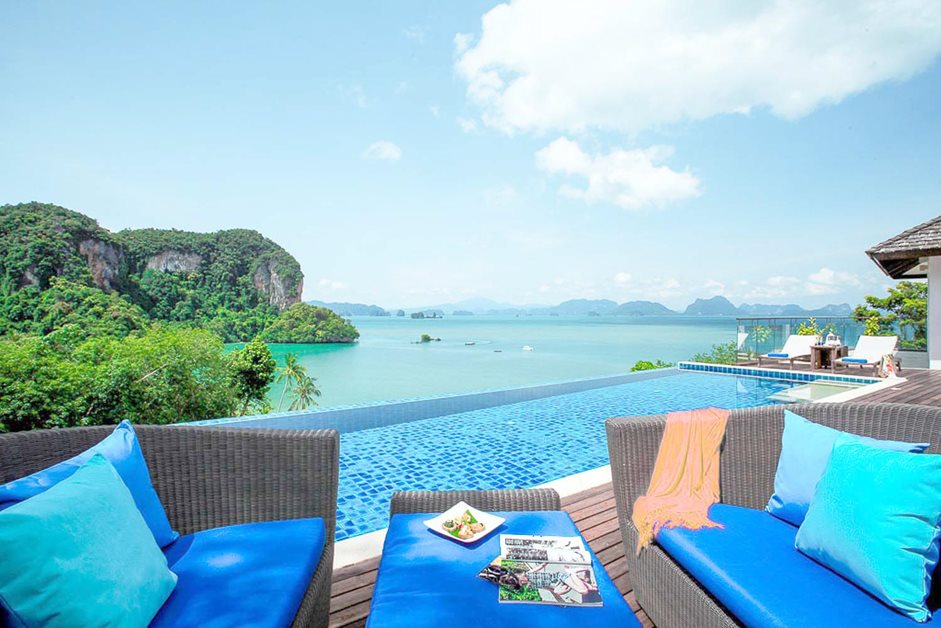 Weight Loss Method: Yoga Fitness and Sports
Award winning 4 star spa resort Paradise KohYao in Thailand offers a 1 week yoga holiday including Thai massages and healthy vitamin-rich cuisine. Highly qualified and experienced yoga instructors will guide you through a daily plan of group and individual classes including meditation. Other activities include cooking classes, volleyball, diving, snorkelling, climbing and jungle trekking, mountain biking and canoeing or swimming in its 350 sqm pool.
After your yoga workout, relax in the Waterfall Plunge Pool or its Herbal Steam cave underneath.
If you are looking for a way of losing weight and getting into shape that still enables you to enjoy your meals to the full, then a yoga holiday is perfect for you.
Address: Paradise Koh Yao, 24 Moo 4, T.Koh Yao Noi, A.Koh Yao, Phang Nga 82160, Thailand
Telephone booking: 020 3608 7377
Website: https://www.spadreams.com/paradise-kohyao-insel-koh-yao-noi-phang-nga-province-h783/
Price: Currently with 30% off, 1 week yoga full board vacation package for £989 per person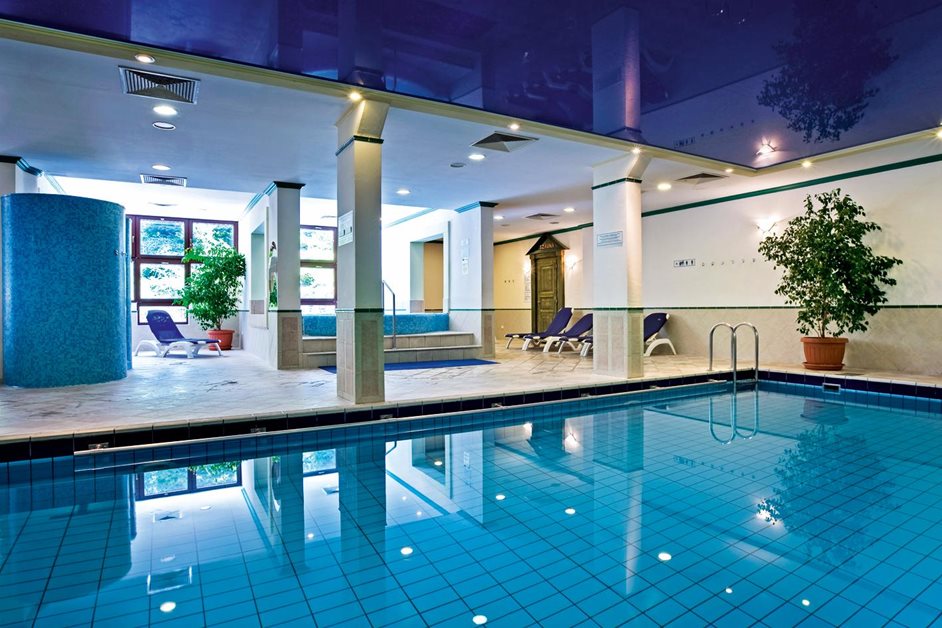 Weight Loss Method: Nutritional Diet and Exercise
One of our most popular weight loss retreats is the detox and fasting hotel Löver in the west of Hungary. It offers a one or two week 1,300 Calorie diet with 5 healthy meals per day, unlimited teas and mineral water massage, Kneipp (alternating hot and cold) showers, salt grotto, gymnastics, Nordic walking and use of the spa. The hotel's Borostyán Restaurant offers a breakfast buffet on a cosy summer terrace, Italian inspired cuisine and Hungarian specialties as well as, of course, its specifically designed weight loss diet meals.
It is located in a beautiful forest and is only 3km from the baroque town of Sopron with narrow, winding streets. You can also visit towns in Austria such as Vienna or Eisenstadt, or take a day trip to Esterháza Palace in Fertöd.
Address: Sopron, Várisi út 4, 9400 Hungary
Telephone booking: 020 3608 7377
Website: https://www.spadreams.com/hotel-lover-sopron-west-hungary-h330/
Price: Full board 2 weeks 1300 kcal diet £786 per person
If you'd like to explore more weight loss retreat options, check out our website which has hundreds of the best weight loss retreats in the world!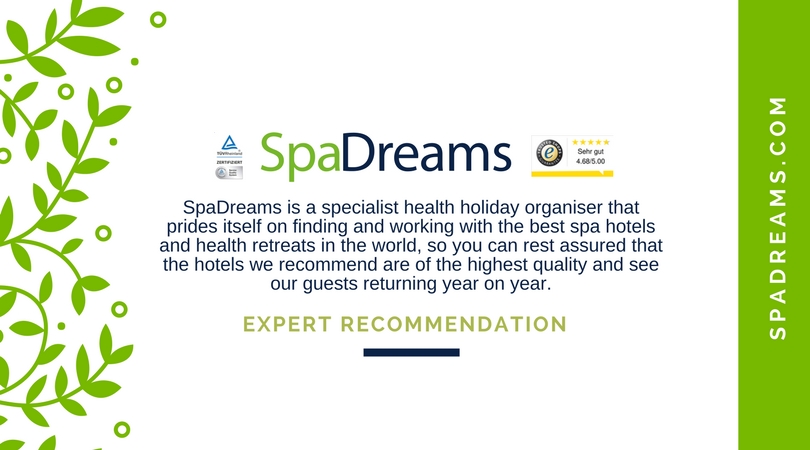 Curious? Then discover our matching offers: